NODA North West District Awards
NODA North West is the only region nationally to hold district level award events. Not all of our districts have these: the Regional Respresenative decides whether to have one based on the needs and wants of the membership in that area. The events are organised solely by the district's own Regional Representative and usually consist of a gala dinner with an awards ceremony, followed by an after party.
Previous District Awards
District
Area
2020
2019
2018
2017
2016
1
Manchester, Macclesfield, Stockport, Altrincham, Glossop, Salford & Prestwich
2020
2019
2018
2017
2016
Archive
2
Preston, Fylde & Isle of Man
2020
2019
2018
2017
2016
Archive
3
East Lancashire
2020
2019
2018
2017
2016
Archive
4
Liverpool, Wirral, Prescot, West Derby & Birkenhead
2020
Archive
5
Bolton and Leigh
2020
2019
Archive
6
Chorley, Ormskirk, Southport, St. Helens & Wigan
2020
2019
2018
Archive
7
Bury, Rochdale, Oldham &
Ashton-under-Lyme
2020
Archive
8
Warrington, Runcorn, Northwich, Nantwich, Chester & Congle
2020
2019
2018

Archive
10
Carlisle, Workington, Penrith, & Whitehaven

11
Lancaster, Garstang,
Barrow-in-Furness, South Lakeland, Lunesdale & Ulverston
2020
2019
2018

Archive
Nominations for the district awards are normally released once the last show in the district has been attended, this tends to be mid to late December. A year in NODA North West runs from 1st January to 31st December. The district award events are held throughout January and February in order for all district award winners to be announced before the North West Regional Nominations are released. Many of the district award winners go on to represent their local area in the regional event. District award categories differ slightly between areas, this is down the Regional Representative and usually has a historic connection to that district.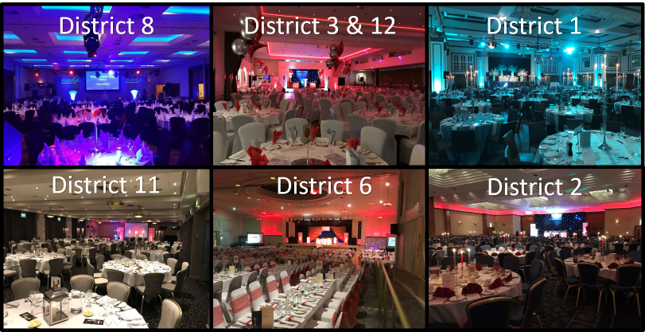 ​Some of our previous District Award events from across the North West.