NODA North West District Awards
NODA North West is the only region nationally to hold district level award events. Not all distircts have these but it is judged by the disrtict's Regional Respresenative based on the needs and wants of the membership in that area. The events are organised solely by the district's own Regional Respresentative and usually are a gala dinner with an awards ceremony followed by an after party.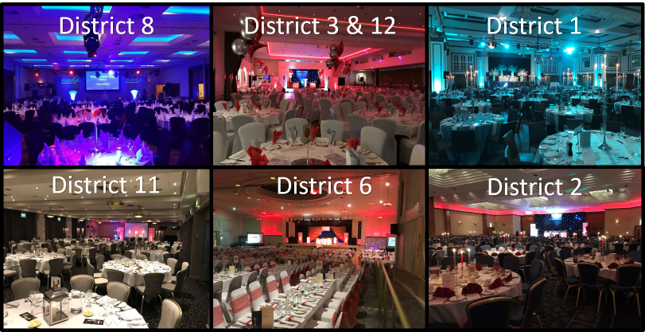 ​2018 - 6 District Award events took place with almost 2000 guests attending.
Nominations for these awards are normally released once the last show in the district has been attended, this tends to be mid to late December. A year in NODA North West terms runs from 1st January to 31st December. The district award events are held throughout January and February in order for all local award winners to be announced before the North West Regional Nominations are released. Many of the district award winners go on to represent their local area in the regional event. District award categories differ slightly between areas, this is down the Regional Representative and usually has a historic connection to that district.
To find out more information about these District Awards & Dinner events and to access the Winners Archive for each area please click on the links below. The named place is the last location the event for that district was held:
NODA North West District 1 Awards - Manchester
NODA North West District 2 Awards - Blackpool
NODA North West District 3 Awards - Blackburn
​NODA North West District 6 Awards - Southport
NODA North West District 8 Awards - Crewe
NODA North West District 11 Awards - Barrow-in-Furness