NODA North West District 1 Awards 2020
First of all, Thank You to everyone who attended our eighth NODA North West District # 1 dinner on Saturday night. We welcomed new groups and long standing NODA members to the event who all attended in spades breaking all records with over 500 of you!
You can find a breakdown of each category (below) and who took the gongs!

I introduced everyone to the new District 1 Vice Rep who'll be assisting me in the district from now by attending, reviewing, adjudicating, nominating and selecting the winners for all Drama Productions in District # 1 - starting immediately. I was delighted to welcome your new District # 1 Drama Queen up on to the stage to introduce her self, this was, of course, Stephanie Niland! Steph gave a fantastic address proving that she's the perfect individual for the role who embraces the ethos of NODA and community theatre. I can assure those of you who offer drama productions that everything will remain exactly the same as before, you'll still direct your NODA show invites to me and you'll keep in contact with me as you normally would. Having Steph on board is an exciting expansion to the district which will enable NODA to keep on top of the service we want to be offering you in this district.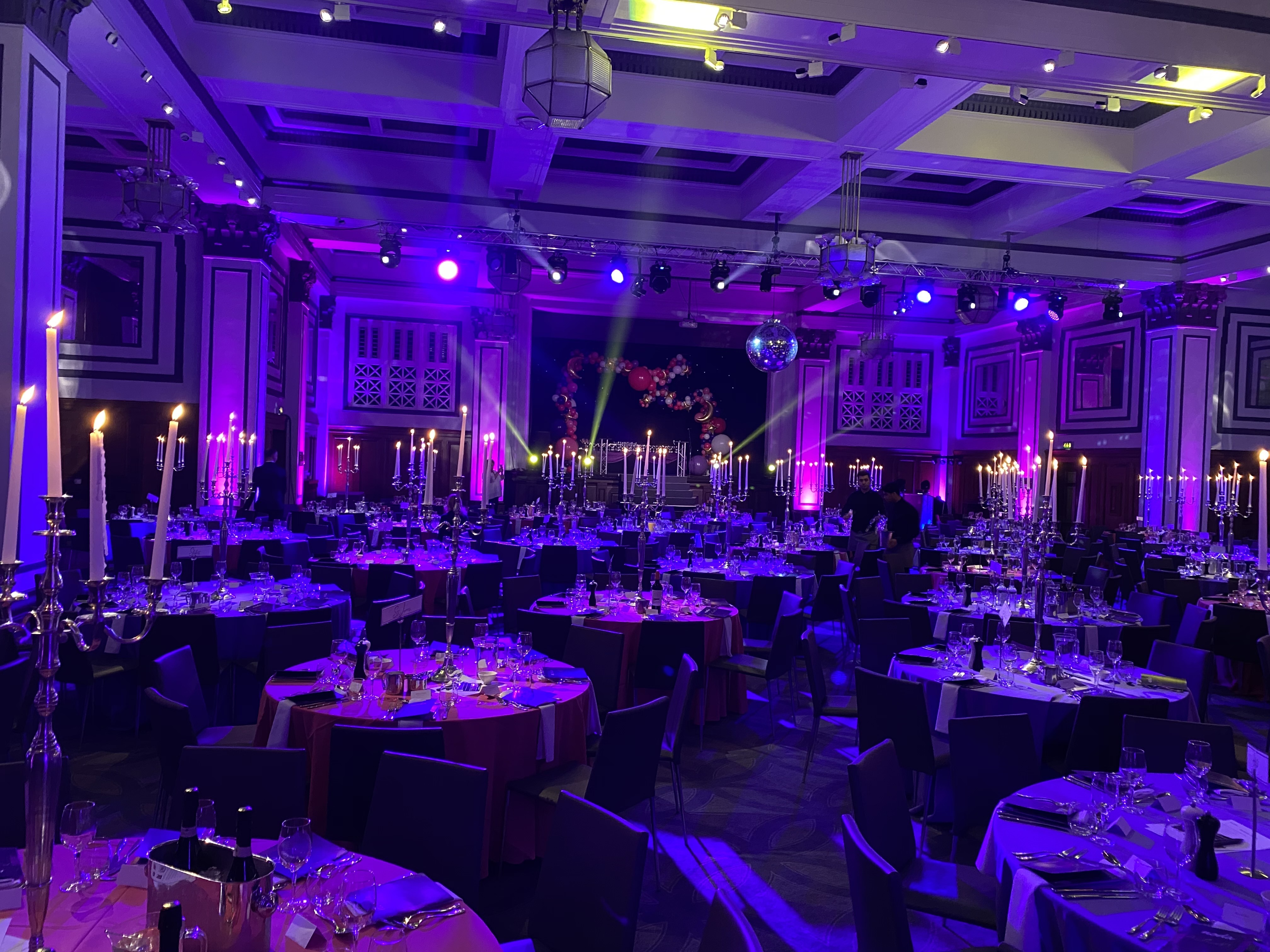 As was said on the evening... there were so many individuals and productions that absolutely deserved accolades that unfortunately didn't take home an award, the pool of talent we've got in district 1 is immense which is fantastic and I'm extremely proud of that but it does mean that we've got excellence competing with excellence making my job of deciding who does eventually win incredibly difficult.

However, in true awards fashion, there can only ever be one winner . . . so the outcome on Saturday night was . . .
Best Poster
Avengers: Ensemble – UMMTS
Jesus Christ Superstar – East Cheshire Musical Theatre
Oliver! – Manchester Musical Youth
Rent – East Cheshire Musical Theatre
Sister Act – Jewish Theatre Company WINNER
Treasure Island - Cygnets

Best Programme (Gold Class)
Avengers: Ensemble – UMMTS
A New Generation! – Sale & Altrincham Musical Theatre
Dick Whittington – Macclesfield Majestic Theatre Group
Four Old Broads – Midlife Crisis Theatre Company WINNER
House Guest – Canterbury Players
Rent – East Cheshire Musical Theatre
Seussical – UMMTS
The Ash Girl – Cygnets
Treasure Island - Cygnets

Best Programme (Diamond Class)
Annie – Cygnets
Chicago – PADOS
Dogfight – All Saints Musical Productions
Footloose – Macclesfield Majestic Theatre Group
Jesus Christ Superstar – East Cheshire Musical Theatre
Sister Act – Jewish Theatre Company
The Addams Family – PADOS Youth
You're A Good Man Charlie Brown – New Mills AODS WINNER

Best Programme (Platinum Class)
Footloose – Manchester Musical Youth
Guys & Dolls – Stockport Operatic Society
Humpty Dumpty – Urmston Musical Theatre
Into The Woods – All Saints Musical Productions WINNER
Jekyll & Hyde – Sale & Altrincham Musical Theatre
Made In Dagenham – MMY Graduates
Oliver! – Manchester Musical Youth
Shrek Jr – Manchester Musical Youth
The Sound Of Music – New Mills AODS

YOUTH CATEGORIES:

Best Male Comedy Performance in a Youth Production
Gabriel Geary – Grey – Treasure Island – Cygnets
Harry Warburton – Lord Farquaad – Shrek Jr – Manchester Musical Youth WINNER
Jack Piper – The Lion – The Wizard Of Oz – Brookdale Theatre
Joe Atherton – Willard – Footloose – Manchester Musical Youth
Logan Eastwood – The Lion – The Wizard Of Oz – Stage Squad
Tyler Acton – Lurch – The Addams Family – PADOS Youth

Best Female Comedy Performance In A Youth Production
Alice Elwell – Miss Hannigan – Annie – Cygnets
Holly Diskin – The Gatekeeper – The Wizard Of Oz – Stage Squad
Kyanna Cronshaw – Alice – The Addams Family – PADOS Youth
Olivia Clapperton – Sharpay – High School Musical – Urmston Juniors WINNER

Best Supporting Male in a Youth Drama
Joe Lomas – Captain Smollett – Treasure Island – Cygnets
Joe Lomas – Paul – The Ash Girl – Cygnets
Matt Law – Mr Dussel – The Diary Of Anne Frank – CHHS WINNER
Matt Miers-Jones – Duncan – Macbeth – CHHS

Best Supporting Female in a Youth Drama
Jess Smith – Grandma Hawkins – Treasure Island – Cygnets
Mia-Unika Morran – Margot Frank – The Diary Of Anne Frank – CHHS
Rosie Bristow – Slothworm – The Ash Girl – Cygnets WINNER

Best Supporting Male in a Youth Musical
Adi Arora – Reverend Shaw – Footloose – Manchester Musical Youth
Alfie Leech – Pugsley Addams – The Addams Family – PADOS Youth
Jack Mabon – The Wizard of Oz – The Wizard of Oz – Brookdale Theatre WINNER
Jonathan Guy – The Wizard of Oz – The Wizard of Oz – Stage Squad
Jonathan Kingsley – Rooster Hannigan – Annie – Cygnets
Niall Sheridan – Coach Bolton – High School Musical – Urmston Juniors
Reuben Williamson – The Artful Dodger – Oliver! – Manchester Musical Youth
Tom Buls – Donkey – Shrek Jr – Manchester Musical Youth

Best Supporting Female in a Youth Musical
Abigail Fernandez-Arias – Kelsi – High School Musical – Urmston Juniors
Eve Reynolds – Wednesday Addams – The Addams Family – PADOS Youth
Lula Carr – Dragon – Shrek Jr – Manchester Musical Youth
Maisie Greaves – Lily St Regis – Annie – Cygnets
Rosie Woodrow – Wicked Witch Of The West – The Wizard Of Oz – Stage Squad
Sarah Barron – Widow Corney – Oliver! – Manchester Musical Youth WINNER

Best Actor in a Youth Drama
Ben Kendrick – Mr Frank – The Diary Of Anne Frank – CHHS WINNER
Edward Massey – Prince Amir – The Ash Girl – Cygnets
Ethan Cale – Macbeth – Macbeth – CHHS
Matthew Bean – Long John Silver – Treasure Island – Cygnets

Best Actress in a Youth Drama
Angela Griffiths – Jim Hawkins – Treasure Island – Cygnets
Lizzie Elwell – Ash Girl – The Ash Girl – Cygnets WINNER
Lucy Wilson-Knight – Mrs Frank – The Diary Of Anne Frank – CHHS

Best Leading Male in a Youth Musical
Adi Arora – Shrek – Shrek Jr – Manchester Musical Youth
Charlie Vjestica – Scarecrow – The Wizard Of Oz – Stage Squad
Harry Warburton – Ren McCormack – Footloose – Manchester Musical Youth
Oliver Lamont – Olivet Twist – Oliver! – Manchester Musical Youth
Sam Bate – Gomez Addams – The Addams Family – PADOS Youth WINNER
Tom Buls – Troy Bolton – High School Musical – Urmston Juniors

Best Leading Female in a Youth Musical
Hope Wilson – Dorothy – The Wizard Of Oz – Brookdale Theatre
Lucy Johnson – Nancy – Oliver! – Manchester Musical Youth
Madeline Jones – Morticia Addams – The Addams Family – PADOS Youth WINNER
Molly Lees – Princess Fiona – Shrek Jr – Manchester Musical Youth
Natalie Bainbridge – Ariel – Footloose – Manchester Musical Youth
Rosiee Lamb – Annie – Annie – Cygnets

Best Male Youth Performance In An Adult Production ^
Isaac Fletcher-Shaw – Kurt – The Sound Of Music – New Mills AODS
John Richmond – Graham O'Grady – Made In Dagenham – MMY Graduates
Jake Hornsey – Hocus Pocus – Robinson Crusoe – New Mills AODS WINNER
Max Jacobs – TJ – Sister Act – Jewish Theatre Company

Best Female Youth Performance In An Adult Production ^
Freya Gow – Upsy Daisy – Humpty Dumpty – Urmston Musical Theatre WINNER
Samantha Provart – Brigitta – The Sound Of Music – New Mills AODS

^ Nominees in this category must have been no older than 21 at time of production

Best Choreographer of a Youth Production
Jennie Kennedy – The Wizard Of Oz – Stage Squad
Lissie Carlile – The Wizard Of Oz – Brookdale Theatre WINNER
Sarah Binns and Sarah Bartlett – Footloose – Manchester Musical Youth
Sarah Binns and Sarah Bartlett – Shrek Jr – Manchester Musical Youth
Suzi Cleary – The Addams Family – PADOS Youth

Best Musical Director of a Youth Production
Adam Parrish – The Wizard Of Oz – Brookdale Theatre
Kimberly Holden – Footloose – Manchester Musical Youth WINNER
Steve Sandiford – The Addams Family – PADOS Youth

Best Director of a Youth Production
Dave Holden – Shrek Jr – Manchester Musical Youth
Kalini Kent – The Ash Girl – Cygnets
Kimberley Edmonds – The Diary Of Anne Frank - CHHS
Otis Gardner & Helen Pointon – Macbeth – CHHS
Paul Downham – The Addams Family – PADOS Youth
Sean Kennedy – The Wizard Of Oz – Stage Squad
Stephanie Niland – High School Musical – Urmston Juniors WINNER
Zoe Pickering – The Wizard Of Oz – Brookdale Theatre

Best Youth Drama
Macbeth – CHHS WINNER
The Ash Girl – Cygnets
The Diary Of Anne Frank – CHHS
Treasure Island – Cygnets

Best Youth Musical
Annie – Cygnets
Footloose – Manchester Musical Youth
High School Musical – Urmston Juniors
Oliver! – Manchester Musical Youth
Shrek Jr – Manchester Musical Youth
The Addams Family – PADOS Youth WINNER
The Wizard Of Oz – Brookdale Theatre
The Wizard Of Oz – Stage Squad

ADULT CATEGORIES:

Best Male Comedy Performance
Andy Withers – Bernard Youens – Corrie – Altrincham Garrick
Cory Evans – Willard Hewitt – Footloose – Macclesfield Majestic Theatre Group
Daniel Meyer – Harold Wilson – Made In Dagenham – MMY Graduates
Connor Wyse – Schroeder – You're A Good Man Charlie Brown – New Mills AODS
Hugh Summers – Cat In The Hat – Seussical – UMMTS
Jacob McGoldrick – Benedict – Much Ado About Nothing – UoM Shakespeare Society WINNER
Matt Rigby – Nicely Nicely Johnson – Guys & Dolls – Stockport Operatic Society
Mike Shaw – Norman Harris – Business Affairs – Altrincham Garrick
Timothy Platt – Amos Hart – Chicago – PADOS

Best Female Comedy Performance
Alison Davis – Mrs Northrop – When We Are Married – Altrincham Garrick
Ann Robinson – Dorothy – House Guest – Canterbury Players
Christine Perry – Mrs Wragg – A Murder Has Been Arranged – Altrincham Garrick
Deborah Loofe – Maude – Four Old Broads – Midlife Crisis Theatre Company WINNER
Eileen Wilson – Mavis – One O'Clock From The House – St Dunstan's AODS
Janet Slade – Iris – People – Altrincham Garrick
Jeannette Wood – Mrs Partlet – The Sorcerer – Poynton G&S
Laura Meredith Hoyle – Marcy – Dogfight – All Saints Musical Productions
Louise Robinson – Jan – Ladies Day – PADOS
Meg Ellis – Clare – Made In Dagenham – MMY Graduates
Nyah Nish – Judge – Legally Blonde – UMMTS
Ola El Awadly – Beatrix Portinari – Jasper In Deadland – MUGSS
Pat Williamson – Lady Tressilian – Towards Zero – Altrincham Garrick
Rachel Cookson – Jack's Mother – Into The Woods – All Saints Musical Productions
Val Watkinson – Liz Dawn / Violet Carson – Corrie – Altrincham Garrick

Best Comedy Performance In A Pantomime
Danni Eastwood – Rubberteetee – Cleopatra – Stage Squad
Dave Finch - Cuban Pete – Snow White – Stage Squad
Liam Dodd – Buttons – Cinderella – Altrincham Garrick
Stewart Bowden – Nutty Nick – Robinson Crusoe – New Mills AODS WINNER
Suzi Cleary – Wally Scarlet – Robin Hood – PADOS

Best Pantomime Villain
Daniel Mellor – Egg Nogg – Humpty Dumpty – Urmston Musical Theatre
Darren Cooper – Cut Throat The Pirate – Robinson Crusoe – New Mills AODS
Dawn Vago – Evil Queen – Snow White – Stage Squad
Lisa Hartley – Sheriff Of Nottingham – Robin Hood – PADOS WINNER
Sara Hawley – Queen Rat – Dick Whittington – Macclesfield Majestic Theatre Group

Best Pantomime Dame
Derek Stuart-Cole – Widow Twankey – Aladdin – Sale Nomads WINNER
Jack Forrest – Nellie Scarlet – Robin Hood – PADOS
Micheal Daws – Gertie Sprat – Dick Whittington - Macclesfield Majestic Theatre Group

Best Pantomime Hero or Heroine
Angela Cooke – Aladdin – Aladdin – Sale Nomads
Kate Perkins – Cinderella – Cinderella – Altrincham Garrick
Lisa MacDonald – Dick Whittington – Dick Whittington – Macclesfield Majestic Theatre Group WINNER
Lisa Quinn – Robinson Crusoe – Robinson Crusoe – New Mills AODS
Mia Robertson – Princess Petal – Humpty Dumpty – Urmston Musical Theatre
Zoe Huddart – Cleopatra – Cleopatra – Stage Squad

Best Supporting Male in a Drama
Anthony Morris – Various Roles – Brontë – Altrincham Garrick
Charlie Tomlinson – Bob – Things I Know To Be True – Altrincham Garrick
Graham Simmonds – Johnny Briggs – Corrie – Altrincham Garrick
Roberto Lavorini – Marco – A View From The Bridge – Sale Nomads
Simon Fletcher – Inspector Hubbard – Dial 'M' For Murder – PADOS WINNER

Best Supporting Female in a Drama
April Johnson – Vivien – House Guest – Canterbury Players
Arianna Glenton – Imogen – Cleo, Camping Emmanuelle & Dick – Altrincham Garrick
Beverley Stuart Cole – Julie Goodyear / Patricia Phoenix – Corrie – Altrincham Garrick
Fiona Primrose – Miss Groze – A Murder Has Been Arranged – Altrincham Garrick
Gabby Kirk – Soothsayer / Soldier – Julius Caesar – UoM Shakespeare Society
Gill Cooper – Imogene Fletcher – Four Old Broads – Midlife Crisis Theatre Company
Hannah McEwen – Antonia – Twelfth Night – UoM Shakespeare Society
Isabel Lawther – Margaret – Much Ado About Nothing – UoM Shakespeare Society
Kim Armston – Sarah Lancashire / Katherine Kelly – Corrie – Altrincham Garrick
Meg Brassington – Rosie Metcalfe – My Mother Said I Never Should – Altrincham Garrick
Megan Relph – Rosie – Things I Know To Be True – Altrincham Garrick WINNER
Melanie Davy – June – People – Altrincham Garrick
Sara Murphy – Maureen – One O'Clock From The House – St Dunstan's AODS
Sophie Murray – Fabia – Twelfth Night – UoM Shakespeare Society
Sophie Murray – Flavius/Lucius – Julius Caesar – UoM Shakespeare Society

Best Supporting Male in a Musical
Ben Vaughan – Nathan Detroit – Guys & Dolls – Stockport Operatic Society
Dan Pothecary – Benny – Rent – East Cheshire Musical Theatre
Gabriel Lumsden – Emmett – Legally Blonde – UMMTS
Gary Ward – Max Detweiler – The Sound Of Music – New Mills AODS
Jack Cooling – Eddie – Made In Dagenham – MMY Graduates
Jake Ridgeway – Snoopy – You're A Good Man Charlie Brown – New Mills AODS
Jonathan Hall – Tom Collins – Rent – East Cheshire Musical Theatre
Jonny Cunliffe – John Utterson – Jekyll & Hyde – Sale & Altrincham Musical Theatre
Jordan Jones – Sour Kangaroo – Seussical – UMMTS
Mike Nash – John Wellington-Wells – The Sorcerer – Poynton G&S
Thom Copestake – Pontius Pilate – Jesus Christ Superstar – East Cheshire Musical Theatre WINNER
Tom Bass – Adult Man – Spring Awakening – UMMTS
Wayne Holt – Old Duteronomy – Cats – Altrincham Garrick

Best Supporting Female in a Musical
Alex Waxman – Sister Mary Robert – Sister Act – Jewish Theatre Company
Alison Foy-Thackwell – Mama Morton – Chicago – PADOS
Beth Gurney – Mama – Dogfight – All Saints Musical Productions
Beth Gurney – Witch – Into The Woods – All Saints Musical Productions
Beverley Eaves – Baroness Elsa Schraeder – The Sound Of Music – New Mills AODS
Catriona Darroch – Isle – Spring Awakening – UMMTS
Ciara Ewing – Vivienne – Legally Blonde – UMMTS
Ellie Klouda – Gertrude McFuzz – Seussical – UMMTS
Emily Clarke – Barbara Castle – Made In Dagenham – MMY Graduates
Keirah Kirton – Connie Riley – Made In Dagenham – MMY Graduates WINNER
Keisha Golden – Joanne – Rent – East Cheshire Musical Theatre
Lauren Massey – Jellylorum – Cats – Altrincham Garrick
Lauren Massey – Syrie – The Likes Of Us – St Dunstan's AODS
Sarah Parker – Lady Sangazure – The Sorcerer – Poynton G&S
Stella O'Reilly – Mrs Higgins – My Fair Lady – St Dunstan's AODS

Best Staging
Cats – Altrincham Garrick
Dial 'M' For Murder – PADOS
Dick Whittington – Macclesfield Majestic's
Into The Woods – All Saints Musical Productions WINNER
Jasper In Deadland – MUGSS
My Fair Lady – St Dunstan's AODS
Sister Act – Jewish Theatre Company
The Ash Girl – Cygnets
The Show – Macclesfield Majestic's

Best Concert / Revue
Avengers: Ensemble – UMMTS
A New Generation! – Sale & Altrincham Musical Theatre
MMY Turns 5 – Manchester Musical Youth
The Greatest Showsongs – Stage Squad
The Show – Macclesfield Majestic's WINNER

Best G&S Production
HMS Pinafore – MUGSS
The Sorcerer – Poynton G&S WINNER

Best Pantomime
Aladdin – Sale Nomads WINNER
Cinderella – Altrincham Garrick
Cleopatra – Stage Squad
Dick Whittington – Macclesfield Majestic's
Humpty Dumpty – Urmston Musical Theatre
Robin Hood – PADOS
Robinson Crusoe – New Mills AODS
Snow White – Stage Squad

(The Terry Chandler Award for...) Best All Round Performer
Cameron Lawrence – Scarecrow – The Wizard Of Oz – Brookdale Theatre
Dominic Smith – Topsy Turvy – Humpty Dumpty – Urmston Musical Theatre
Elizabeth Knutton – The Show – Macclesfield Majestic's
Freia Reidel-Fisher – Lucy – You're A Good Man Charlie Brown – New Mills AODS WINNER
Harry Warburton – Ren McCormack – Footloose – Manchester Musical Youth
Jake Bloem – A New Generation! – Sale & Altrincham Musical Theatre
Katherine Reynolds – Velma Kelly – Chicago – PADOS
Kathryn O'Neill – Elle Woods – Legally Blonde – UMMTS
Liv Riseley – Rusty – Footloose – Macclesfield Majestic's
Michael Gardiner – Skimbleshanks – Cats – Altrincham Garrick

Best Ensemble Performance
'Beethoven Day' – You're A Good Man Charlie Brown – New Mills AODS
Bird Girls – Seussical – UMMTS
'Cats Chorus Line' – The Greatest Showsongs – Stage Squad
'Cell Block Tango' – Chicago – PADOS
Chorus Vocals – The Sorcerer – Poynton G&S
Entire Cast – Cats – Altrincham Garrick
Entire Cast – Into The Woods – All Saints Musical Productions
Entire Cast – Rent – East Cheshire Musical Theatre
Entire Cast – Spring Awakening – UMMTS
'Holding Out For A Hero' – Footloose – Macclesfield Majestic's
'I'm A Believer' – Shrek Jr – Manchester Musical Youth
'Les Mis in 5 Minutes' – The Greatest Showsongs – Stage Squad
Male Ensemble & 'Crapshooter's Ballet' – Guys & Dolls – Stockport Operatic Society
'Survivor' – Aladdin – Sale Nomads
'The Jitterbug' – The Wizard Of Oz – Brookdale Theatre
The Von Trapp Children – The Sound Of Music – New Mills AODS WINNER

Best Actor in a Drama
Dan Regan – Claudio – Much Ado About Nothing – UoM Shakespeare Society
David Glover – Neville Strange – Towards Zero – Altrincham Garrick
Hugh Everett – Herbert Soppitt – When We Are Married – Altrincham Garrick
James Haslam – Tony Wendice – Dial 'M' For Murder – PADOS
Jeff Harpin – Eddie – A View From The Bridge – Sale Nomads WINNER
Steven Finney – Kenneth Williams – Cleo, Camping Emmanuelle & Dick – Altrincham Garrick
Thomas Valerio – Brutus – Julius Caesar – UoM Shakespeare Society

Best Actress in a Drama
Celia Bonner – Dorothy – People – Altrincham Garrick
Chloe Malandra – Beatrice Jasper – A Murder Has Been Arranged – Altrincham Garrick
Christine Perry – Annie Parker – When We Are Married – Altrincham Garrick
Dawn Flint – Barbara Windsor – Cleo, Camping Emmanuelle & Dick – Altrincham Garrick
Emily Fitzpatrick – Viola – Twelfth Night – UoM Shakespeare Society
Grainne Wiggan – Beatrice – A View From The Bridge – Sale Nomads
Justine Boardman – Pearl – Ladies Day – PADOS
Lara Hancox – Kay Strange – Towards Zero – Altrincham Garrick
Linda Irish – Stella – House Guest – Canterbury Players
Parissa Zamanpour – Charlotte – Brontë – Altrincham Garrick WINNER
Sara Brockway – Sheila Wendice – Dial 'M' For Murder – PADOS
Sarah Reilly – Hilda Bigley – Business Affairs – Altrincham Garrick
Sophia Rosen – Cassius – Julius Caesar – UoM Shakespeare Society

Best Leading Male in a Musical
Alex Bingle – Judas – Jesus Christ Superstar – East Cheshire Musical Theatre
Gary Jones-McCaw – Sky Masterson – Guys & Dolls – Stockport Operatic Society WINNER
Harry Thompson – Captain Corcoran – HMS Pinafore – MUGSS
Ian Curran – Dr. Jekyll / Mr. Hyde – Jekyll & Hyde – Sale & Altrincham Musical Theatre
Jack McCartney – Moritz – Spring Awakening – UMMTS
Javier Galgo – Jasper – Jasper In Deadland – MUGSS
Kieran Picken – Ren McCormack – Footloose – Macclesfield Majestic's
Philip Brady – Henry Higgins – My Fair Lady – St Dunstan's AODS
Roman Armstrong – Horton – Seussical – UMMTS
Sam Bate – Jesus – Jesus Christ Superstar – East Cheshire Musical Theatre
Samuel Maurice – Eddie – Dogfight – All Saints Musical Productions
Simon Fletcher – Billy Flynn – Chicago – PADOS
Zahid Siddiqui – Melchior – Spring Awakening – UMMTS

Best Leading Female in a Musical
Charlotte English – Ariel Moore – Footloose – Macclesfield Majestic's
Debbie Hilton – Deloris Van Cartier – Sister Act – Jewish Theatre Company
Deborah Finley – Mother Superior – Sister Act – Jewish Theatre Company
Elizabeth Lovelady – Lucy Harris – Jekyll & Hyde – Sale & Altrincham Musical Theatre WINNER
Emily Clarke – Rose – Dogfight – All Saints Musical Productions
Freia Reidel-Fisher – Lucy – You're A Good Man Charlie Brown – New Mills AODS
Grace Stubbs – Mimi – Rent – East Cheshire Musical Theatre
Hannah Fletcher – Josephine Corcoran – HMS Pinafore – MUGSS
Kate Gabriel – Wendla – Spring Awakening – UMMTS
Kathryn O'Neill – Elle Woods – Legally Blonde – UMMTS
Olivia Callaghan – Eliza Doolittle – My Fair Lady – St Dunstan's AODS
Olivia Callaghan – Rose – The Likes Of Us – St Dunstan's AODS
Ruth Moore – Bakers Wife – Into The Woods – All Saints Musical Productions
Sarah Thewlis – Miss Adalaide – Guys & Dolls – Stockport Operatic Society
Vicky Clarkson – Grizabella – Cats – Altrincham Garrick

Best Choreographer
Carolyn Farrish-Mayer – Footloose – Macclesfield Majestic Theatre Group
Deborah Norris – Cats – Altrincham Garrick WINNER
Ellie Klouda – Legally Blonde – UMMTS
Gary Jones-McCaw – Guys & Dolls – Stockport Operatic Society
Georgina Rosser – Seussical – UMMTS
Helen Wilkinson – Chicago – PADOS
Jennie Kennedy – Cleopatra – Stage Squad
Jude Goodier – Aladdin – Sale Nomads
Liv Riseley – The Show – Macclesfield Majestic's
Martin Robinson – Sister Act – Jewish Theatre Company

Best Musical Director
Catherine Silman – The Sorcerer – Poynton G&S
Claire Sweeney – Guys & Dolls – Stockport Operatic Society
Dexter Drown & Freya Parry – Seussical – UMMTS
Ed Nurse – Rent – East Cheshire Musical Theatre
Isla Atay – Jasper In Deadland – MUGSS
Jack Hawkins – Dogfight – All Saints Musical Productions
John Barry – Jekyll & Hyde – Sale & Altrincham Musical Theatre
John Barry – My Fair Lady – St Dunstan's AODS WINNER
John Barry – The Likes Of Us – St Dunstan's AODS
Kimberly Holden – Made In Dagenham – MMY Graduates
Matt Corrigan – Chicago – PADOS
Steven Mercer – Into The Woods – All Saints Musical Productions
Zoë Kundu – Spring Awakening – UMMTS

Best Director of a Drama
Barry Purves – Brontë – Altrincham Garrick
Carole Carr – When We Are Married – Altrincham Garrick
David Black – A View From The Bridge – Sale Nomads
Fran Horwich – Four Old Broads – Midlife Crisis Theatre Company
Glenn Robinson – Ladies Day – PADOS
Ian Taylor – Dial 'M' For Murder – PADOS WINNER
John Chidgey – Business Affairs – Altrincham Garrick
Joseph Meighan – People – Altrincham Garrick
Mike Shaw – Towards Zero – Altrincham Garrick

Best Director of a Musical
Andrew Lee – Rent – East Cheshire Musical Theatre
Grace Johnstone – Spring Awakening – UMMTS WINNER
Mark Rosenthal – Chicago – PADOS
Michael Jones-McCaw – Guys & Dolls – Stockport OS
Natalie Coverley – You're A Good Man Charlie Brown – New Mills AODS
Neil Coe – Dogfight – All Saints Musical Productions
Pam Dyson – My Fair Lady – St Dunstan's AODS
Richard Ross – Into The Woods – All Saints Musical Productions
Robert Margolis – Sister Act – Jewish Theatre Company
Sheryl Haydock-Howorth – The Sound Of Music – New Mills AODS
Tom Jennings – Made In Dagenham – MMY Graduates

Best Drama
A View From The Bridge – Sale Nomads
Brontë – Altrincham Garrick
Dial 'M' For Murder – PADOS
When We Are Married – Altrincham Garrick WINNER

Best Musical
Chicago – PADOS
Dogfight – All Saints Musical Productions
Guys & Dolls – Stockport Operatic Society
Into The Woods – All Saints Musical Productions WINNER
Made In Dagenham – MMY Graduates
Rent – East Cheshire Musical Theatre
Seussical – UMMTS
Spring Awakening – UMMTS
You're A Good Man Charlie Brown – New Mills AODS

Reps Special Award
Brookdale Theatre WINNER
Elizabeth Lovelady
Sara Hawley
Susan Burton & Jeanette Bainbridge
Isabelle Mead

Many thanks everyone!

Kevin Proctor
NODA North West
District # 1