Awards
NODA has a number of awards available for presentation:
Long service
Youth
Centenary certificates
Programme and poster competition
Production awards (in some regions)
PLEASE NOTE THE YEARs 2020 & 2021 WILL COUNT TOWARDS YOUR TIME OF SERVICE TO AMATEUR THEATRE
For further information please contact the membership services team on 01733 374 790 or email info@noda.org.uk.
New criteria! - Eligibility now begins from when the individual first became involved in amateur theatre, whatever that age may be.
Alternatively, you can find application forms for awards below:
POSTAGE CHARGES APPLY
NODA offers a superb and totally exclusive range of medals, bars, badges and certificates for your society to present to members, to show appreciation and to commemorate their years of service to amateur theatre.
The most highly prized award in the world of amateur theatre is undoubtedly the NODA Long Service Medal, signifying 25 years of active and unpaid service, on stage or off.
Every subsequent five years of service can then be marked by adding a Silver Bar, culminating after 50 years of service with the Gold Bar, and after 60 years with the highly prestigious Diamond Bar.
Long Service Medals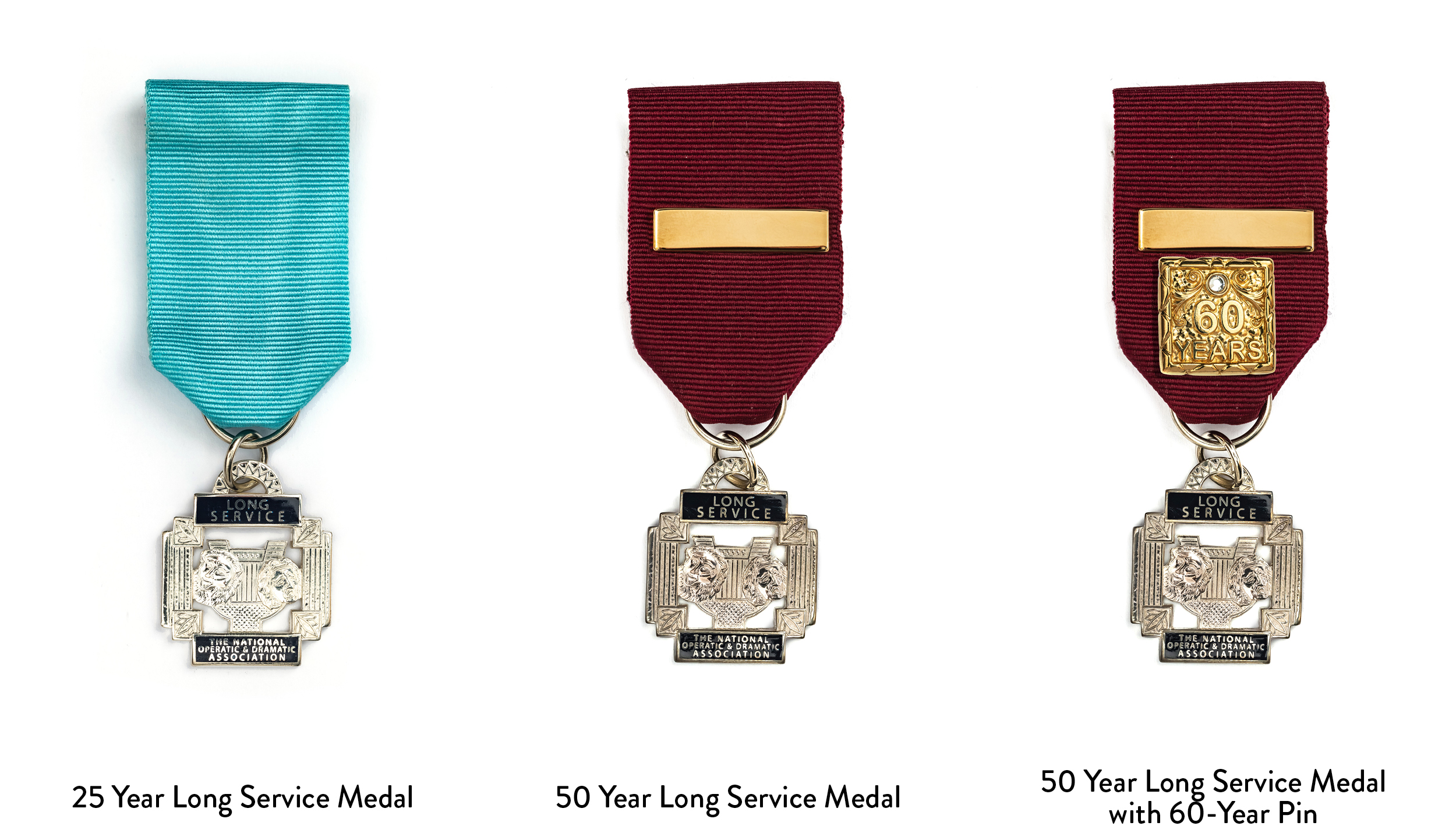 Gilt Pins

55, 60, 65 and 70-year pins are, as with all NODA medals and badges, handcrafted and manufactured to an extremely high standard, and these pins are fine examples of just that. They make a beautiful, quality gift for those with more than 50 years' service to amateur theatre and can be attached to existing 50 and 60-year medal ribbons.

Badges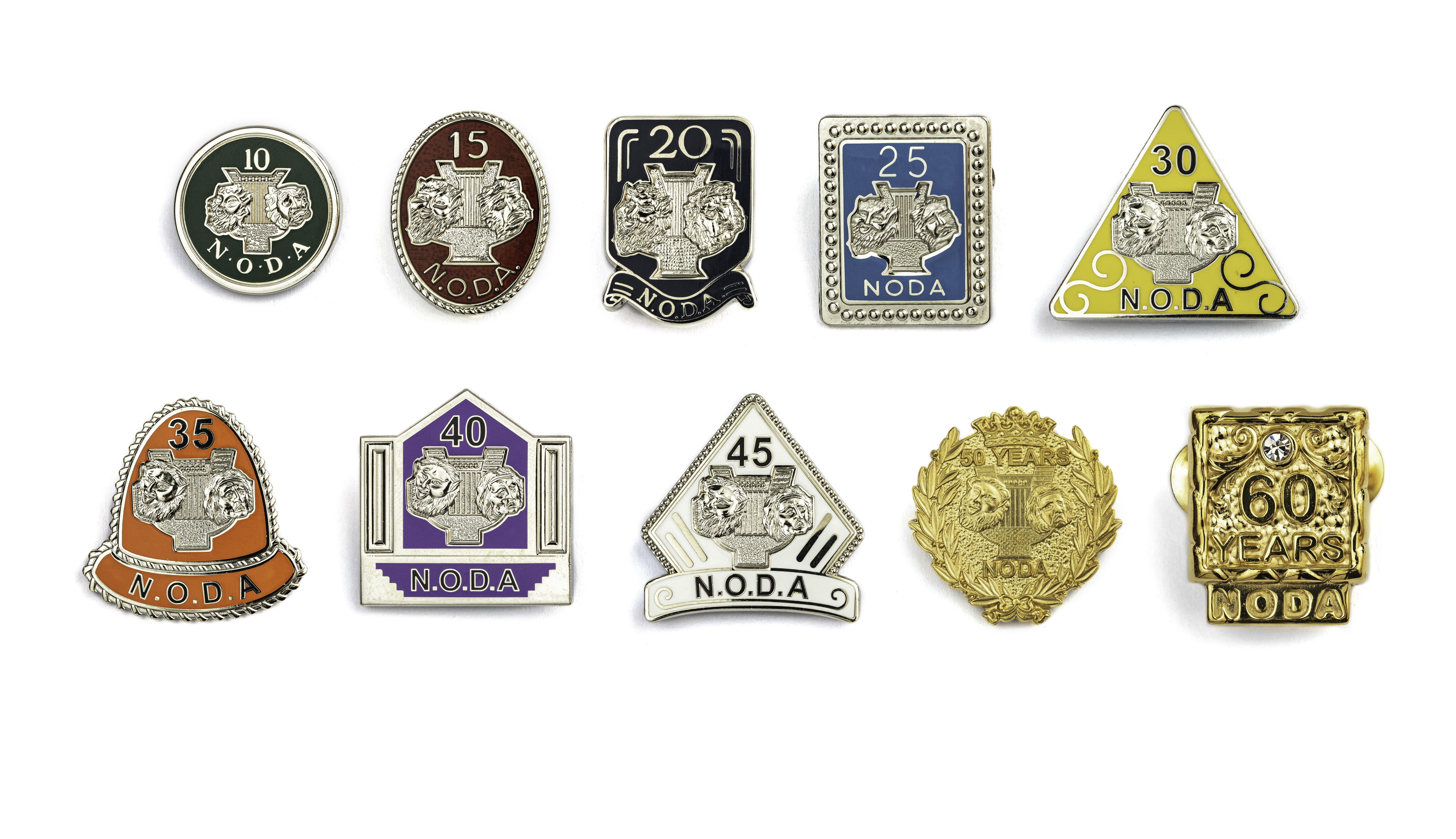 Normally presented by societies to individuals as an expression of gratitude, badges for 10, 15, 20, 30, 35, 40, 45, 50 and 60-years of service are available upon application, supported by confirmation from a society official. Service does not have to have been continuous, nor with one society alone.
Youth Awards

NODA Commendation Award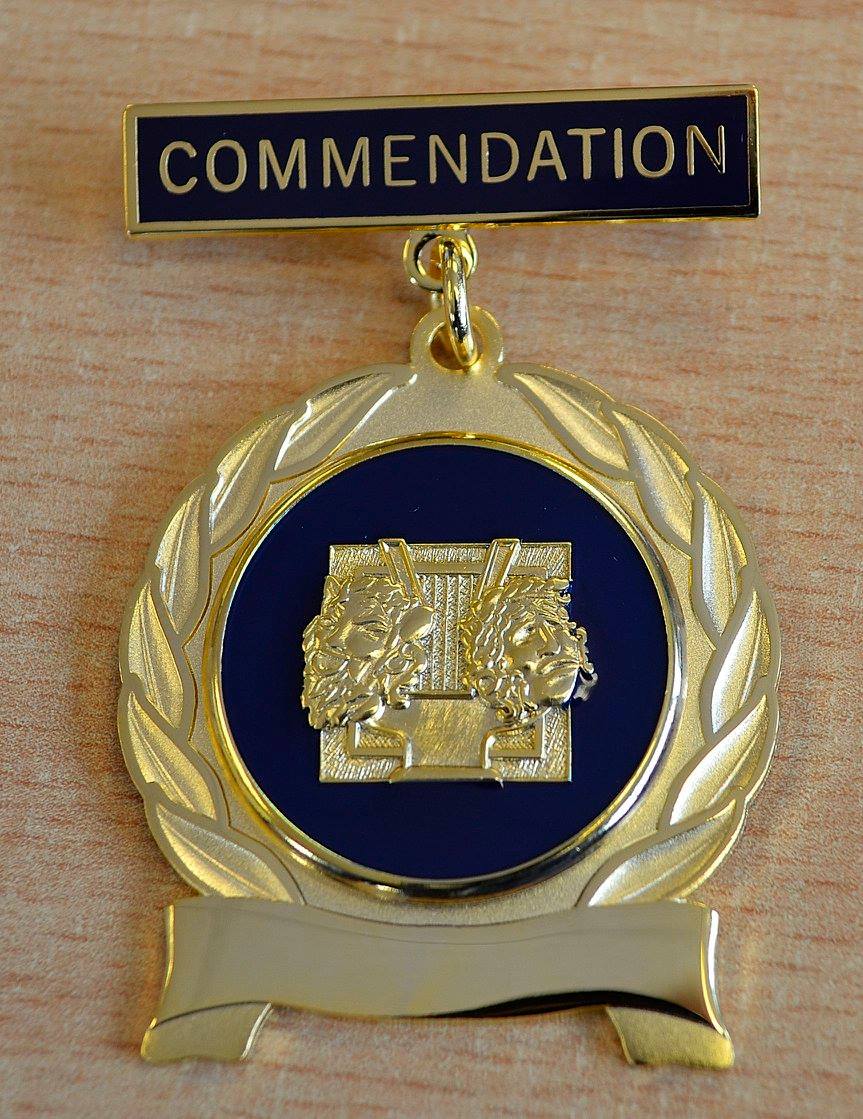 The NODA Society Life Member Badge
If your society has made any of your members 'Life Members', NODA have for you a 'NODA Society Life Member' badge. Made with silver gilt and featuring the NODA crest, your life members can wear this prestigious, quality badge with pride! This can be ordered DIRECTLY from head office - £39.99 including P&P
Please note, applications must be checked against official records and authorised by the appropriate NODA official - please therefore allow at least six weeks before the presentation date.