NODA North West District 6 Awards & Dinner 2020
First of all, can I take this opportunity to thank everyone who attended our Annual NODA North West District 6 Dinner on Saturday Evening 1st February 2020... we really did have a 'blast'. With 516 attendees, this was by far, our biggest ever attended dinner! We welcomed our new District Chairmen – Andy McNicholas, two local Mayors from Sefton and Maghull and our new friends from Wigan Little Theatre who were attending for the first time.
These types of events do not just happen and working behind the scenes and on the night were a 'bunch of guys and gals' without who, this dinner would not have run as smoothly as it did and to each and every one of you and without naming names for fear of missing someone out – I'D LIKE TO THANK YOU ALL SO MUCH!
As I said on the evening and as I've said so many times before......
"To those included on the 'Nominations List' and to our eventual 'Winners' congratulations!
To those not included this year 'Commiserations', but please, please, please be assured that your talents and your efforts did not go unnoticed – because they really didn't!"

However and in true awards fashion, there can only ever be one winner . . .
So please find below a list of all our nominees and our eventual winner from each category as announced on Saturday evening......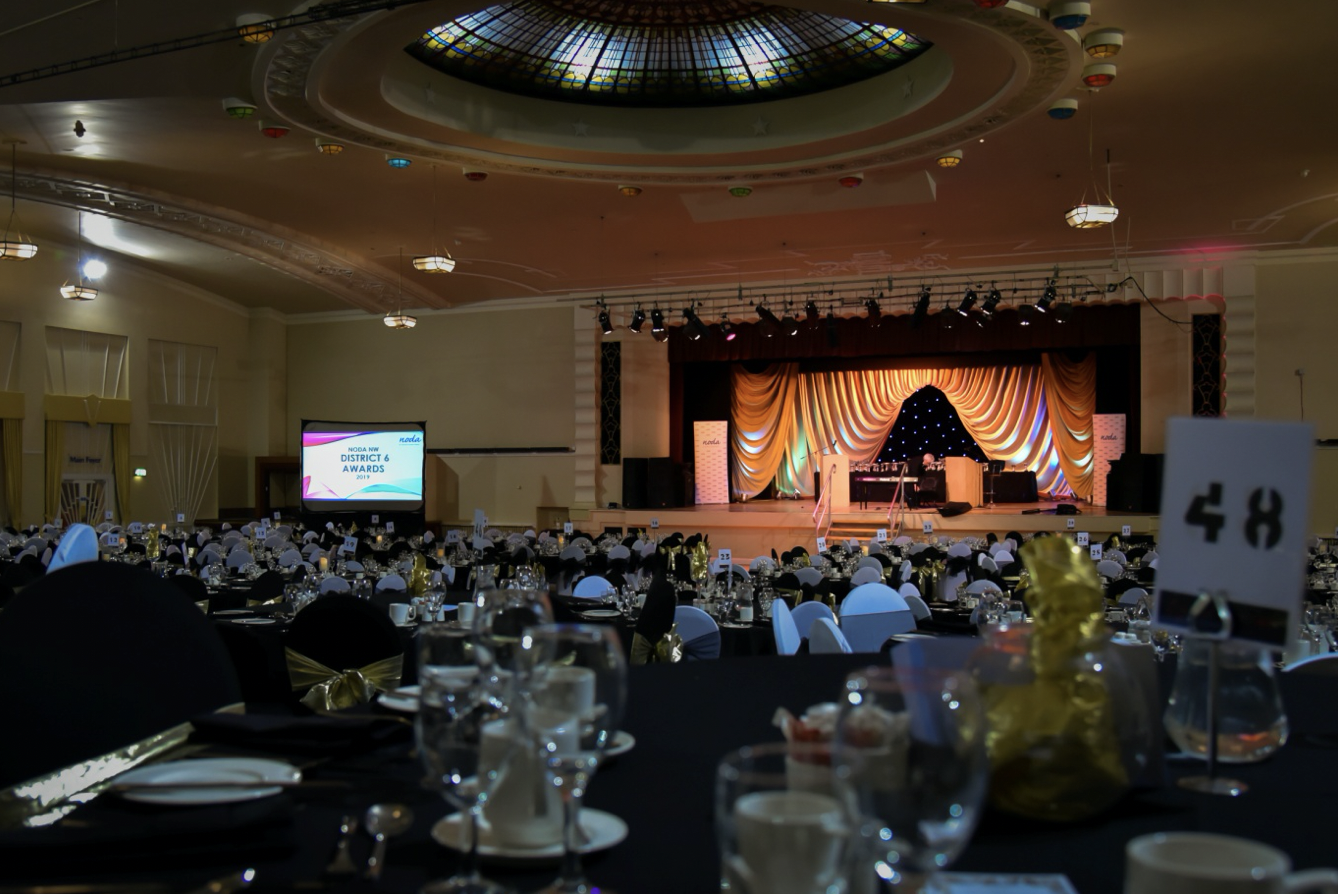 District 6 - Nominees

Best Leading Male in a Musical
Adam Richardson - Joe Gillies - Sunset Boulevard - AMAS
Mike Wignall - Max Bialystock - The Producers - St Paul's Players
Mikey Coleman - Freddy Benson - Dirty Rotten Scoundrels - St Ambrose Players (WINNER)
Mark Lloyd - Bob Wallace - White Christmas - Wigan Musical Theatre Group
Chris Rimmer - Robbie Hart - Wedding Singer - Southport Spotlights
Mark Charnock - Capt von Trapp - Sound of Music - Pleasure Folk
Harry Moore - Fagin - Oliver - Pilkington MTC
Alan Casserley - Tevye - Fiddler of the Roof - BOS
Mark Kendall - Lawrence Jameson - Dirty Rotten Scoundrels - St Ambrose Players

Best Leading Female in a Musical
Heather Lewis - Golde - Fiddler on the Roof - BOS
Lucy Bradshaw - Deloris Van Cartier - Sister Act - Rainhill MTC
Janine Burrows - Fanny Brice - Funny Girl - Southport Spotlights
Natasha Athey - Julia O'Sullivan - Wedding Singer - Southport Spotlights
Diane Simmons - Norma Desmond - Sunset Boulevard - AMAS (WINNER)
Liz Wainwright - Maria - Sound of Music - Pleasure Folk
Becky Barrie - Rose - Gypsy - Maghull MTC
Astley Cassidy - Ulla - The Producers - St Paul's Players
Natalie Jones - Sister Mary Robert - Sister Act - Orrell MDS

Best Supporting Male in a Musical
John Matthias - Max Von Mayerling - Sunset Boulevard - AMAS (WINNER)
Matt Clarke - Andre Thibault - Dirty Rotten Scoundrels - St Ambrose Players
Bryan Dargie - Curtis Jackson - Sister Act - Rainhill MTC
Tom Townsend - Roger DeBris - The Producers - St Paul's Players
Leslie Longley - Judas - Jesus Christ Superstar - Maghull MTC
Liam Rabbette - Pilate - Jesus Christ Superstar - Maghull MTC
Joey Wiswell - Harold Wilson - Made in Dagenham - Wigan Little Theatre
Craig Billington - Max Detweiler - Sound of Music - BOS

Best Supporting Female in a Musical
Lisa Tatler - Yenta - Fiddler on the Roof - BOS
Samantha Moores - Mother Superior - Sister Act - Rainhill MTC
Lisa Griffiths - Barbara Castle - Made in Dagenham - Wigan Little Theatre
Katie Speakman - Nancy - Oliver - Pilkington MTC
Nicky Williams - Mrs Brice - Funny Girl - Southport Spotlight
Beth McClelland - Elsa Schraeder - Sound of Music - Pleasure Folk (WINNER)
Kimberley Barker - Jolene Oakes - Dirty Rotten Scoundrels - St Ambrose Players
Charli Bradbury - Betty Schaefer - Sunset Boulevard - AMAS

Best Musical Director
David Wall - Fiddler on the Roof - BOS
Dave Dossett - Sunset Boulevard - AMAS
Linda Scott - Sister Act - Orrell MDS
Wayne Oakes - Sister Act - Rainhill MTC (WINNER)
Chris Rimmer - Funny Girl - Southport Spotlights
Wayne Oakes - Oliver - Pilkington MTC
Lauren Mulhollan - The Producers - St Paul's Players

Best Director of a Musical
Anthony Williams - Sunset Boulevard - AMAS
Rob MacGregor - Funny Girl - Southport Spotlights (WINNER)
David Moloney - The Producers - St Pauls Players
Stephen Hughes - Alty - Wedding Singer - Southport Spotlights
Diane Jones - Sister Act - Orrell MDS
Liz Clarke - Fiddler on the Roof - BOS
Pip Bradshaw - Sister Act - Rainhill MTC
Tracey Dawson - Made in Dagenham - Wigan Little Theatre

Best Choreographer
Alison Hampson - Sister Act - Orrell MDS
Toni Spotforth& Rob MacGregor - Funny Girl - Southport Spotlights
Anthony Williams - Sunset Boulevard - AMAS
Lucy Bradshaw - Sister Act - Rainhill MTC
Gemma Briscoe - Sound of Music - Pleasure Folk AMS
Louise Hawkes - Made in Dagenham - Wigan Little Theatre (WINNER)
Jackie Morris - Wedding Singer - Southport Spotlights

Best Musical
Sister Act - Rainhill MTC
Sister Act - Orrell MDS
Funny Girl - Southport Spotlights
Fiddler on the Roof - BOS
Wedding Singer - Southport Spotlights
Dirty Rotten Scoundrels - St Ambrose Players
Sunset Boulevard - AMAS (WINNER)
The Producers - St Paul's Players
Made in Dagenham - Wigan Little Theatre

Best Leading Male in a Youth Musical
Ryan Harrison - Bert - Mary Poppins Jr - West Lancashire College
Ben Brooks - Marty the Zebra - Madagascar - AMAS Youth
Joshua Nicholls - Alex the Lion - Madagascar - AMAS Youth
Mathew Roberts - Peter - The Lion the Witch & the Wardrobe - Pleasure Folk Juniors
Jack Blackburn - Capt von Trapp - Sound of Music - RTDA
Liam Spencer - Jennyanydots/Macavity - Cats - Rainhill MTC Youth
Lucas Burns - Warbucks - Annie - Chorley Youth Theatre (WINNER)
Charlie Geldart - Edmund - The Lion the Witch & the Wardrobe - Pleasure Folk Juniors

Best Leading Female in a Youth Musical
Liesl Cook - Miss Hannigan - Annie - Chorley Youth Theatre
Naomi Cook - Grace - Annie - Chorley Youth Theatre
Lydia Sneesby - Jane Banks - Mary Poppins Jr - West Lancashire College
Olivia Forshaw - Maria - Sound of Music - RTDA
Maria Henriques - Lucy - The Lion the Witch & the Wardrobe - Pleasure Folk Juniors (WINNER)
Louise Millington - Maria - West Side Story - SONG
Jessica Keggin - Alice (Small) - Alice in Wonderland Jr - Waterloo & Crosby Theatre Company Youth
Rhianna McEwen - Grizabella/Gus - Cats - Rainhill MTC Youth
Olivia Salters - Susan - "The Lion the Witch & the Wardrobe" - Pleasure Folk Juniors

Best Supporting Male in a Youth Musical
Ryan Gallagher - Riff - West Side Story - SONG
Gabe Carderia - Bernardo - West Side Story - SONG
Elliot Bailey - Max Detweiler - Sound of Music - RTDA (WINNER)
Tom McMahon - Mr Tumnus - The Lion the Witch & the Wardrobe - Pleasure Folk Juniors
Aaron Savage - Jellyorium/Bustopher Jones - Cats - Rainhill MTC Youth
John Donachie-Ashcroft - Kenickie - Grease - St John Rigby College

Best Supporting Female in a Youth Musical
Caitlin Boulton - Mother Abbess - Sound of Music - RTDA (WINNER)
Roisin Cook - Elsa - Sound of Music - RTDA
Emily Mayne - The White Witch - "The Lionthe Witch & the Wardrobe" - Pleasure Folk Juniors
Leah Connelly - Mrs Brill - Mary Poppins Jr - West Lancashire College
Lilly Spencer - Rum Tum Tugger / Skimbleshanks - Cats - Rainhill MTC Youth
Charlie Jasmine Edge - Anita - West Side Story - SONG
Cara Whitney-Cook - Anybodys - West Side Story - SONG
Aimee Pendlebury - Rizzo - Grease - St John Rigby College

Best Director of a Youth Musical
Deborah Fletcher - Mary Poppins Jr - West Lancashire College
Sarah Pilkington - Madagascar - AMAS Youth
Si Foster / Harry Moore & Sophie Thow - Sound of Music - RTDA
Karen Edge - West Side Story - SONG
Holly Petts - Annie - Chorley Youth Theatre (WINNER)
Gemma Briscoe - "The Lion, the Witch & the Wardrobe" - Pleasure Folk Juniors
David Wall & Rebecca McDonald - Grease - St John Rigby College

Laura Ratcliffe Award - Best Choreographer of a Youth Musical
Jade Harrington - Sound of Music - RTDA
Sarah Henshaw - Alice in Wonderland Jr - Waterloo & Crosby Theatre Company Youth
Liz Wainwright - "The Lionthe Witch & the Wardrobe" - Pleasure Folk Juniors
Kerenza Fletcher - Mary Poppins Jr - West Lancashire College
Jennie Miller - Madagascar - AMAS Youth
Victoria Harrocks - West Side Story - SONG (WINNER)
Amy Balfour + Samantha Moores - Cats - Rainhill MTC Youth
Grace McDivitt, Lydia Heaton & Rebecca Fairhurst - Grease - St John Rigby College

Best Musical Director of a Youth Musical
Paul Stanley - Madagascar - AMAS Youth (WINNER)
Wayne Oakes - Sound of Music - RTDA
Charles Moss - West Side Story - SONG
Paul Carr - Annie - Chorley Youth Theatre
Wayne Oakes - Alice in Wonderland Jr - Waterloo & Crosby Theatre Company Youth
Nancy Wells - "The Lionthe Witch & the Wardrobe" - Pleasure Folk Juniors
David Wall - Grease - St John Rigby College
Best Leading Male in a Youth Drama
Luke Mallinson - Ferdinand – King of Navarre - Love's Labour's Lost - West Lancashire College (WINNER)
Callum Matthews - John Proctor - The Crucible - St John Rigby College
Leigh Palmer - Mr Fox - Fantastic Mr Fox - Chorley Youth Theatre

Best Leading Female in a Youth Drama
Lily Roach - Princess of France - Love's Labour's Lost - West Lancashire College
Amy Gaskell - Abigail Williams - The Crucible - St John Rigby College (WINNER)
Megan Cain - Elizabeth Proctor - The Crucible - St John Rigby College
Lucy Wood - Mrs Fox - Fantastic Mr Fox - Chorley Youth Theatre

Best Supporting Male in a Youth Drama
Nathan Nelson - Lord Dumaine - Love's Labour's Lost - West Lancashire College
Declan Dougan - Lord Longaville - Love's Labour's Lost - West Lancashire College
Ryan Harrison - Lord Berowne - Love's Labour's Lost - West Lancashire College (WINNER)
Kian Mokler - Reverend Parris - The Crucible - St John Rigby College
Sam Dyson - Reverend Hale - The Crucible - St John Rigby College

Best Supporting Female in a Youth Drama
Lydia Sneesby - Moth - Love's Labour's Lost - West Lancashire College
Teagan Powell - Don Adriano de Armado - Love's Labour's Lost - West Lancashire College
Alisha Asanova - Rosaline - Love's Labour's Lost - West Lancashire College
Rhiann Rigby - Mary Warren - The Crucible - St John Rigby College
Katie Jones - Badger - Fantastic Mr Fox - Chorley Youth Theatre (WINNNER)

Best Director of a Youth Drama
Naomi Cook - Fantastic Mr Fox - Chorley Youth Theatre
Deborah Fletche - Love's Labour's Lost - West Lancashire College
Rebecca McDonald - The Crucible - St John Rigby College (WINNER)

Best Male Comedy - Youth Production
Joseph Ramsay - Tommy Austin - Alice in Wonderland Jr - Waterloo + Crosby Theatre Company Youth
Thomas Corcoran - Action - West Side Story - SONG
Alfie Ignatius - Roger - Grease - St John Rigby College (WINNER)
Charlie Kemp - Bean - Fantastic Mr Fox - Chorley Youth Theatre

Best Female Comedy - Youth Production
Rachel Moran - Boggis - Fantastic Mr Fox - Chorley Youth Theatre
Hayley Gaskell - Bunce - Fantastic Mr Fox - Chorley Youth Theatre
Emily Farrington - White Rabbit - Alice in Wonderland - Waterloo + Crosby Theatre Company Youth
Grace McDivitt - Jan - Grease - St John Rigby College (WINNER)

Best Male Entertaining - Youth Production
Liam Spencer - Jennyanydots / Macavity - Cats - Rainhill MTC Youth (WINNER)
Christopher Ratcliff - Roberston Ay - Mary Poppins - West Lancashire College
Max Holstead - Skipper/Penguins - Madagascar - AMAS Youth
Miles Gardener - Aslan - The Lion the Witch & the Wardrobe - Pleasure Folk Juniors

Best Female Entertaining - Youth Production
Poppie Saunders - Caterpillar/Butterfly - Alice in Wonderland Jr - Waterloo & Crosby Theatre Company Youth (WINNER)
Rachel Moran - Boggis - Fantastic Mr Fox - Chorley Youth Theatre
Leah Connelly - Mrs Brill - Mary Poppins - West Lancashire College
Poppy Trigwell - Victoria - Cats - Rainhill MTC Youth

Best Ensemble – Youth Production
Cast - Alice in Wonderland - Waterloo & Crosby Theatre Company Youth
Cast - The Lion the Witch & the Wardrobe - Pleasure Folk Juniors (WINNER)
Finn Knowles, Chris Bache, John Donachie-Ashcroft
Conor Porter & Alfie Ignatius - Grease - St John Rigby College
Annie Gaskell, Grace McDivitt, Aimee Pendlebury,
Rebecca Fairhurst & Eve Wagstaff - Grease - St John Rigby College
Cast - Fantastic Mr Fox - Chorley Youth Theatre
Cast - Madagascar Jr - AMAS Youth

Best Chorus Performance – Youth Production
Cats - Rainhill MTC Youth
Grease - St John Rigby College
West Side Story - SONG
The Fantastic Mr Fox - Chorley Youth Theatre (WINNER)
The Lion the Witch & the Wardrobe - Pleasure Folk Juniors
Alice in Wonderland - Waterloo & Crosby Theatre Company Youth

Best Staging / Set / Technical - Youth Production
The Lion the Witch & the Wardrobe - Pleasure Folk Juniors
Madagascar - AMAS Youth (WINNER)
West Side Story - SONG
Fantastic Mr Fox - Chorley Youth Theatre
Love's Labour's Lost - West Lancashire College
Grease - St John Rigby College

Best Youth Production
Cats - Rainhill MTC Youth
West Side Story - SONG (WINNER)
The Fantastic Mr Fox - Chorley Youth Theatre
The Lion the Witch & the Wardrobe - Pleasure Folk Juniors
The Crucible - St John Rigby College
Alice in Wonderland - Waterloo & Crosby Theatre Company Youth
Grease - St John Rigby College

Best Leading Male in a Drama
Phil Quinn - Leonard Vance - Witness for the Prosecution - Mawdesley ADS
John Dudley - Mr Perks - The Railway Children - Wigan Little Theatre
John Duffy - Richard - Dead Funny - Northern Comedy Theatre
Gary Simpson - George Bailey - It's a Wonderful Life - The Radio Play - Ormskirk Theatre Company (WINNER)
Dave Reid - Stage Manager - Our Town - CADOS
Barry Ashworth - Jefferson Steele - Bunch of Amateurs - CADOS
Matt Clarke - David Horton - Vicar of Dibley - St Ambrose Players

Best Leading Female in a Drama
Leonie English - Geraldine Grainger - Vicar of Dibley - St Ambrose Players
Siobhan Edge - Hyacinth Bucket - Keeping Up Appearances - St Pauls Players (WINNER)
Sue Hilton - Dorothy Nettle - Bunch of Amateurs - CADOS
Debbie Wells - Romaine - Witness for the Prosecution - Mawdesley ADS
Zoe Jones - Mavis - Stepping Out - CADOS
Kathryn Chambers - Eleanor - Dead Funny - Northern Comedy Theatre
Julie Webster - Letitia Blacklock - A Murder is Announced - St Ambrose Players

Best Supporting Male in a Drama
Patrick McNulty - Ronnie Meadows - Murder in Company - St Michael's ADS
Ray Sutton - Walter - Stop the Play - Northern Comedy Theatre
David Walker - Nigel Dewsbury - Bunch of Amateurs - CADOS
Ashley McLoughlin - Constable - Death of an Anarchist - CADOS
Mark Haygarth - Mr. Causeway - Sex Cells - Too Friendly Theatre Company
Keiron Garlick - Emmett - Keeping Up Appearances - St Pauls Players
Chris Hill - Sir Wilfred Robarts - Witness for the Prosecution - Mawdesley ADS (WINNER)

Best Supporting Female in a Drama
Olivia Chandler - Dotty - Death of an Anarchist - CADOS
Tracy Holmes-Smith - Lily - Sex Cells - Too Friendly Theatre Company
Kathryn Chambers - Mrs Lintott - The History Boys - Northern Comedy Theatre (WINNER)
June Dowd - Phoebe Kershaw - Murder in Company - St Michael's ADS
Gael Finch - Elizabeth - Keeping Up Appearances - St Pauls Players
Emma Appleton - Mother - The Railway Children - Wigan Little Theatre
Lorraine Ryan - Andy - Stepping Out - CADOS
Poppy Sparrow - Mitzi - A Murder is Announced - St Ambrose Players

Best Director of a Drama
Shaun Chambers - Dead Funny - Northern Comedy Theatre
Phil Quinn - Witness for the Prosecution - Mawdesley ADS
Shaun Chambers - The History Boys - Northern Comedy Theatre (WINNER)
Mark Howard - The Vicar of Dibley - St Ambrose Players
Lauren Brown - The Railway Children - Wigan Little Theatre
Robert Walsh - Accidental Death of an Anarchist - CADOS
Mark Jones - Our Town - CADOS

Best Drama
Our Town - CADOS
Dead Funny - Northern Comedy Theatre
The History Boys - Northern Comedy Theatre (WINNER)
Witness for the Prosecution - Mawdesley ADS
Accidental Death of an Anarchist - CADOS
Ladies Down Under - Wigan Little Theatre
The Vicar of Dibley - St Ambrose Players
A Murder is Announced - St Ambrose Players

Best Concert or Review
There'll be Bluebirds Over - Wigan Musical Theatre Group
23rd Anniversary Opera Supper and Concert - Una Voce Opera Company
Voice of the People - Rainhill Musical Theatre Company (WINNER)
Opera Gala and Supper - Opera Viva
50 Years Not Out - Orrell Musical & Dramatic Society

Best Opera and Operetta Award
La Traviata - Opera Viva
23rd Anniversary Opera Supper and Concert - Una Voce Opera Company
Opera Gala and Supper - Opera Viva (WINNER)

Best Gilbert and Sullivan Production
HMS Pinafore and Trial by Jury - Crosby G & S (WINNER)
The Gondoliers - Hoghton Players

Best Ensemble
Workhouse Chorus & Fagin's Gang - Oliver - Pilkington Musical Theatre Company
Cast - The Cemetery Club - Wigan Little Theatre
Mark Lloyd & Neil Brogan as Bob Wallace & Phil Davies
Helen Ayres & Louise Steggals as Betty Haynes & Judy Haynes - White Christmas - Wigan Musical Theatre Company
Natalie Jones, Louise Taylor &Alison Hampson
(Sister Mary Robert, Sister Mary Lazarus & Sister Mary Patrick) - Sister Act - Orrell Musical & Dramatic Society (WINNER)
Cast - William Shakespeare's Long Lost First Play - Two Friendly Theatre Company
Cast - The Boadicea of Britannia Street - Ormskirk Theatre Company
Cast - Ladies Down Under - Wigan Little Theatre

Best Chorus Performance
Oliver - Pilkington MTC
Made in Dagenham - Wigan Little Theatre (WINNER)
Sunset Boulevard - AMAS
Dirty Rotten Scoundrels - St Ambrose Players
White Christmas - Wigan Musical Theatre Group
The Producers - St Paul's Players
The Wedding Singer - Southport Spotlights

Best Male Comedy Performance
Alan Levesley - Denis Dobbins - A Bunch of Amateurs - CADOS
Sean McLaughlin - Hugo Horton - Vicar of Dibley - St Ambrose Players
Joe Cunliffe - Carmen Ghia - The Producers - St Paul's Players
Danny Fahey - Nick - Dead Funny - Northern Comedy Theatre
Jacob Lee Prince - Maniac - Death of an Anarchist - CADOS (WINNER)
Phil Quinn - Geoffrey - Stepping Out - CADOS
Ray Sutton - Walter - Stop! The Play - Northern Comedy Theatre

Best Female Comedy Performance
Rebecca Moranv - Alice Tinker - Vicar of Dibley - St Ambrose Players
Sue Hilton - Mrs Fraser - Stepping Out - CADOS
Linda Hansen - Gigi - From Bootle to Benidorm - Waterloo & Crosby Theatre Company
Hellen James - Annie - Boadicea of Britannia Street - OTC
Caroline McCann - Martha Watson - White Christmas - Wigan Musical Theatre Group
Alicia Stroud - Lisa - Dead Funny - Northern Comedy Theatre (WINNER)

Best Male Youth in an Adult Production
Jack Sampson - Peter - The Railway Children - Wigan Little Theatre
Elliot Bailey - TJ - Sister Act - Rainhill Musical Theatre Company
Kieran Maleedy - Dakin - The History Boys - Northern Comedy Theatre (WINNER)
Elliot Bailey - Scripps - The History Boys - Northern Comedy Theatre
Thomas Corcoran - Rolf - Sound of Music - BOS
Lewis Holding - Abu Ben Down - Ali Ba Ba& the Forty Thieves - St Michael's ADS
Matt Christiansen - Tulsa - Gypsy - Maghull Musical Theatre Company

Best Female Youth in an Adult Production
Hannah Charnock - Liesl - Sound of Music - Pleasure Folk AMS
Jess Ratcliffe - Dodger - Oliver - Pilkington Musical Theatre Company
Deryn Ashton - Roberta - The Railway Children - Wigan Little Theatre
Megan Wagstaff - Liesl - Sound of Music - BOS (WINNER)
Sarah Collinge - Susan Waverley - White Christmas - Wigan Musical Theatre Group
Poppie Saunders - Katniss - Dick Whittington - Waterloo & Crosby Theatre Company
Faith Hurst - Phyllis - The Railway Children - Wigan Little Theatre

Best Original or Adapted Script
Enid Pennington - A Day in the Life of the Swift Family - The Unnamed Players
Cliff Gillies - Jack and The Beanstalk - All Souls Dramatic Club
Stella Reardon - From Bootle to Benidorm - Waterloo and Crosby Theatre Company
Emma Meen - Once Upon a Panto - Mawdesley ADS (WINNER)
Ian Field - Ali Ba Ba and the Forty Thieves - St Michael's ADS
Roy Hartley &Nicci Henshaw - Dick Whittington - Waterloo & Crosby Theatre Company
Andy Burke & Steven Catterall - Cinderella The Pantomime - CADOS

Best Staging/Set/Technical Adult Production
Jack and the Beanstalk - All Souls Dramatic Club
Sunset Boulevard - AMAS
Dirty Rotten Scoundrels - St Ambrose Players (WINNER)
Sleeping Beauty - Pleasure Folks AMS
Woman in Mind - CADOS
The Producers - St Pauls Players
Made in Dagenham - Wigan Little Theatre

Rep's Youth Award
Rhianna McEwan - Grizabella/Gus - Cats Jr - Rainhill Musical Theatre Company Youth (WINNER)

Rep's Award
Harry Moore - Fagin - Oliver - Pilkington Musical Theatre Company (WINNER)

Best Leading Male in a Pantomime
Rob Armstrong - Abanazar - Aladdin - St Pauls Players
Robert Walsh - Buttons - Cinderella – The Pantomime - CADOS (WINNER)
Paul Regan - White Rabbit - Alice in Wonderland - St Ambrose Players
Ryan Harrison - Prince Charming - Hickory Dickory Dock - West Lancashire College
Finlay Robertson - Long John Silver - Once Upon a Pantomime - Mawdesley Amateur Dramatic Society

Best Leading Female in a Pantomime
Robyn Burns - Aladdin - Aladdin - St Pauls Players
Evie Wallwork - Ali Baba - Ali Ba Ba and the Forty Thieves - St Michael's Amateur Dramatic Society
Hayleigh Griffin - Jill Wasteland - Jack and the Beanstalk - All Souls Dramatic Club
Natalie Aspinall - Cinderella - Cinderella – The Pantomime - CADOS
Sarah Henshaw - Dick Whittington - Dick Whittington - Waterloo & Crosby Theatre Company
Lydia Sneesby - Little Miss Muffet - Hickory Dickory Dock - West Lancashire College (WINNER)

Best Supporting Male in a Pantomime
Gareth Mabon - Wishy-Washy - Aladdin - St Paul's Players (WINNER)
Ian Lawson - Dr Stanley Von Cliché - Jack and the Beanstalk - All Souls Dramatic Club
David Johnson - Stupid - Dick Whittington - Waterloo & Crosby Theatre Company
Scott Allen - Muddles - Sleeping Beauty - Pleasure Folk AMS
Chris Seery - Bob Trott - Jack and the Beanstalk - All Souls Dramatic Club
Harry Cohen - Genie of the Lamp - Aladdin - St Paul's Players
Best Supporting Female in a Pantomime
Hayley Murray - Harper - Jack and the Beanstalk - All Souls Dramatic Club
Christine Swash - Igor - Jack and the Beanstalk - All Souls Dramatic Club (WINNER)
Beth McClelland - Wicked Witch - Sleeping Beauty - Pleasure Folk AMS
Rebecca Moran - Dandini - Cinderella - The Pantomime - CADOS
Libby Burke - Stepmother - Cinderella - The Pantomime - CADOS
Pat Howard - The Fairy - Dick Whittington - Waterloo & Crosby Theatre Company
Kintija Ziedone - Arachnia - Hickory Dickory Dock - West Lancashire College
Emma Meen - Lily/The Fairy Godmother - Once upon a Pantomime - Mawdesley Amateur Dramatic Society

Best Comedy/Entertaining Performance Pantomime
Dax Owen - Widow Twankey - Aladdin - St Paul's Players
Joanne Wasilew - Daisy Bovine - Jack + the Beanstalk - All Souls Dramatic Club (WINNER)
Laina Grimshaw-Brown & Olivia Chandler - Ewann & Meann - Cinderella – The Pantomime - CADOS
Alan Levesley & Stephen Clipston - Veranda Rotunda - Cinderella – The Pantomime - CADOS
Beth Walker & Kim Barker - Tweedle Dee & Tweedle Dum - Alice in Wonderland - St Ambrose Players
Joseph Ramsey & Emily Farrington - Cheap &Nasty - Dick Whittington - Waterloo & Crosby Theatre Company
Leanne Romney & David Greenfield - Yu-Dun-Wong &Yu-Dun-Pong - Aladdin - St Paul's Players

Best Director of a Pantomime
Cliff Gillies - Jack + the Beanstalk - All Souls Dramatic Club
Gemma Briscoe - Sleeping Beauty - Pleasure Folk AMS
Stephen Catterall & Andy Burke - Cinderella - The Pantomime - CADOS
Beverley Yates & Lewis Hampson - Alice in Wonderland - St Ambrose Players
Nicci Henshaw, Roy Hartley & Linda Hansen - Dick Whittington - Waterloo & Crosby Theatre Company
Graham Cohen - Aladdin - St Paul's Players (WINNER)

Best Musical Director of a Pantomime
Nancy Wells - Sleeping Beauty - Pleasure Folk AMS
Judith Oakes - Alice in Wonderland - St Ambrose Players (WINNER)
Paul Carr - Cinderella - The Pantomime - CADOS
Adam Dutch & Chloe Hughes - Jack + the Beanstalk - All Souls Dramatic Club

Best Choreographer - Pantomime
Lorraine Robinson & Pearl Williams (Assistant) - Aladdin - St Paul's Players (WINNER)
Katie Palfrey - Jack and the Beanstalk - All Souls Dramatic Club
Rebecca Dickinson - Cinderella - The Pantomime - CADOS
Jennie Barnes - Alice in Wonderland - St Ambrose Players
Liz Wainwright - Sleeping Beauty - Pleasure Folk AMS
Sarah Henshaw - Dick Whittington - Waterloo & Crosby Theatre Company

Best Pantomime
Jack and the Beanstalk - All Souls Dramatic Club
Aladdin - St Pauls Players (WINNER)
Sleeping Beauty - Pleasure Folk AMS
Cinderella – The Pantomime - CADOS
Hickory Dickory Dock - West Lancashire College
Dick Whittington - Waterloo & Crosby Theatre Company
Alice in Wonderland - St Ambrose Players

NODA NW District 6 Newcomer – Male
Lewis Holding - Abu Ben Down - Ali Ba Ba& the Forty Thieves - St Michael's Amateur Dramatic Society (WINNER)
NODA NW District 6 Newcomer – Female
Sarah Collinge - Susan Waverley - White Christmas - Wigan Musical Theatre Group (WINNER)
Colin Magenty Award
Linda Hansen - Waterloo & Crosby Theatre Company (WINNER)
Stephen Connor Award
Deborah Fletcher - West Lancashire College (WINNER)
John Sangster Award
Matt Christiansen - Tulsa - Gypsy - Maghull Musical Theatre Company (WINNER)
Special Achievement Award for services to Amateur Theatre
Mary Forbes - BOS (WINNER)