Youth and Performance awards 2014
Youth and Performance Awards - NODA North - Sept. 2014
The Rainton Meadows Arena, Houghton-le-spring provided host on September 13th 2014 to the North's 2nd annual Youth and Performance awards attended by almost 500 members from as far afield, in the north, as Berwick and, in the south, the North Pennines village of Hawes. Our guests for the evening were National President Bert Lumsden and his wife Anne as well as local BBC Tees radio presenter Alex Hall.
Regional Councillor, Gordon Richardson, welcomed all present before each district's regional rep read out the citations of each of their nominees and the eventual winners presented by our President. Tension was high throughout the arena and winners and nominees equally proud to have been recognised for their talents. No more so than the Youth and Adult Performance Councillor's award – held for the first time of what is to be an annual event – Winner of the youth award Councillors Shield was 16 year old Rhiann Quinn for her role as "Tommy the Cat" in Dryburn Theatrical Workshops production of Dick Whittington – a role that saw her command the stage without actually uttering a word the whole production. In the Adult category the winner of the Councillors Cup was Teesside MTC's production of "The Producers" which had the audience in stitches of laughter from start to finish whilst using very effective visual projections to aid the production.
The 'electric' atmosphere continued well after all awards and thank you's were delivered. The regional committee are already planning for next years awards!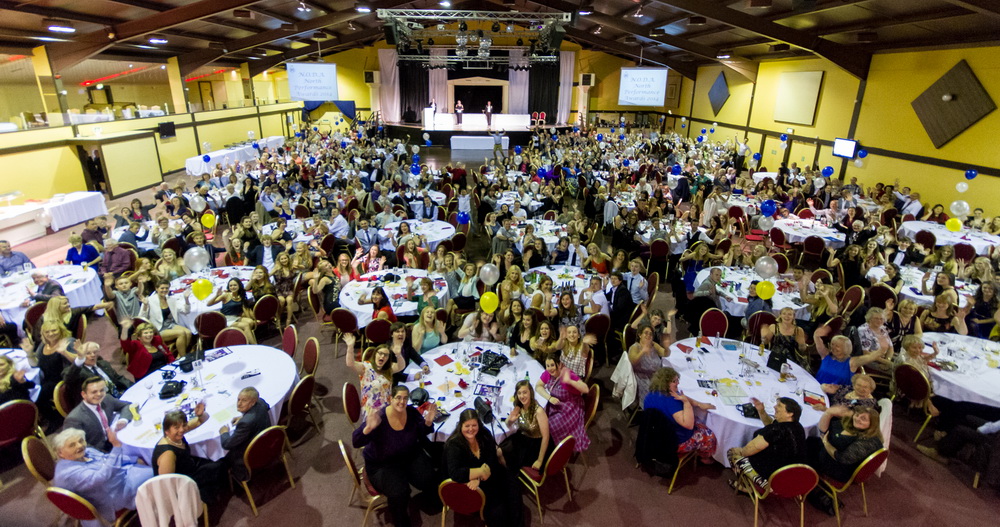 500 guests wave at the camera before start of the Performance awards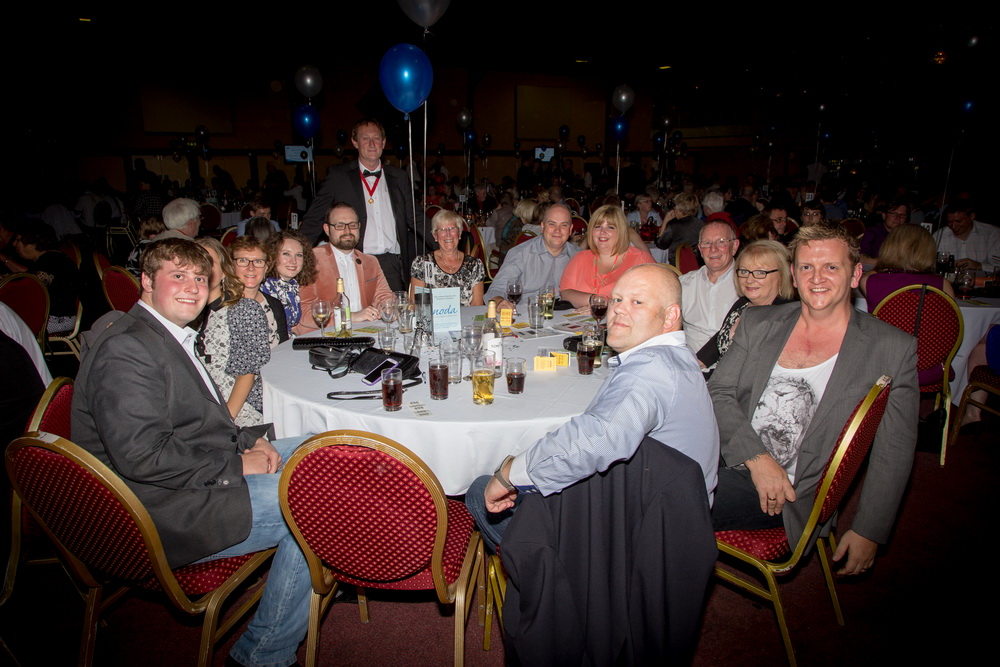 Table comprising mainly Sunderland T.C.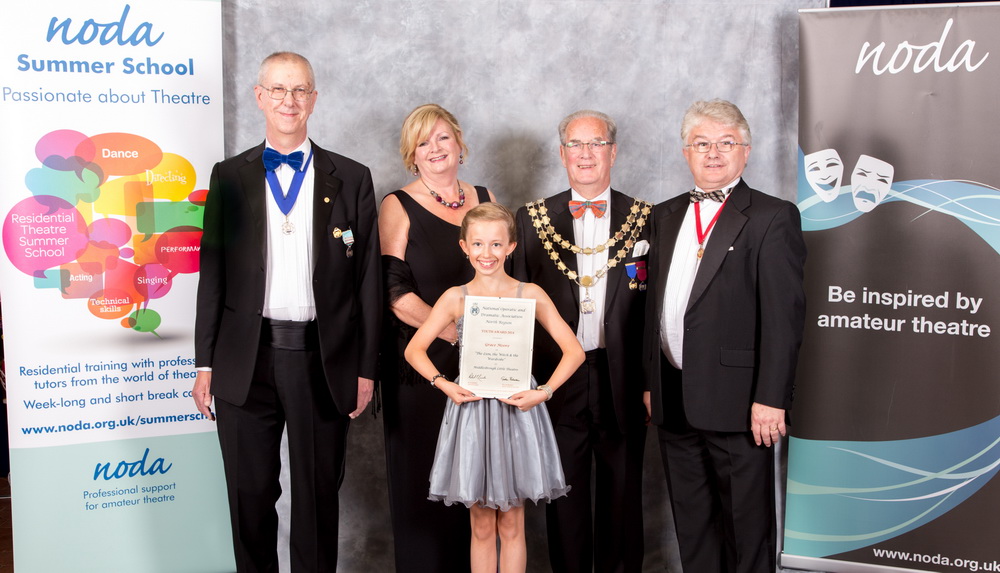 One of our younger guests after the presentations with Regional Councillor Gordon Richardson, BBC Tees radio presenter of "Songs from the Shows" Alex Hall and National President Bert Lumsden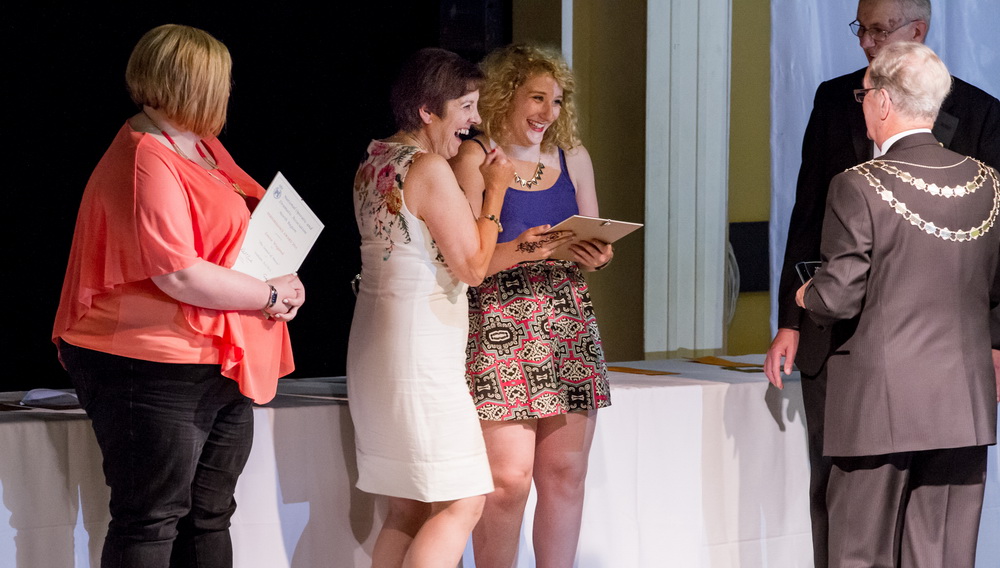 Joy of winning for Chester-le-Street TG (Graduate Section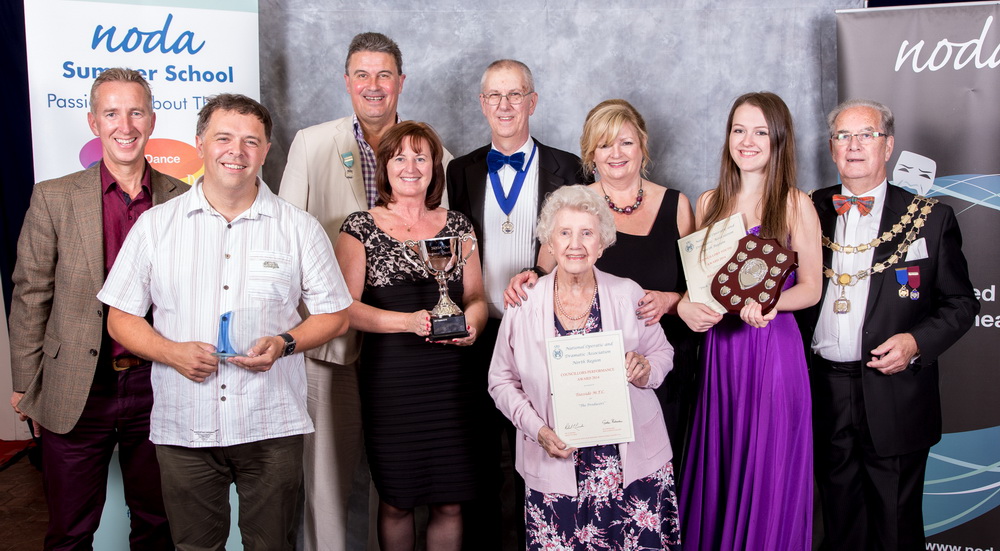 Winners of the Councillors Cup for Performance for the production of "The Producers" anlongside winner of the Councillors Shield for Youth, Rhiann Quinn of Dryburn TW for her role as 'Tommy the Cat' in Dick Whittington
All photos by kind permission of David Brennan of www.stagedoorphotography.co.uk