Curtain Up September 2019
IN THIS ISSUE
IODS celebrate their Centenary LADS support limbless ex-servicemen
CODA "reopens" the Ashcroft Playhouse Proscenium mark Aykbourn's 80th birthday
Summer School – a newbie's thoughts Meet the new Rep for District 7
From the Councillor
Welcome to the September issue of Curtain Up! This is a newsletter for all members of NODA London so, if you are the recipient of this email:
PLEASE FORWARD THIS NEWSLETTER ON TO ALL THE MEMBERS OF YOUR SOCIETY
If you would like to receive this newsletter directly, please email me to add your details to our list.
Firstly, don't forget we are still looking for a Regional Rep for District 6 (North East London and part of Essex) and a Communications manager. This latter volunteer role would look after social media and this newsletter as well as preparing articles for the national magazine, NODA Today. If you would be interested in either role please contact me.
_____________________________
The summer issue of NODA Today (www.noda.org.uk/magazine) focused on Youth issues and, across the country, NODA is re-doubling its efforts to ensure we do all that we can to encourage and assist our young people to get the most from Amateur Theatre. We have a new National Youth Co-ordinator, Mike Mulllen who is working with all the Regional Youth Advisors to build on our youth strategy. In London we are fortunate to have our enthusiastic Youth Advisor, Annie Hertler-Smith, who visits many of the Region's Youth performances. Together with Annie we are planning a big Youth Day next year. Watch out for details in future issues of Curtain Up!
We are delighted to welcome new and re-joining Societies to the London Region. Welcome to:
The Woodhouse Players, The Pump House Theatre Company, Valley Players Hughenden and St Albans Musical Theatre Company.
I trust all your preparations for your autumn productions are going well. Please continue to invite Karen and me and we will endeavour to make as many as we can.
The next issue of Curtain Up! will be released in mid-November. Please send me articles for inclusion by the end of October. We are happy to publish show details on our What's On listing – issued in the middle of each month – or to post flyers on the Facebook page, but if you have something different to tell the Region, please send me an article; are you celebrating an anniversary, doing a newly released show or presenting a different staging? Tell London all about it.
Andrew Rogers
andrew.rogers@noda.org.uk
________________________________________________________________________
Can't Stop The Beat!
​A Centenary Celebratory Concert for ILFORD OPERATIC & DRAMATIC SOCIETY.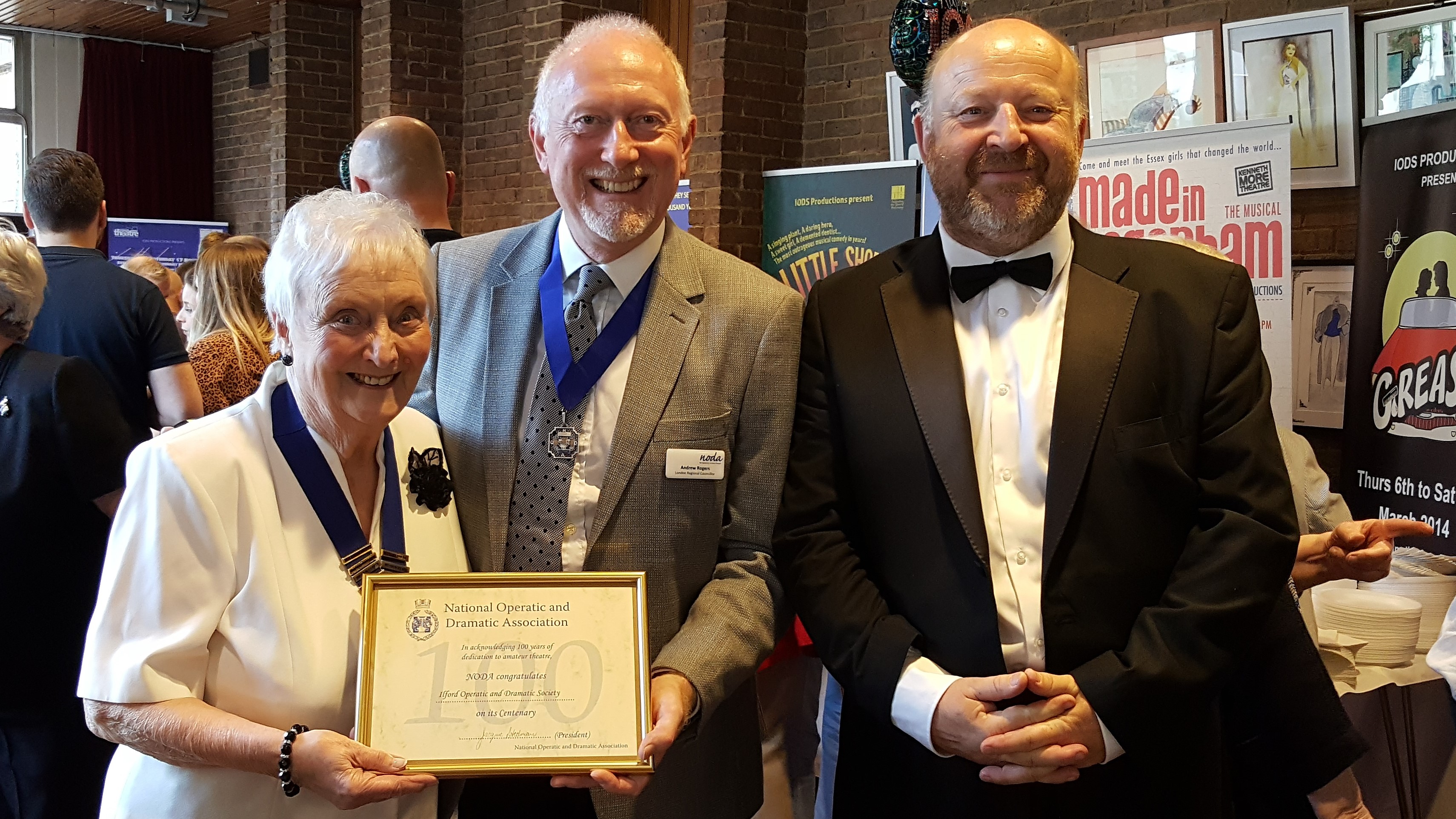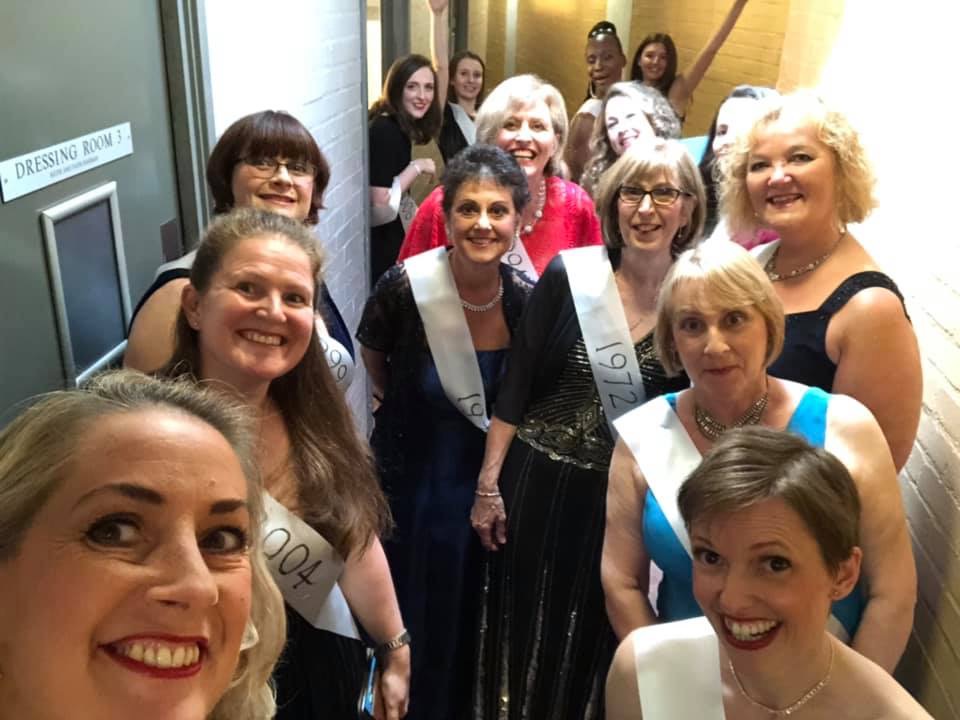 Since 1975, IODS has been fortunate enough to perform at the Kenneth More Theatre in Ilford, with all its professional facilities and support. When it suddenly became known in March 2019 that the KMT was under threat of closure following the loss of all subsidy, a title for our Centenary Concert on July 7th 2019, which had been in preparation for well over a year, suddenly became obvious.
In 1919, IODS was formed at the end of WW1 by former members of the Ilford Social Club, which had started life as a club for men, with ladies merely "tolerated"! How things have changed in 100 years! Since 1991 we also have a Youth Group and like many other Societies, we are now always on the lookout for more men! In the early days, big, lavish musicals and plays were produced on the stage of the Ilford Town Hall. Membership of performers and supporters was large and any losses on shows, though infrequent, used to be underwritten by wealthy members of the Society!
Two of our members, IODS President Pam Reeve and Treasurer Michael Brackley, have been performing and supporting shows in various committee and production roles for over sixty years and received a surprise presentation during the concert following the presentation by London Councillor Andrew Rogers of the NODA Centenary Certificate.
The concert featured as many of the best songs from IODS shows as could be crammed in! The opening men's chorus from IODS' first ever musical, The Mikado, swiftly morphed into a dance routine from The Hot Mikado, followed by the dramatic entrance to that glorious Sondheim melody of nearly 40 "Beautiful Girls" through the auditorium and onto the stage, each wearing a sash sporting the year she joined the company. Throughout the concert we enjoyed a backdrop of projected images reflecting the songs performed using archive material. And so the concert progressed, current members joined on stage by many former members, some of whom have gone on to professional careers, including the MD, arranger and conductor Steven Day, a founder member of IODS Youth.
What a pleasure it was to rehearse and perform together one last time. So many lasting and deep friendships formed, some performers with nearly 80 years age difference between them! Availability of everyone to rehearse was a challenge we managed to overcome, thanks to the backbone of stalwart attendees at most rehearsals and commitment from many to distance learning of video-ed rehearsals! It was gratifying to learn how important IODS has been for so many people, from Alan our leading man from the 1960s whose story and love story with his wife Jean featured prominently in the script, to Larry returning after nearly 40 years, whose parents still come to all the shows now, to name but two.
The excitement of celebrating our Centenary has been tinged with more than just a small dose of sadness, as the future for the Society is rather uncertain. We have replaced a November show with social activities and plan to perform in new venues. However, excitement for the future is always to be encouraged - and we thank NODA for doing just that.
Diana Fairburn Smith
________________________________________________________________________

Long Service Awards
Celebrate your time in amateur theatre with one of NODA's Long Service Awards or honour your Societies' long serving and hardworking members by presenting them with an award.
Don't forget, to qualify the length of service does not have to be with the same society or even – in earlier years – with a NODA society.
All we need is a form completed, validated by the current society, giving details of the length of service.
For those for whom medals may seem a little old-fashioned there are now badges, indicating the length of service.
Please contact London's Long Service Awards Secretary, Jackie Lack, at: jackie.lack@noda.org.uk or go to: https://www.noda.org.uk/awards
______________________________________________________________________
LADS OPEN NEW SEASON WITH D-DAY DRAMA, AND A FUNDRAISING EFFORT FOR LIMBLESS VETERANS CHARITY
Loughton Amateur Dramatic Society (LADS), will be launching their 2019/2020 season with a gripping new play, Pressure by David Haig. Funny, tense and deeply affecting, the play explores a very significant back story to the D-Day landings.
It is June 1944 and the Allies stand ready to launch for the Normandy beaches. The Allied Expeditionary Force Commander, Dwight Eisenhower, is under pressure to give the right command. His decision hangs upon the weather. British meteorologist James Stagg is under pressure to produce the correct forecast. Stagg, very familiar with the vagaries of the British weather, is in conflict with fellow American meteorologists, who do not share his analysis. The wrong conditions could jeopardise 350,000 lives and put the effort to defeat the Nazis in danger. All are under pressure.
LADS is excited to be producing this play in the year of the 75th anniversary of the D-Day landings but especially because the play ties in perfectly with the charity that LADS will be supporting in 2019/20.
Throughout the season LADS will be raising funds for the Limbless Veterans charity, BLESMA, based in Chadwell Heath. BLESMA is dedicated to assisting serving and ex-Service men and women who have suffered limb and/or sight loss in service of the country. There will be charity box collections at performances and the proceeds of the programme sales for Pressure will go to support BLESMA members, like Roy Hayward. Roy, now 94, lost both his legs when his tank was shelled just after D-Day. Roy says that BLESMA gives him a "feeling of camaraderie and that there is someone behind me, protecting my interests". A BLESMA grant also means he can keep his garden in a suitable state and live independently.
Chair of LADS, Jean Cooper, said "We hope our claim to produce plays of 'true dramatic worth' will be borne out with this gripping drama of WWII history. LADS have supported a different charity every season for over 15 years, but we are especially proud to support BLESMA – a charity that since WWI has helped so many of our servicemen to regain their lives after suffering life-changing injuries."
LADS are offering a complementary ticket (usually £10) to any BLESMA member who wishes to come and see Pressure. LADS will be performing Pressure at Lopping Hall, High Road, Loughton at 8.00pm on October 31st, 1st and 2nd November. Tickets available from 07552 736110 or www.lads.org.uk
________________________________________________________________________
"The Fairfield Halls is like my second home"
The Croydon Operatic and Dramatic Association ("CODA") will put on the first production at the Ashcroft Playhouse when Croydon's Fairfield Halls reopen this September, 57 years after performing the Ashcroft's very first musical. CODA, which was founded in 1943, is performing Mel Brooks' award-winning musical The Producers at the Ashcroft Playhouse this September.
It was 3rd December 1962 when over 70 CODA cast members performed Sigmund Romberg's operetta The New Moon at the newly opened Ashcroft Theatre. 57 years later, CODA returns with a talented 27-strong cast with Mel Brooks' The Producers. Following 1962, CODA went on to perform repeatedly at the Ashcroft, last performing West Side Story there in 2012, before the Fairfield Halls closed for refurbishment in 2016.
When down-on-his-luck Broadway producer Max Bialystock meets mild-mannered accountant Leo Bloom, they hatch a plan to diddle their little old lady backers out of millions of dollars by producing the biggest flop in theatrical history: Springtime For Hitler! The Producers is fit to burst with unruly characters and show-stopping songs such as I Wanna be a Producer, Keep It Gay, When You Got It Flaunt It, and the immortal Springtime For Hitler.
The production is co-directed by CODA Chairman Peter Bramwell and David Sanders, choreographed by Aimee-Marie Bow, and musically directed by Joshua Hickin. Says Peter, "CODA performed over 90 shows at the old Ashcroft Theatre and we are thrilled to have been invited back to our spiritual home to be the first to perform in the Ashcroft Playhouse."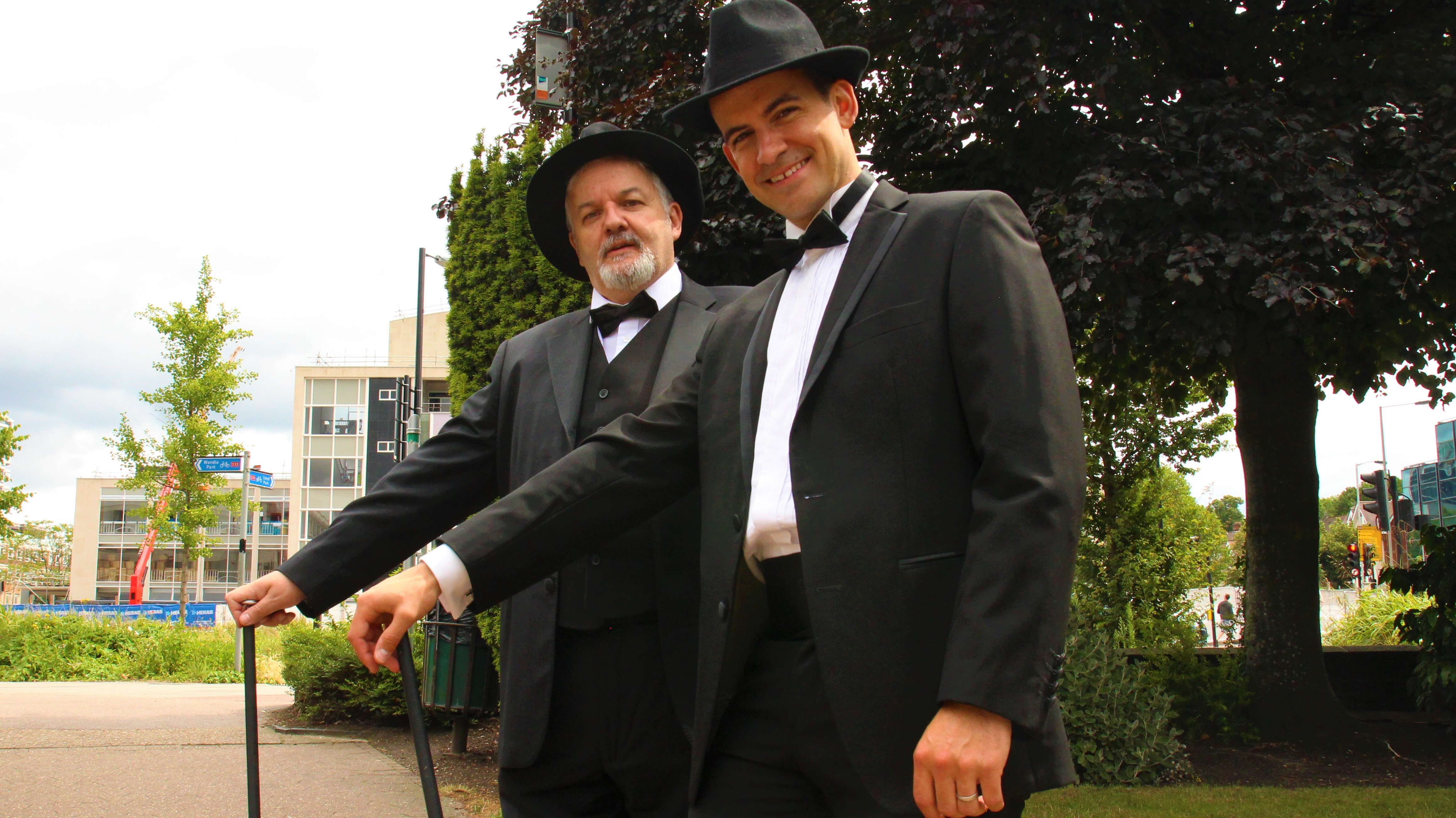 While Peter has performed in over 40 different shows at the Ashcroft, which he says is probably far from any CODA record, The Producers cast members Ann Byers and Tonia Porter say they have both "lost count" of the number of shows they've done at the Ashcroft. Ann says, "I started Cards when I was 19 and did two shows a year until I had my kids. I then carried on doing shows when I could right up until six years ago. The Fairfield Halls is like my second home."
The Producers runs from Tuesday 17th September to Saturday 21st September at the Ashcroft Playhouse, Fairfield Halls, Park Lane, Croydon, with evening performances at 7:45pm and a matinee on Saturday 21st September at 2:30pm.
Tickets are £21.00 or £15.00, and can be booked online at www.fairfield.co.uk/the-producers, by telephone on 020 3292 0002 or in person at the Fairfield box office from 16th September. Group bookings are available at 10 tickets for the price of 9 by phoning 020 3292 0003. Transaction fee applies to telephone and online bookings.
________________________________________________________________________
Marking Aykbourn's 80th Birthday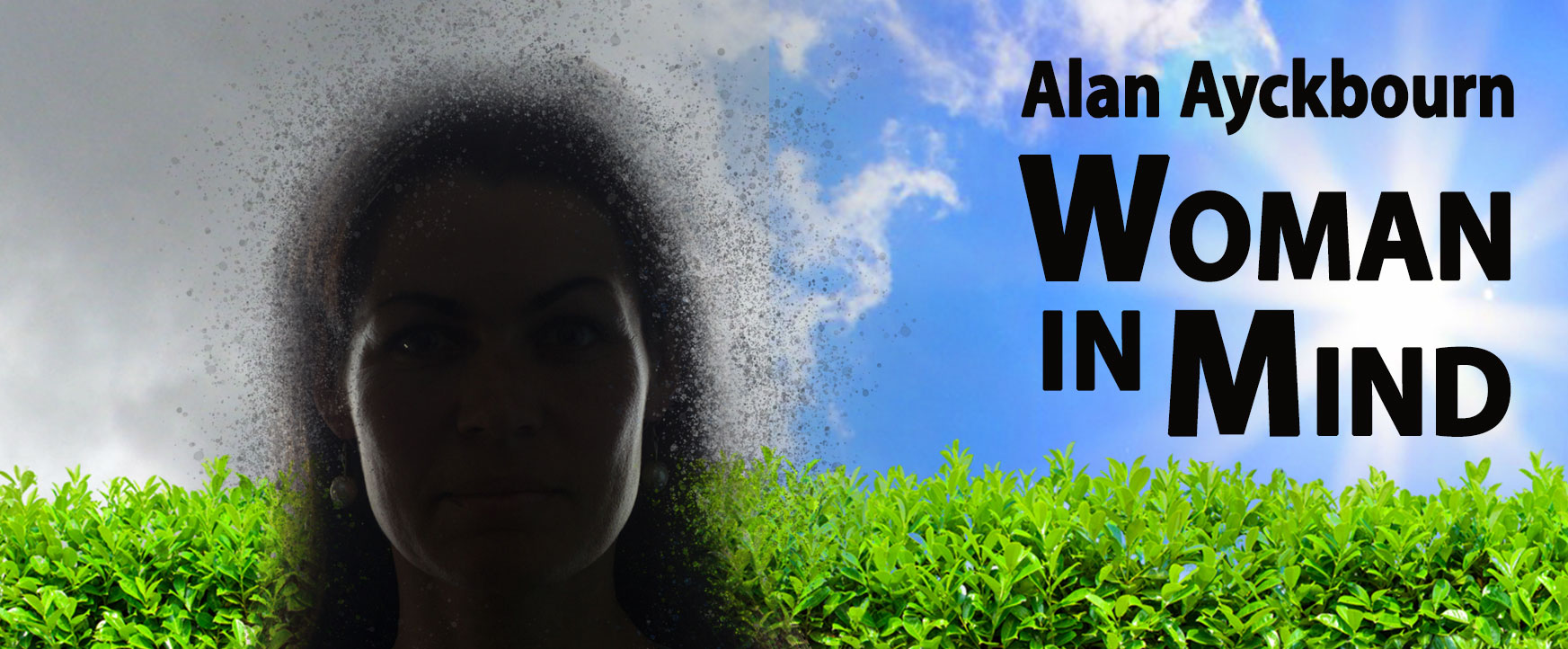 Along with many local theatre groups this year, Proscenium is choosing to mark Alan Ayckbourn's 80th birthday by staging one of his best-loved plays. Woman in Mind - a funny and unsettling vision of mental ill health - is recognised as a defining play in Ayckbourn's career, the start of a period when he incorporated increasingly darker elements into his plots.
Susan comes round from a bump on the head to find her world populated, rather confusingly, by two families – one tedious and irritating, the other charming and supportive. She knows which she prefers, but which is real?
The play is set in a garden and takes place over a 48-hour period. Susan is on stage all the time and interacts with her real family (tedious, irritating) and an imaginary family (charming, supportive) that sound as if they've stepped out of a Noel Coward play. When she's with her real family, the garden is suburban and sparsely populated with shrubs and tired garden furniture. When she interacts with her imaginary family they drink champagne, talk about tennis courts, a lake and acres of grounds around a small stately home sort of affair… The lighting changes, at least early on in the play, when the imaginary family members take centre stage – it's brighter, warmer, more appealing; literally, everything in the garden is rosy. However, there's clearly something wrong.
We're seeing everything from Susan's point of view; it's an insider's view of mental collapse.
Proscenium's trickiest task, pre-production, was to find young people to play Susan's son and daughter. Despite the ever-growing number of drama courses on offer to children of all ages, we still sometimes struggle to find actors to fill the youthful roles in the plays we perform. Is that because so many of the courses available focus on musical theatre, rather than plays?
We have a talented company of players ranging in playing age from mid-30s to mid-80s. But Woman in Mind calls for a couple of 20 somethings and, of course, most of the younger folk we know are off, past university and out into the wider world. However, we persuaded a member's son's friend (stay with me) into joining the cast and at time of writing seek a young woman to complete the ensemble. All will be well.
Woman in Mind runs from October 31st to November 2nd (with 2 performances on the Saturday) at the Compass Theatre, Ickenham. Box office: 01895 250 615 (Compass) or online at: www.hillingdontheatres.uk/index.php/events/woman-in-mind-by-alan-ayckbourn/
________________________________________________________________________
Sixty years of Age and Still Learning, thoughts of a Summer School First-timer
I had wanted to go to Summer School for quite a few years, but something always got in the way. However, in 2018, I put the 2019 Summer School dates on the calendar nice and early. When the booking opened, I was in New Zealand and getting an internet signal and being awake at the right time was a struggle … however, a few text messages and emails later and help from the wonderful people at NODA HQ and I found myself booked on the course "Shakespeare - Pure and Simple" to be run by Michael Corbidge from the RSC … the journey had begun!
I have read several reports of NODA summer school over the years and every article informed me what a welcoming, exciting, inclusive, fun place it was to attend. This led me to think that it might be a bit like the New York School of Performing Arts from Fame, with dance students dancing on the cars in the car park, and people bursting into song in the cafeteria or, probably, it may be more academic, with drama students walking around with piles of plays and papers, singing students going through endless voice exercises and dancers complaining of aching bones.
It has all been said before, but everyone was so welcoming – from the lady in the car park standing in the pouring rain with her umbrella, showing new arrivals where to go, to the reception desk, to the staff and volunteers just being friendly and pleased to see everyone arriving.
Following informative chats from Jacquie (Summer School Chairman) and Sarah (Summer School Director – and past tutor for 10 years), dinner showed me what a varied, scrummy feast I would be tucking into over the week; and the course Introductory Session introduced me to my fellow students and to Michael Corbidge, who is probably the most learned, funny, non-academic, generous teacher I have ever met. His passion for helping people improve is paramount, and I can't wait to use the "toolbox" he gave me, full of ideas, tips and exercises. A drink in the bar at 9pm with some fellow students to chat over the day and get to know each other and then off to bed….
The next 6 days at Summer School were packed full: classes, extra optional courses on 2 nights, a Quiz Night, a Ceilidh and a Film Night, plus partying on The Orient Express on the final night. Everyone will experience it differently, but the important thing is that you are allowed to do it in your own way with no judgement. My 6 days were full of a delightful absorption of knowledge, with time to think about what you were learning, with someone on tap to question. I may not have partied until the early hours, but I made friends from all over the country that I hope to keep in contact with and certainly see again at Summer School.
So, there wasn't any dancing on cars, or impromptu singing in the cafeteria (although I think there was probably some in the bar late at night, certainly during the Singalong-a-Phil evening), but the Friday afternoon Showcase, where some of the performing groups gave everyone a taste of the other courses, gave a little taste of Fame. You could tell that everyone had enjoyed their time in The Bubble, experiencing it in their own way and taking away memories that will last a lifetime.
My only regret? That it took until I was 60 before I went to Summer School.
Jean Cooper
________________________________________________________________________
Robert Murray – Regional Rep District 7
Robert has been involved in theatre for years and was privileged to be on television in his younger years. He is also very proud to have watched his son in numerous productions including his West End debut with the British Youth Music Theatre; they have also performed together in Kiss Me Kate. His most recent theatre credits include Apostle in Jesus Christ Superstar and Newcomer and chorus in Avenue Q with Radlett, he played Bill Calhoun in Kiss Me Kate with Elstree followed by a run with Mill Hill playing Sweaty Eddie in Sister Act, Motel in Fiddler on the Roof and most recently the role of Bill Snipson in Me and My Girl which was by far the most challenging role he has ever played. He looks forward to giving back to NODA and working with District 7 in the future.
________________________________________________________________________
Send us your news.
This is your newsletter. Put your news in it.
Deadline for articles for the next issue August 31st.
Are you putting on a new or rarely performed show? Have you celebrated an anniversary? Have you overcome great technical challenges? Tell London about it.
andrew.rogers@noda.org.uk
________________________________________________________________________
What's On In NODA London
We list upcoming shows from NODA London Societies on the NODA London Facebook page.
In addition, you can download a list of all the shows coming up by clicking the link below. The list includes all the shows that we are aware of...no matter how far in the future that may be!
If you have a show coming up and you don't see it listed, then simply contact Andrew.

The NODA London Committee
Below you can find the details of all of the NODA London Committee and District Representatives.
London Committee
London District Representatives
Downloads