Curtain Up July 2020
IN THIS ISSUE
Live – Open Air – Theatre returns!
NODA London Regional Winners 2020
London sews scrubs
London societies in lockdown
Goodbyes and hello
STOP PRESS
Live – Open Air – Theatre returns. Two groups are preparing live Open Air Theatre in our Region.
HGO presents Holst's Sāvitri at Lauderdale House, Highgate.
HGO (formerly Hampstead Garden Opera) has revealed its plans for an open-air, socially-distanced production of Gustav Holst's Sāvitri , a tale of life, death, illusion and hope powerfully resonant with our times. HGO is dedicated to supporting singers at the start of their careers - they will lead the return of vibrant opera to London.
Subject to government regulations, HGO will hold its first ever open-air production in the gardens of Lauderdale House, Highgate, in August.
HGO won the NODA London Best G&S/Opera/Operetta Award for their production of La Bohème this year.
For more details go to: www.hgo.org.uk
______________
The Young Theatre are combining with Red Kite and Shared Intent to produce Twelfth Night, in the Open Air, as a toured production, in August and September, in the Chilterns. Please go to their website for more details. Priority booking from:
_____________
From the Councillor
Hello to you all. I trust you are all keeping as safe and healthy as possible. These are still difficult times but I know that London societies have been working hard to keep in touch with their members and audiences and also doing great work in the provision of PPE for our health and social care workers. Please find articles on lockdown activities and the fantastic effort to provide scrubs and masks, in this issue.
We also celebrate our Regional Winners. As I trust you know, the Award winners were announced by a series of posts on the London Facebook page on June 14th, but the full list is available on the NODA London website at: https://www.noda.org.uk/regions/london/noda-london-regional-award-winners-2020 , with a montage of photos of the Regional winners in this issue.
What has NODA ever done for me?
Like the famous scene from Life of Brian, we often hear the phrase, "What has NODA ever done for me?" Members tend to view NODA through the prism of their own experience, whether that is show reports or award nominations (or lack thereof).
However, it is worth mentioning the following:
the NODA insurance scheme will be paying out over £1m to claimants for cancellations etc. due to the Covid 19 pandemic.
the NODA free legal advice has helped many societies with problems with venues and suppliers, saving, potentially, thousands of pounds for each society in legal bills
training videos have been posted online and live sessions held
Summer School has been retained as an e-School this year, with vacancies on all courses
the health and safety pages on the website NODA Safe, have been updated, as have the Pantomime pages
and, finally, there will shortly be an announcement regarding Subscriptions. On which subject, don't forget, a society's subs are adjusted to its revenue. If your society has not been able to perform this year, and therefore your revenue has fallen, your subs will reduce accordingly for the coming year.
We may not have been able to give you an aqueduct, sanitation, the roads……..but NODA is working hard to ensure that you, the members, get all the help and assistance you need.
If anyone still has issues with NODA insurance, any legal issues or any other problem, don't hesitate to get in contact.
Passwords and email addresses
Communicating directly with societies has been crucial over the past months. Frequently, emails held on the NODA system bounce back. We do appreciate that societies have many other things to think about right now but don't forget to update us when your email or society contacts change. After all, if you belong to any other online facility or membership association, e.g. car breakdown service, credit card, shopping site, you would update them with any change – you would not expect them to somehow realise you had changed your contact details. I'm afraid that all too often members seem to think NODA are telepathic and will just know that a society's details have changed.
Can we suggest that you set up a generic contact, i.e. contact@theplayers.com or secretary@musicalsociety.co.uk. That way any incoming officer can simply pick up the email address and maintain the link. Also, and very importantly, make sure more than one person knows the login details for your society on the NODA website, or that it is passed on when there is a change of officer.
Festival 2021
The dates for the NODA London Festival 2021 are June 19th and 20th. We will be back at the Radlett Centre in Hertfordshire next year. Our plans to move the Festival around the Region have been put back because of the current situation but we are working on a new venue for 2022.
_____________________
Finally, in this issue, we remember two members of the Regional Committee who sadly passed away recently, as well as saying goodbye to two Reps and hello to another.
Andrew Rogers
andrew.rogers@noda.org.uk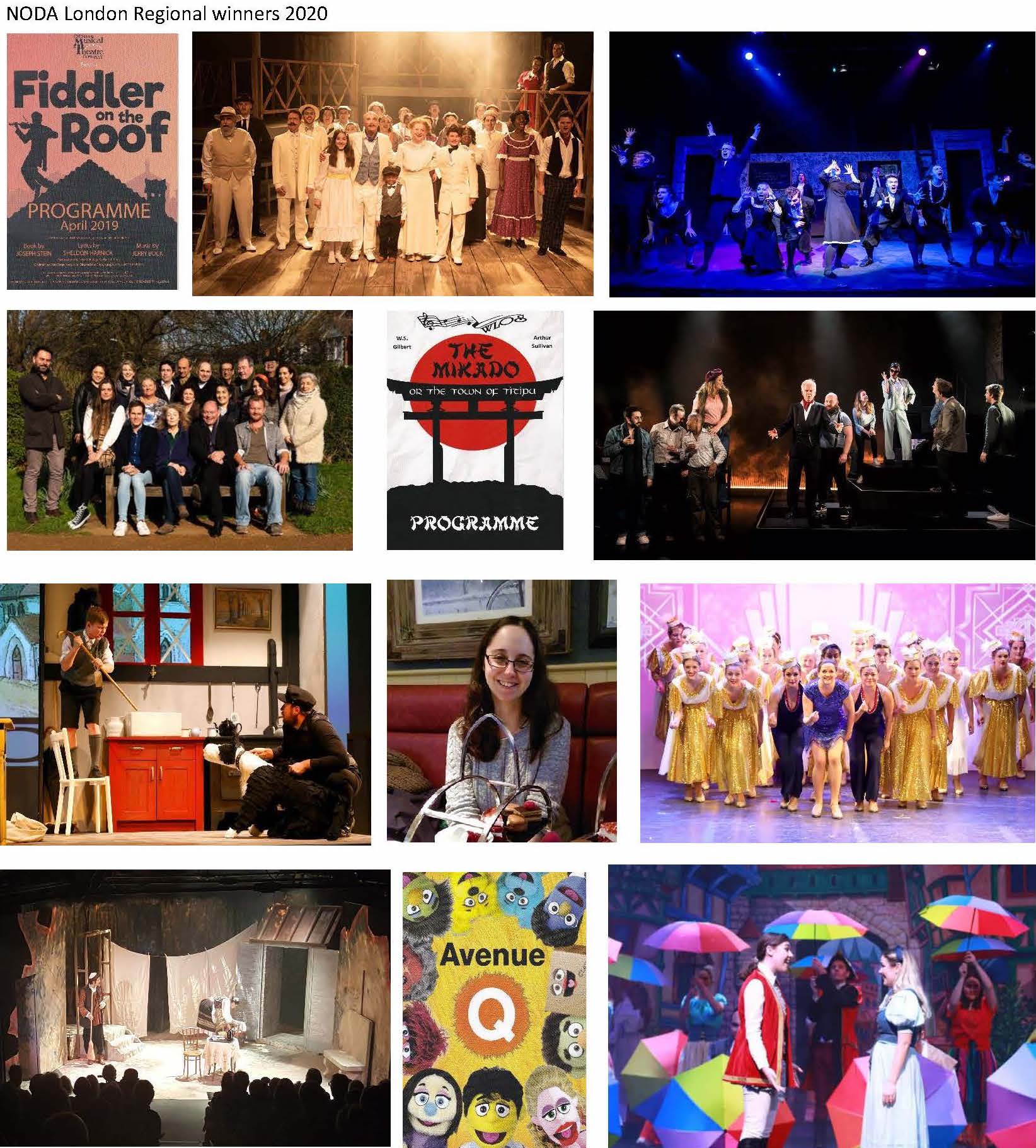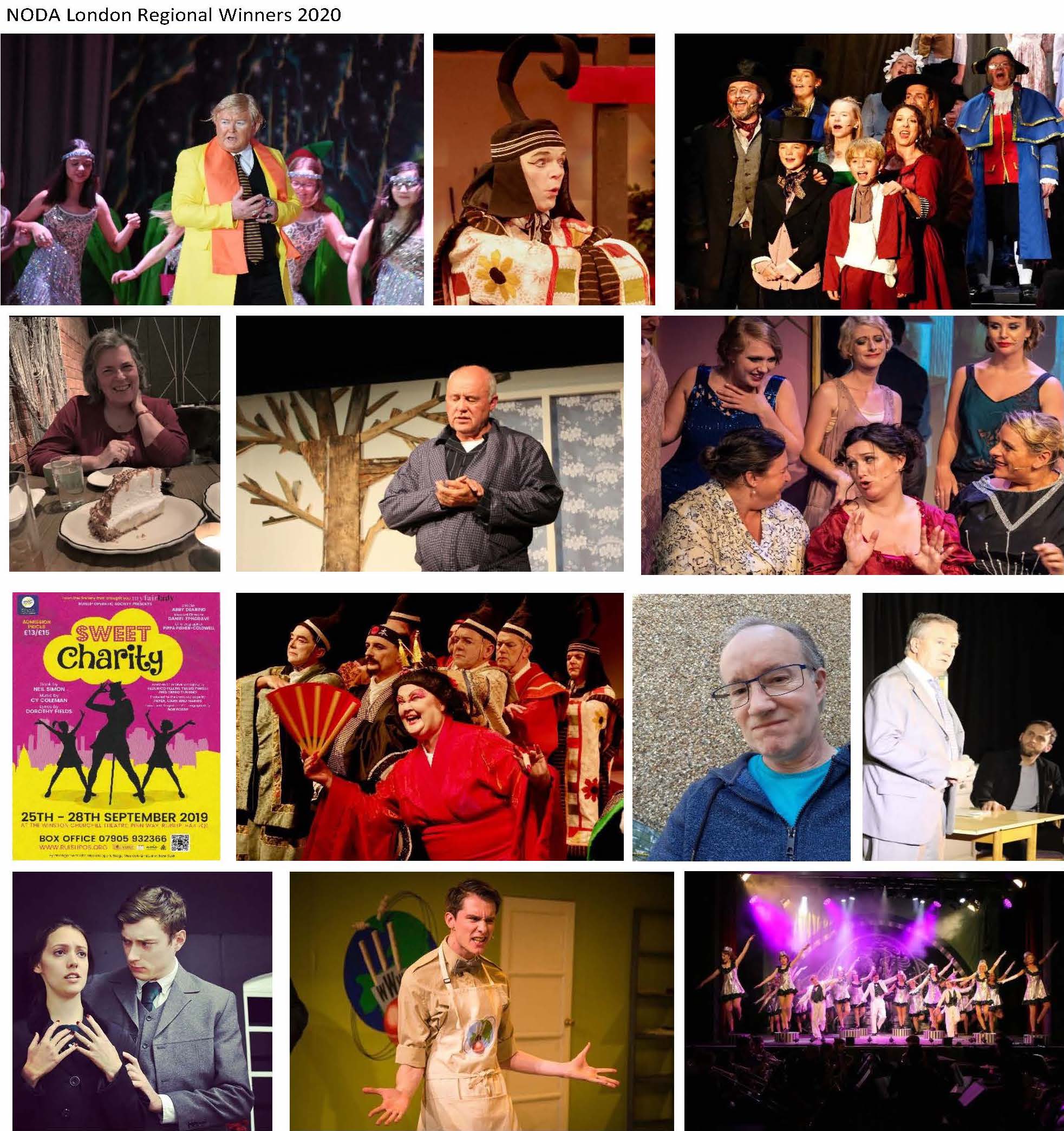 ________________________________________________________________________
London Region sews scrubs and makes facemasks
Among the many activities, London Region members have been undertaking during lockdown is a fantastic effort to support the provision of PPE for our stretched emergency and social care sectors. Below are details of some of their endeavours.
Annie Houseago, member of SEDOS, Centre Stage and Quay Players, writes:
I am a keen dressmaker and have always made all my costumes for all shows I have been in and during lockdown I am part of the volunteer group 'South London Scrubbers' making scrubs, gowns, masks & scrub hats for the NHS. My day job is running a children's music company which has obviously been dramatically affected by the lockdown so I have been running FREE online shows for pre-schoolers since March.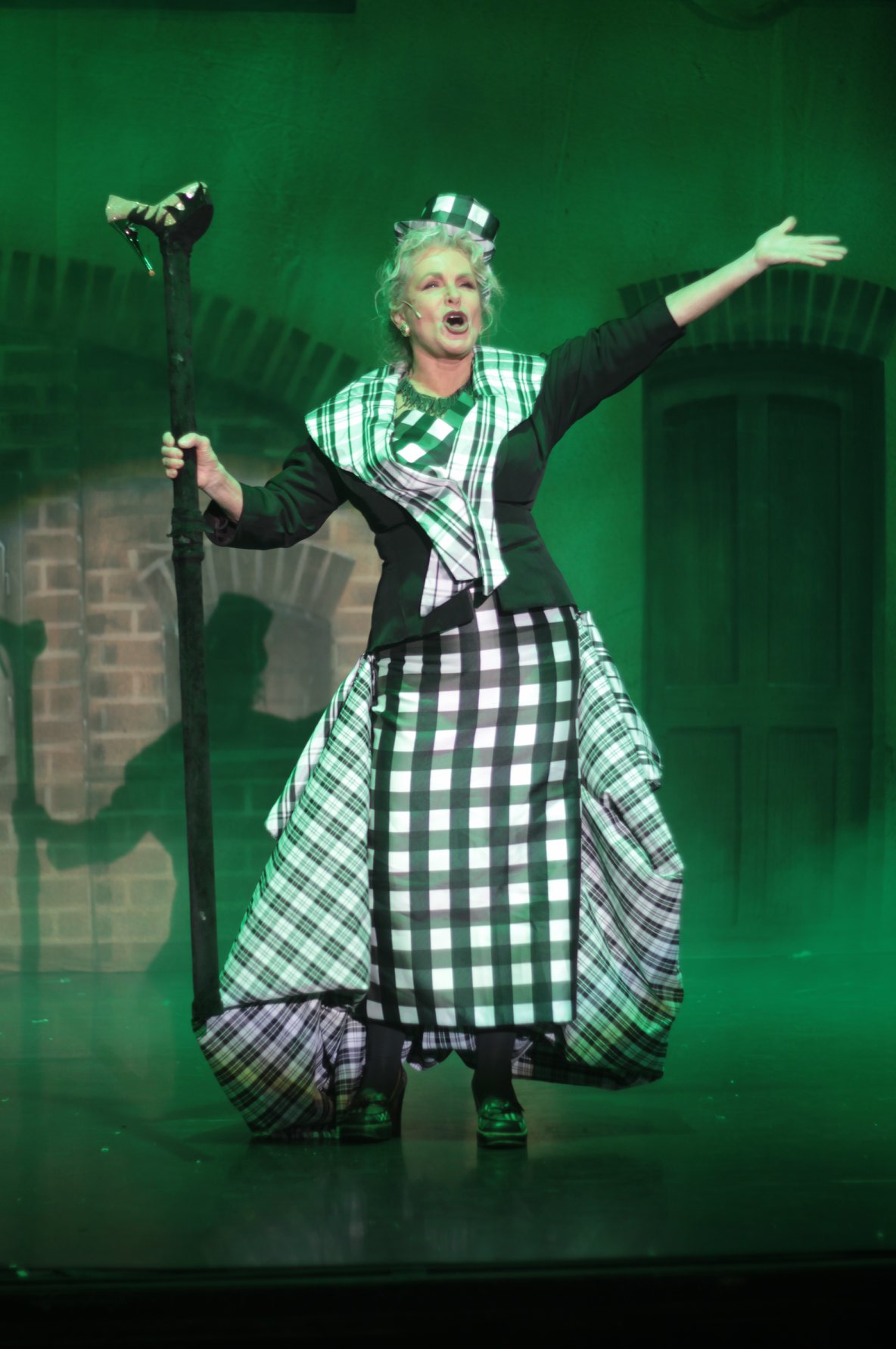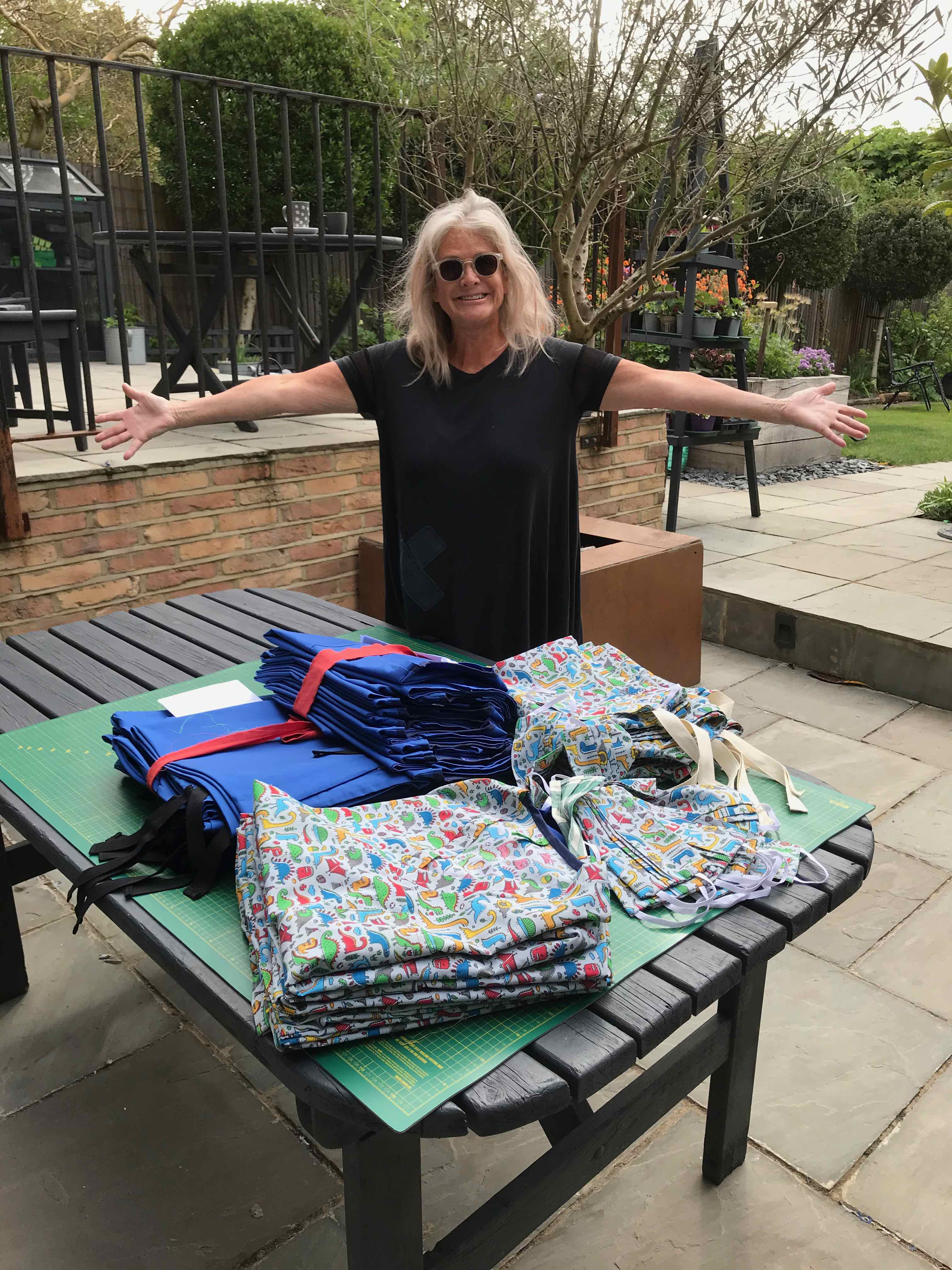 Niki Davarias, member of Epsom Players, writes:
After making costumes for Croydon Stagers for many years I am in lockdown, like many others, and have joined a group making scrubs, hats, headbands, bags and masks for Epsom and St Helier's Hospitals in Sutton and Epsom.
I am enjoying this and meeting others in the group also. I am not as good as most of them but I do what I can.
I miss theatre a lot. It has been my life since 1961 when I first joined Croydon Stagers, and hopefully looking forward to doing it again in the not too distant future.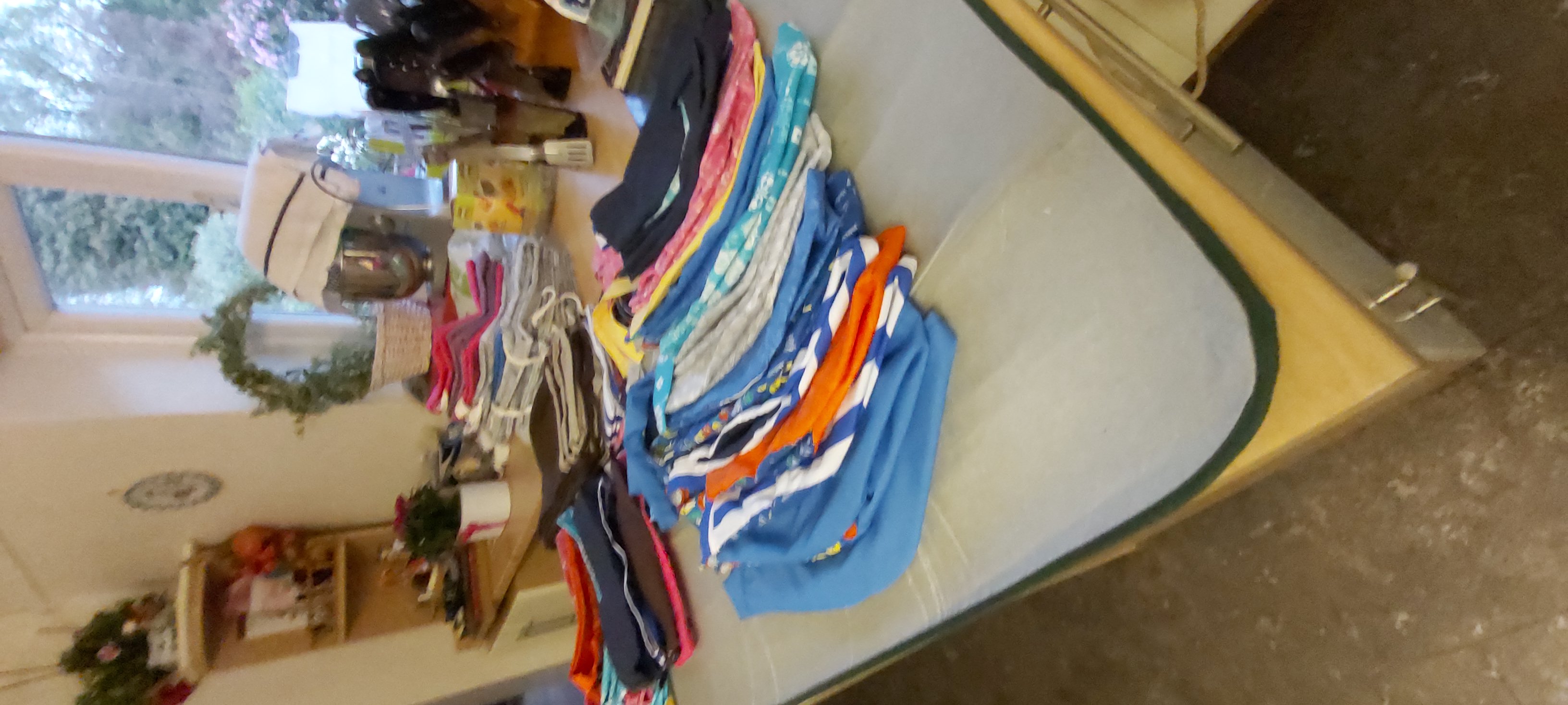 Niki's scrubs pile
Sarah Russel of St Alban's Musical Theatre Company, having been furloughed from her day job in Theatre marketing in late March, decided to set up a 'Scrub Hub' for Hertfordshire. She recruited over 100 local seamstresses to make scrubs for frontline medical workers who were struggling to source scrubs elsewhere during the Covid-19 crisis. Within 4 weeks over £10k in funds had been raised via a gofundme campaign (with many SAMTC members generously donating), and these funds were then used to purchase the materials needed to make scrubs, including fabric and thread. In just over 6 weeks, Herts Scrub Hub has made and delivered almost 1200 sets of scrubs to frontline workers all over Hertfordshire, using 3.5km of fabric and almost half a million yards of thread!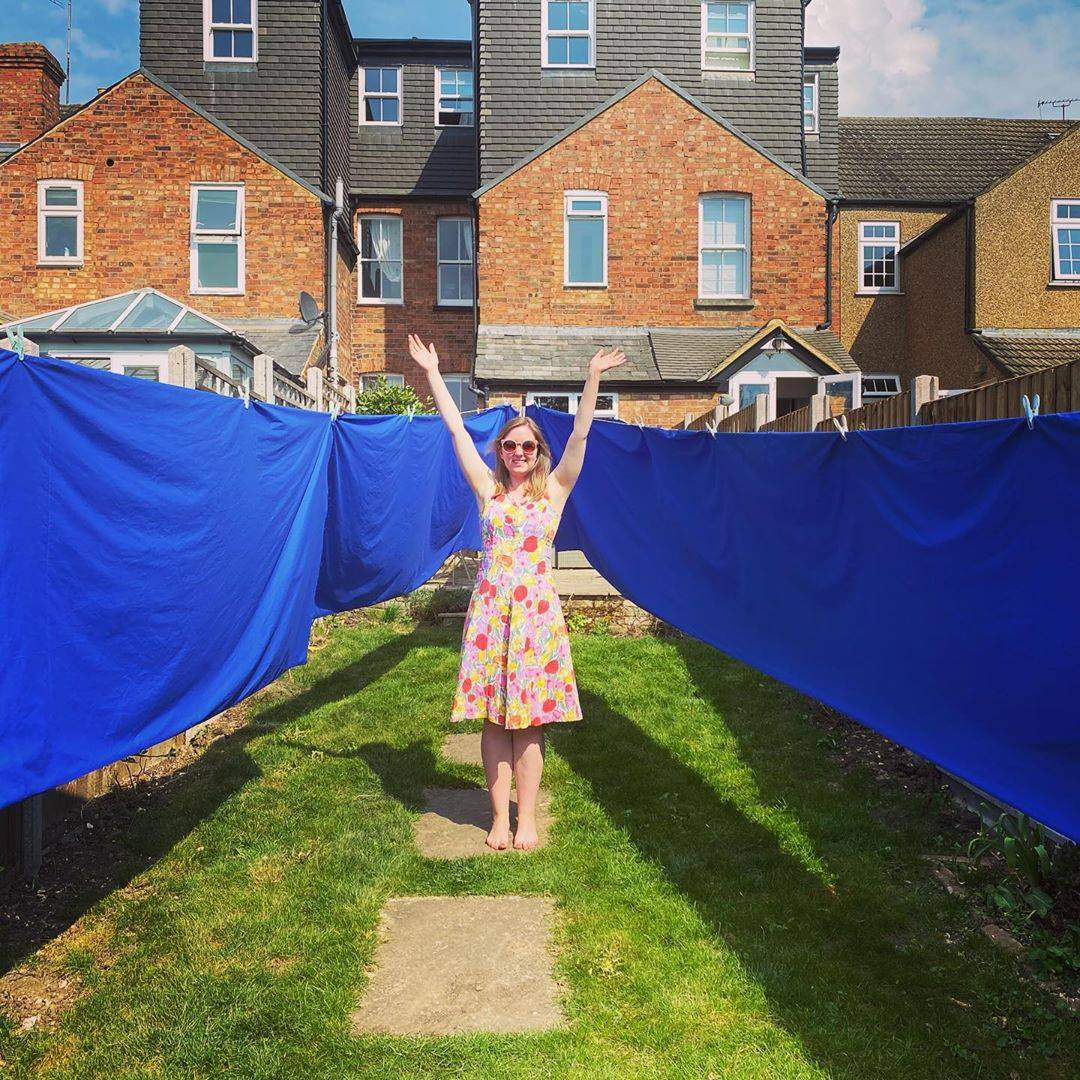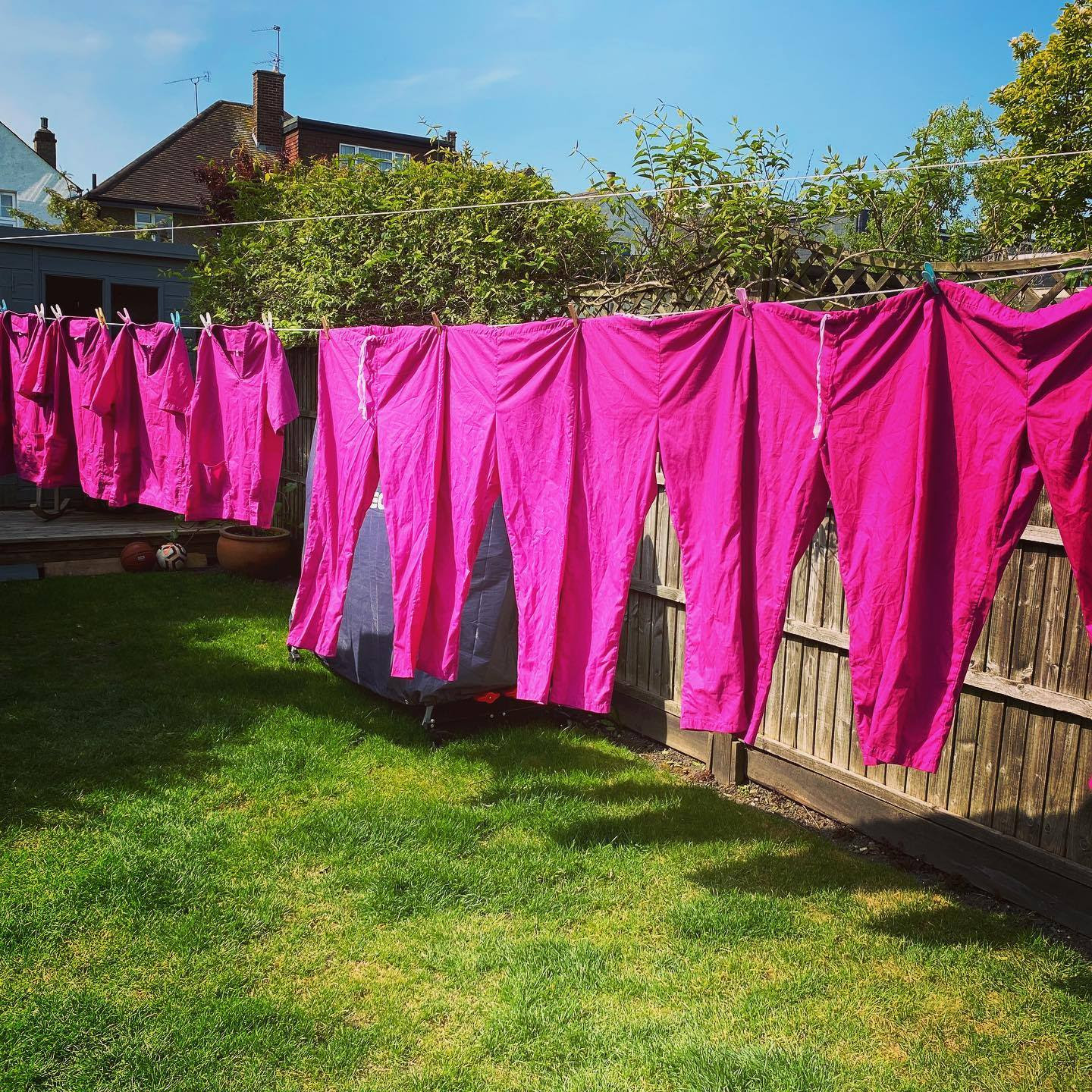 Sarah with a different line up
Gill Pilgram, also of St Albans Musical Theatre Company has been spending her time during lockdown as part of the St Albans hub of the 'Make a Visor Save a Hero' project, which has produced more than 75,000 protective visors for the NHS since it began in March. This initiative started when Dr Deborah Braham, a consultant in anaesthesia and intensive care medicine, urged volunteers to help with the shortage at her hospital. To begin with, a handful of Dr Braham's friends got involved buying their own materials from craft shops, making their own visors at home, and delivering them to her house. After a Facebook group was set up on 1 April to channel interest from the public, over 15 hubs were created.
The visors are made from acetate, foam, and elastic, and the operation relies on donations to cover the cost via a GoFundMe page. The visors are stored at a facility where they are sanitised before being delivered to some 13 hospitals in London and south-east England, as well as doctor's surgeries and care homes.
Gill said "it feels great to be able to do something helpful in these difficult times and to have a sense of purpose whilst I'm furloughed from work. It gets me out of sorting out all my cupboards too and fills in the gaps when I'm not dancing around my lounge!"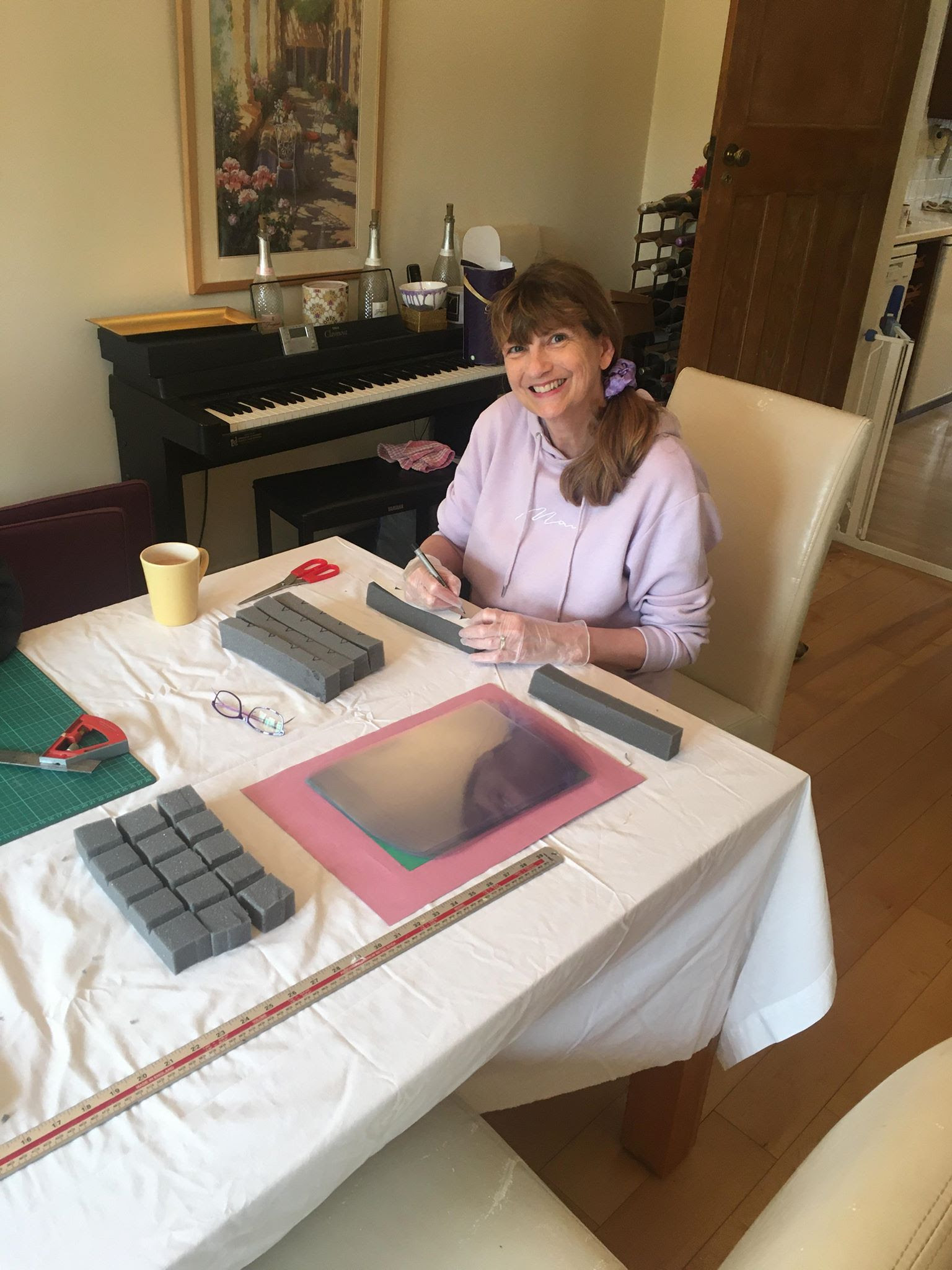 Gill mask-making
Maidenhead Operatic Society's Jenny Harris, in charge of costumes for most of the last 30 years, managed only a couple of weeks of tranquillity in lockdown before her daughter-in-law, who works in a local hospital, told her about a group of people based in Ascot who were setting up a voluntary organisation, Scrubs Glorious Scrubs, to source and make scrubs for local hospitals. They were looking people to help with sewing, and Jenny promptly offered her services.
Sourcing through donations, the only requirement was that the material used could be washed at 60º and therefore was not necessarily in colours usually seen in hospital wards. Jenny's first consignment was in a vivid cerise, followed by patterned, flowered and all colours of the rainbow.
Jenny's first batch of material arrived along with just one set of scrubs, no pattern, so her first task was to make a paper pattern to use as a template. Her next door neighbours offered to do the cutting out, and before long they had a fast moving production line going, passed from house to house over the hedge via carrier bags and sticks.
By the beginning of June, Jenny had handed over her 100th set of scrubs. It's a far cry from the long skirted gingham dresses and cowboy shirts she had expecting to be sewing for Oklahoma! but her individualised and distinctive scrubs have reached a much wider audience, ending up in not just in local hospitals as first intended but as far as London and the South East.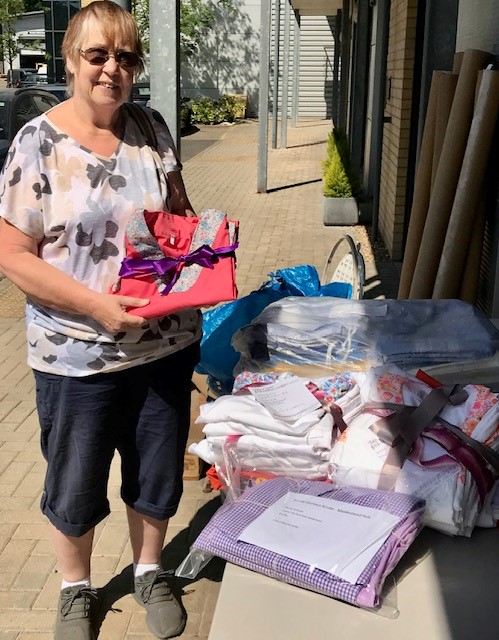 Jenny's 100th scrub set
Members of Havering Music Makers have been putting their dressmaking skills and spare time to good use during the coronavirus lockdown by sewing scrubs for key workers at local hospitals. Sue Howlett, chairman, said she first heard about the For the Love of Scrubs initiative when a friend and fellow member of the London region 6 musical society sent her a Facebook message about it. She emailed the initiative and they assigned her a local co-ordinator, who asked her what she wanted to sew - they needed scrub tops, scrub trousers, scrub hats and wash bags sewn. Sue waited for her first delivery of fabric, which arrived on 23 April.
Sue also told a fellow Havering Music Makers member, Jenny Harper, about the initiative, and she got involved, too. "Each person who volunteered could do as much or as little as they wanted or were able to, with deliveries every five days or so," said Sue. "I started sewing right away".
"Sadly, my sewing machine broke during this time, but the For the Love of Scrubs team secured a sewing machine repair company that knew what we were doing, and not only turned around the repair of my machine within three days, but also gave anyone sewing for the NHS a 25% discount, so there was lots of support all around."
Sue said she has now moved on to sewing scrub trousers and has made 10 to date. "I'll keep sewing until I'm told the project has come to a close," she added.
Sue's scrub trews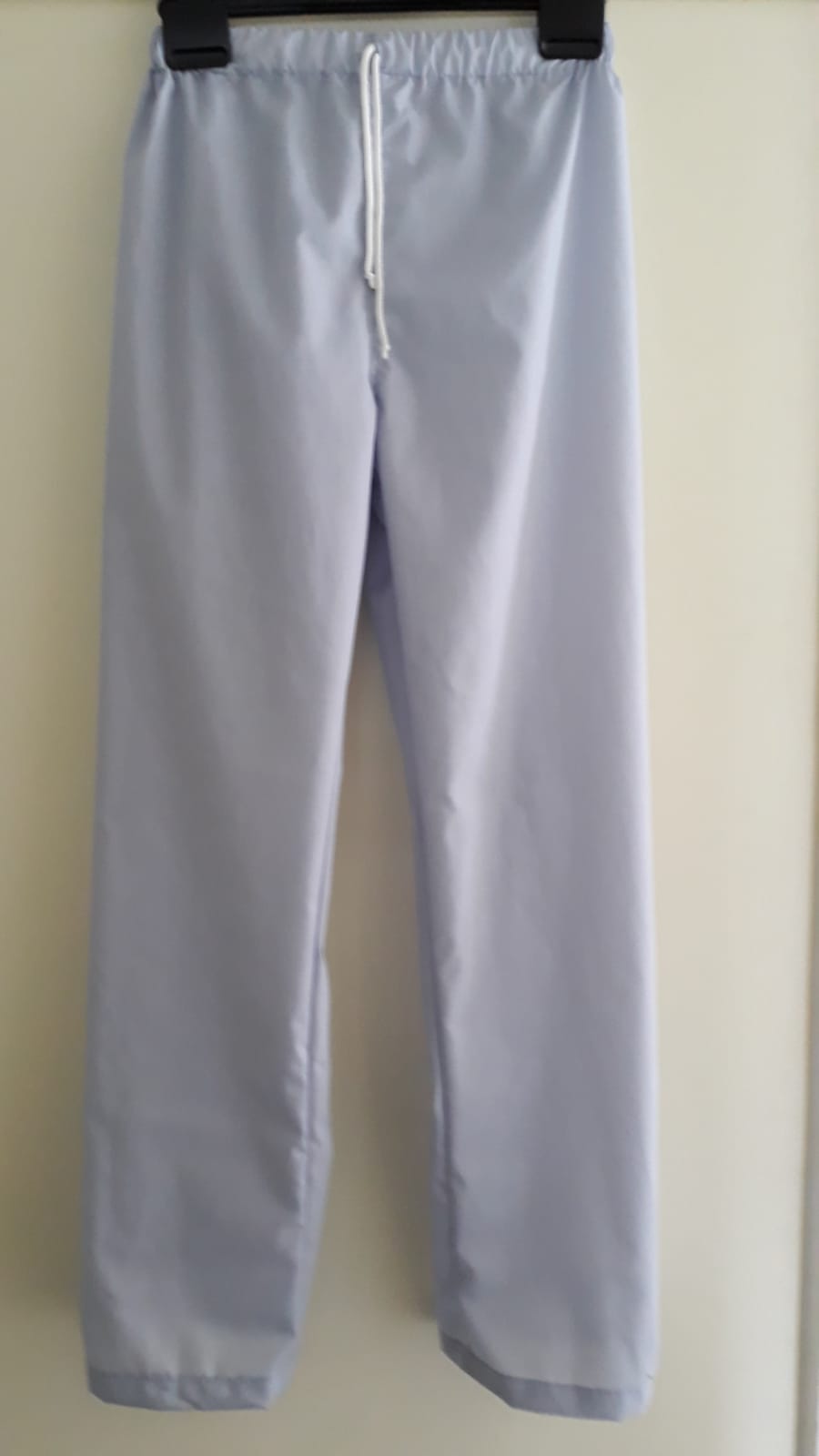 ________________________________________________________________________

Long Service Awards
Celebrate your time in amateur theatre with one of NODA's Long Service Awards or honour your Societies' long serving and hardworking members by presenting them with an award.
Don't forget, to qualify the length of service does not have to be with the same society or even – in earlier years – with a NODA society.
All we need is a form completed, validated by the current society, giving details of the length of service.
For those for whom medals may seem a little old-fashioned there are now badges, indicating the length of service.
Please contact London's Long Service Awards Secretary, Jackie Lack, at: jackie.lack@noda.org.uk or go to: https://www.noda.org.uk/awards
______________________________________________________________________
London Region in lockdown
It has been great to see the response of London societies, in overcoming the restrictions understandably placed on us all to help combat Covid-19. Societies have been working hard to keep in touch with their members and audiences throughout this period and here are the activities of just some of our wonderful member groups.
St Albans Musical Theatre Company
As well as quizzes for the members held on Zoom, SAMTC have had a series of dance masterclasses when several of their past choreographers ran dance masterclasses on Thursday evenings live on Instagram. They had taught some of SAMTC's favourite routines from previous shows and it was great for the group to remember past productions in this way. They have also held 'Live in Your Living Room' concerts from the start of May and these were was a resounding success! These evenings celebrated the vast talent across their membership, and former members, from the comfort of their homes. Hosted by their publicity manager Elise and joined by 10 other performers, audiences of over 70 homes have been entertained with a range of musical theatre songs. SAMTC have also invited members of local companies to be part of a virtual performance of "Sunday" from Stephen Sondheim's Sunday in the Park with George. Members of 25 local societies have been invited to take part, so the finished video will represent amateur theatre across the area!
Radlett Musical Theatre Company
RMTC have held a wide variety of activities for their members and audiences. Among these have been:
The Bog Roll Challenge: guess the Member behind the Bog Roll and the first person to guess correctly wins the top points of the day, this brought about a lot of friendly in-house Competition. Splat the Committee Challenge: spin the wheel and the committee member chosen has a week to complete the challenge set for them by the members on camera. Through this RMTC raising funds for The Theatre Support Fund+ (The West End Standard Together). Musical Theatre Gender Swap Challenge: members have been gender swapping and challenging each other and producing their musical video which has shown some really clever technical skill sets. Jays MT Dance Class; bringing Musical Theatre Classes three times a week; a different musical each week. RMTC Mini Stars Art competition: RMTC have asked the children of members and families to create an art piece which they will use on our company Facebook cover page. Murder Mystery Script Night: where performers act out the parts and alongside the online audience they will need to solve the crime. Fiddler on the Zoom: having had to postpone a production of Fiddler on the Roof, literally before they moved into the Theatre - having just finished the last rehearsal – RMTC have managed to keep their membership engaged with a full run of "Fiddler on the Zoom".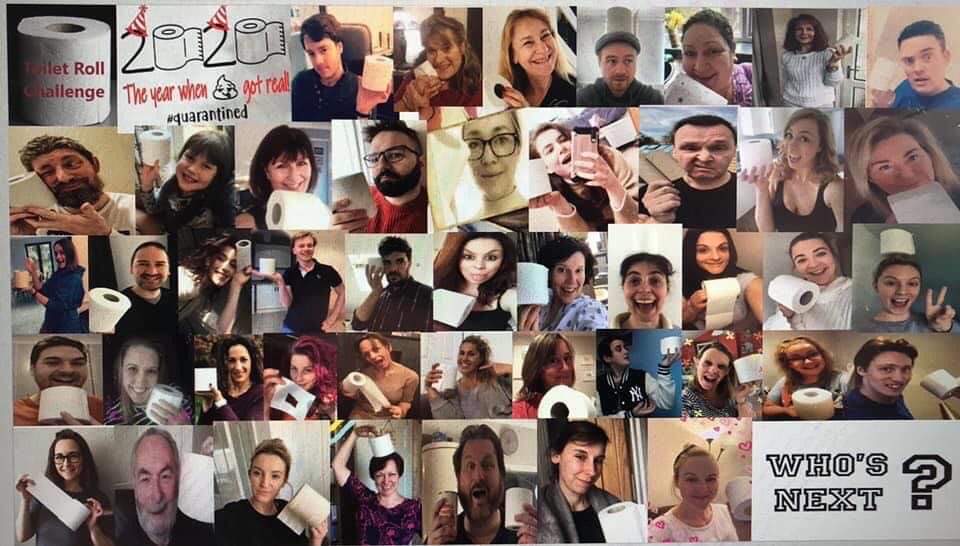 Oxford Operatic Society
During the Covid 19 Lockdown, OxOps have embraced technology as a way to keep 100+ members and patrons connected. It has given them a chance to continue to be creative through music, acting and even dance. Every session has had between 25-55 attendees, with all demographics of the society being represented. Here are some examples of the things they have been up to:
Open Mic Nights. They have run this popular evening twice on Zoom with ten performers taking part each time (and the rest of the society watching); everything from original music to comedy to poetry readings. This has even included performances by members' children. They have run dance classes on Zoom, led by their choreographers. The first was a High School Hop class from Grease. The second was a Chicago routine, with a third planned, based around The Greatest Showman.
OxOps spent two weeks creating a lockdown video (see below), of members singing a four part arrangement of 'Climb Every Mountain". This was musically directed by a member who ran zoom rehearsals and then audio produced the recordings sent in by 40 members. One of their patrons then edited together a video to accompany the audio, with some fun results! This has currently had 3000 views on Facebook.
https://www.youtube.com/watch?v=_RixwlalySU&t=6s
They have also held several quiz nights, a bingo night and even a read through of their anticipated production of My Fair Lady in 2021.
Loughton Amateur Dramatic Society
Apart from committee meetings and play selection meetings held on Zoom, LADS have held weekly Zoom vents for members ever Monday. "LADS Talking" has so far seen two play-readings, a quiz and isolation stories written by members and their families. One night a short excerpt evening was held when members were asked to think about the plays they have been in and choose their favourite and then perform a short piece. This meant that some people were rehearsing in pairs/threes over Zoom, which was a really fun thing to do.
LADS have also held a "LADS Talking Comedy Night", where members performed anything as long as it made someone laugh!! From all these LADS are working on developing an on-line October production. They are also planning working on a radio play, "The Memory of Snow" by Sian Rowlands, as well as a murder mystery play written especially for LADS. LADS performed Memory of Snow at the inaugural Showpiece Competition at the NODA London Festival in 2018.
Richings Players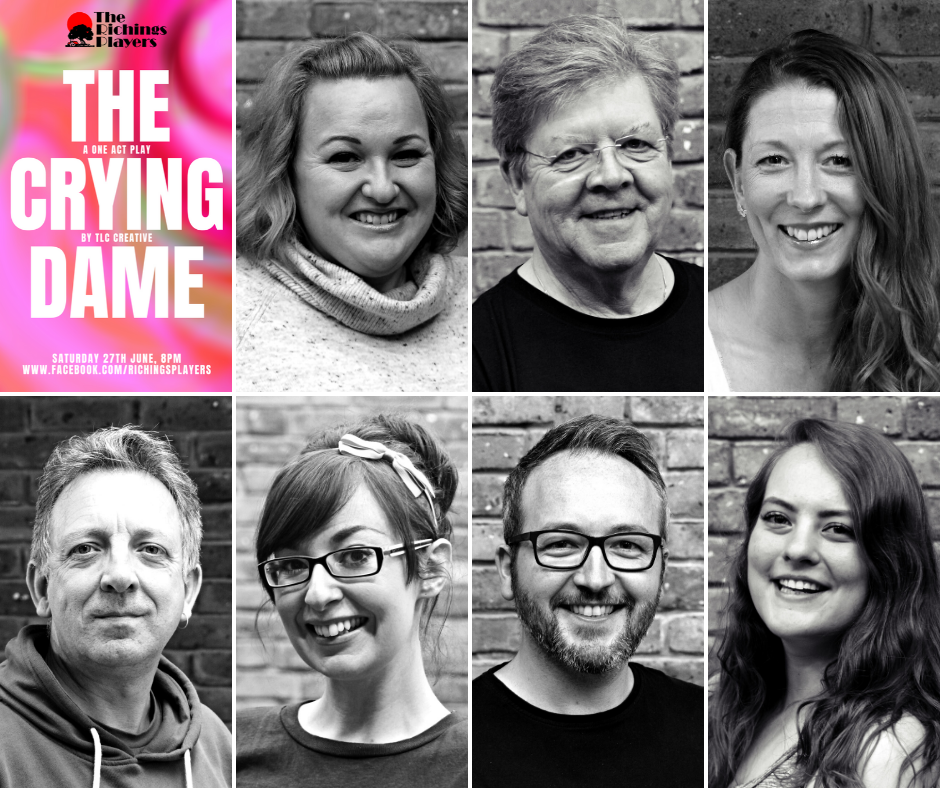 The Richings Players have embarked "The Facebook Season". Showcasing what they do best - acting…virtually of course, with one-act plays performed and recorded by their members through the video communications platform Zoom and edited to be premiered on Facebook. They will be free to watch and Richings Players feel this is a great way to continue what they have been doing for over 90 years; entertaining the Ivers. Chairman Evelyn Stafford-Allen says "When the idea was floated at one of our committee meetings, I thought it was fantastic and I'm so excited about the next few months of seeing what our members will do! We're of course sad that we aren't able to rehearse together and perform for our wonderful audiences, but sometimes, innovation and new ideas are what's needed and these certainly do just that!"
The first of the Season was "The Crying Dame" by tlc Creative by arrangement with Lazy Bee Scripts and will be directed by Pippa Vinall, held on 27th June. Please go to Richings Players Facebook page for future presentations. @richingsplayers.
Argosy Players
Not deterred by COVID 19 and the sad, but temporary demise of live theatre, Argosy's social organiser, Isabelle Iny has driven the social side of lockdown via Zoom events - including open mic nights, play readings and, of course, a quiz. In the latest of the events Argosy Players lived up to its innovative reputation by having a unique Zoom night. As well as original songs, monologues and also performances from junior members, there was a new play by Maria Gebhardt about a quest to challenge a dragon called Corona, 'The day I fought the monster', With costumes, backdrops and homemade props, this play was well written and skilfully incorporated parts for the younger as well as older members of Argosy.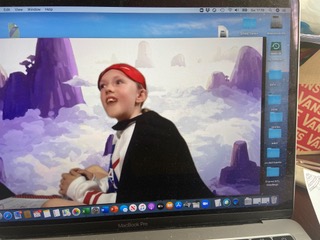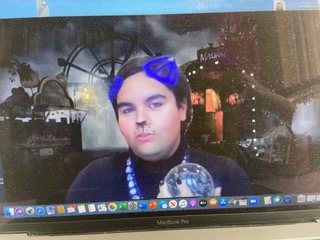 Two further short plays followed. Firstly, 'Winnie', a very fitting play about loneliness which was originally written as a short film and selected as the inaugural project for Argosy Films at the start of the year. Undeterred by Covid, Argosy's playwright Christine Hood (who managed to write this play while working for the ambulance service) adapted the 'film directions' to enable it to be performed via ZOOM. The plight of an elderly woman living alone was enhanced by the lockdown situation. This was followed by a short play written by David Axtell based on Absolutely Fabulous incorporating the tradition of 'normal people' joining the core cast. Though how normal Boris and Dominic are - only the audience could decide!
The evening finished with a rendition of Thank You Very Much from Scrooge with Argosy members celebrating their unsung hero Darrin Reeves who won this year's NODA award.
Faringdon Dramatic Society
When lockdown struck, Faringdon Dramatic Society were preparing to begin rehearsals for their next production. The cast were ready for their first rehearsal, the crew were busy designing sets and our continuity team had already started making small smoked fish!! The play was 'Ladies Day' written by Amanda Whittington. It's an exuberant comedy about four likely lasses from the Hull fish docks on a day trip to the races.
COVID put all our plans on hold but we weren't downhearted and, like so many have done, we took to Zoom!!! We rehearsed every week and some of our Canadian friends (from The Garrison Little Theatre, Niagara) joined us too when the time difference allowed it. The cast got into their characters and rehearsed with gusto from their bedrooms and lounges. Great fun was had and the team felt it was wonderful to have their minds taken off other worries once a week.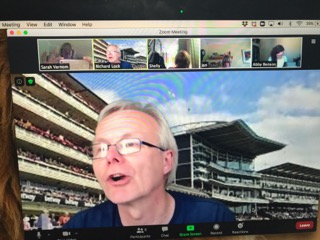 Lane End Players
When the whole nation went into lockdown in March 2020, the Lane End Players were already immersed in rehearsals and set-building for upcoming Spring production - a VE Day tribute show entitled "Keep Smiling Through". So it came as a blow when the Village Hall was closed and all plans put on hold for the unforeseeable future. But as a group, they decided that the spirit of "keep Smiling through" would prevail. The society Whatsapp group evolved into a weekly Thursday Night Zoom session which has been a crucial way for the Players to still feel bonded, involved and creatively active. Thursday Zooms have featured a variety of quizzes, a murder mystery night, a Poetry and a Prose night and most recently, a horse racing evening, held on the same date as "Ladies Day" at Ascot. This was particularly significant for the group as they were the district winners of this year's NODA Award for Best Drama for their production of Amanda Whittington's "Ladies Day" and many members donned hats and Ascot finery to throw themselves into the spirit of the event. But, for Lane End, the crowning glory of the Zooms so far was the unforgettable Coronavision Song Contest, which had 12 contestants, a compere and four impartial international judges - one actually phoned in from France to participate on the night!
One of the first lockdown achievements was the group's video recording of a version of Vera Lynn's iconic wartime song, "We'll Meet Again", which they had been rehearsing before the show was cancelled. It was produced originally to coincide with what would have been the opening weekend of the show and was re-released again recently in honour of lovely Dame Vera, who passed away at the ripe old age of 103.
Lane End are at work on their most ambitious lockdown effort yet – a virtual Summer Show, with the theme "We're Not Going On A Summer Holiday". The show will feature songs and sketches video recorded by members and then compiled into one full-length production film to be live-streamed or available to watch on various platforms later in the summer. It's a real creative and technical challenge but the Lane End Players are up for it!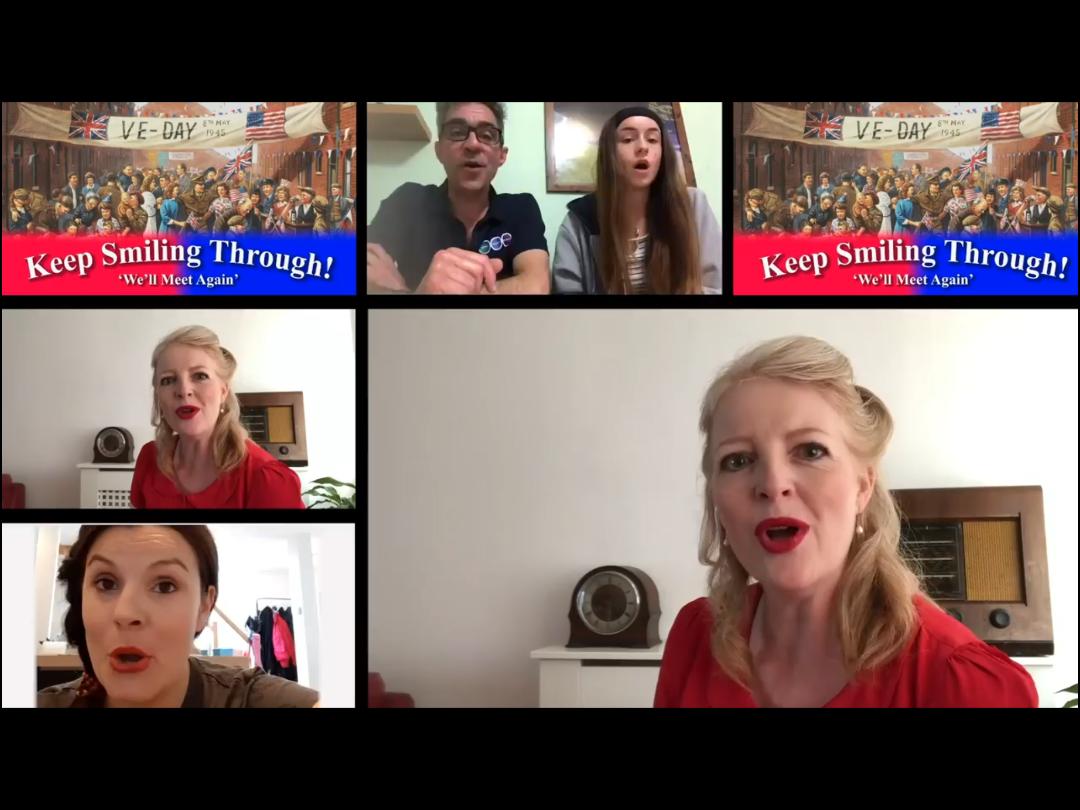 Avocet Theatre Company
Coronavirus can't stop Creativity. At least that was the message delivered by Avocet Theatre Company who have created an entire 2 hour theatrical production - The Virtual Variety Show – all whilst in lockdown and adhering to social distancing rules. The group have staged this entire show despite not being able to meet in person for a single rehearsal. The show was streamed on the group's website whilst also raising money for the NHS.
The Virtual Variety Show consisted of over 30 brand new acts all filmed whilst in lockdown. The cast members sent in videos of their acts in order to create a full-length video production and these solo acts were seen alongside group numbers and sketches that have been filmed and edited together. These brand new acts have been interspersed with some clips from previous productions it proved that the film was one of the most ambitious projects they have ever undertaken.
"This was an incredibly challenging but rewarding task," said Ben Coleman, the Chairman of Avocet Theatre Company and director/editor of the film. "The opinion of Avocet Theatre Company is that theatre is more than a building. It is something that can be created anywhere. And so, whilst theatre venues may be closed, the show must go on as the old saying goes. I am so proud of our members who are continuing to create incredible pieces of theatre despite the current pandemic".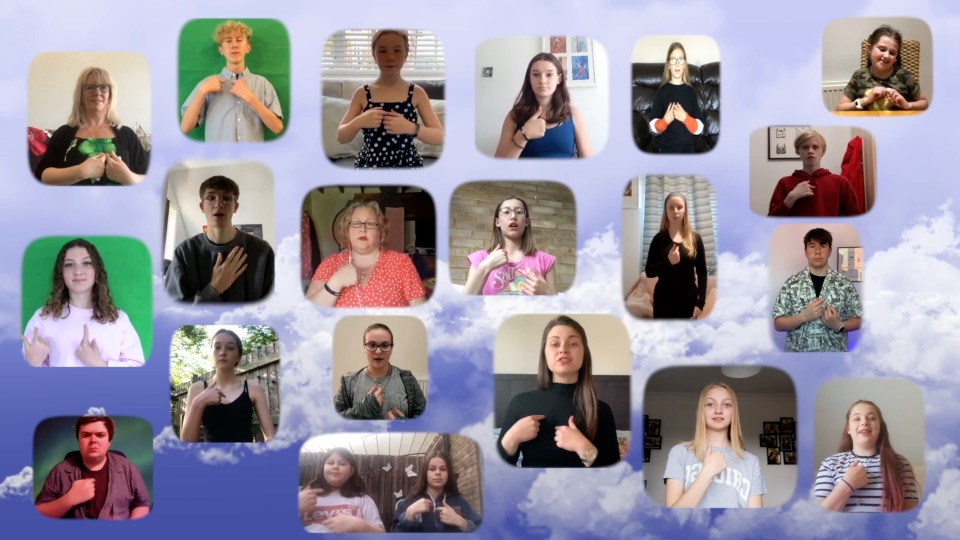 ______________________________________________________________________
Obituaries
Harvey Kesselman
In April NODA London and the Amateur Theatre said goodbye to our dear friend Harvey Kesselman. I first met Harvey, and his wife Sylvia who sadly died last November, back in 1974.
Harvey was, for many many years, a leading light in several London societies including Hornsey Operatic and Dramatic Society (HODS), Harrow Light Opera (HLOC), Stock Exchange (SEDOS) and several of the city bank groups. He took many leading in Musicals, Operas and G&S Operettas. Harvey was a Regional Representative for NODA London District 9 for over 20 years and during that time he supported his groups with charm and infinite theatrical knowledge. He stepped aside to become Long Service Awards Secretary in 2015, of which he was, of course, a recipient himself.
Well known for his comedy roles and his sense of fun, in 2014 he presented NODA London with the Harvey Kesselman Comedy Award, presented each year for the best comedy performance.
Everything Harvey did he did with energy, enthusiasm and a huge sense of fun. A great Am Dram talent and character who will be sadly missed but not forgotten!
Annie Hertler-Smith and Jacquie Stedman
Bill Baynes
Amateur theatre was Bill's first love. In 1974 he joined Harrow Light Opera, chaperoning the kids for their production of Oliver! at the Kilburn State. Bill then went to do many shows with HLO, where he met Carole, often partnering each other in many roles.
Bill was in the very first production by new company Players 2, Salad Days in 1979, playing several parts. Many notable performances followed: Cervantes/Don Quixote in Man of La Mancha, Fagin in Oliver! and leads in Cabaret, The Wiz, Chicago, Damn Yankees, Me and My Girl finishing in 2010 with The Drowsy Chaperone.
Bill was also a fine Director, with his production of 12 Angry Men, winning the NODA Best Drama award in 2001. He successfully moulded a cast of varying experience and talent to an extremely high standard. Also we remember Rebecca and On Golden Pond for the imaginative sets he designed.
Over the years, he has delighted audiences, but more than that he was a good, thoughtful friend, a delight to be with and a wicked sense of humour!
Bill joined the NODA London Regional Committee as Regional Representative for District 9 in March 2015, succeeding Harvey Kesselman who then became Awards Secretary. It was through Harvey that Bill was encouraged to take on this role - his knowledge of all things theatrical over many years making him an ideal candidate. He contributed well to the general discussions in Regional Committee Meetings and supported his groups in all their endeavours through his in-depth knowledge of theatre. In June 2017 Bill was joined by his wife Carole, making a formidable team; sharing the role of Regional Rep.
Frankie Hogan and Jacquie Stedman
Bill Baynes (left) and Harvey Kesselman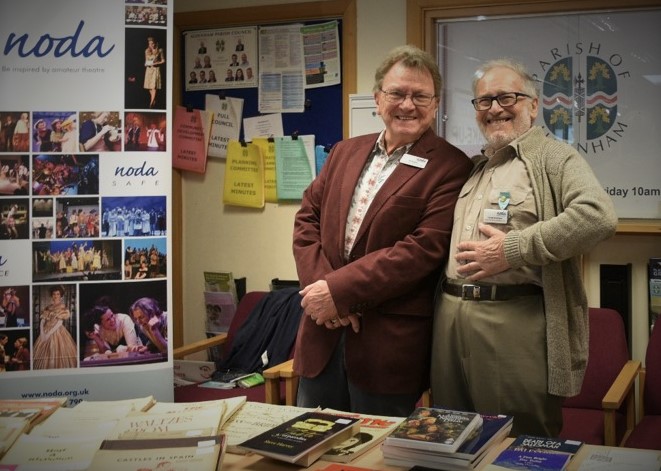 ______________________________________________________________________
London Region District Reps – Goodbyes and Hello
District 1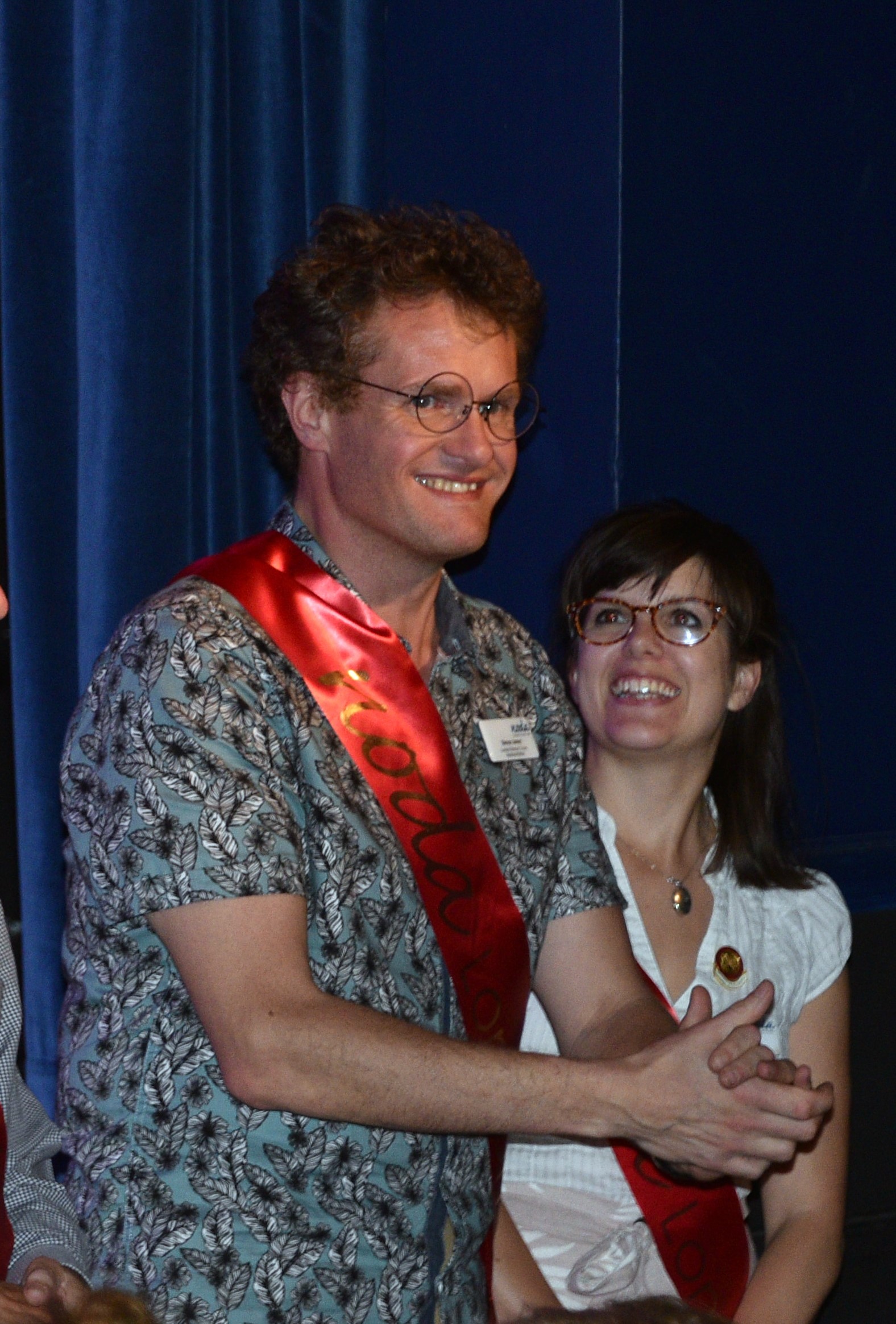 It is with sadness that we say goodbye to Simon Jones and Carly Hilts, who for the past two years have looked after District 1 so well. Simon and Carly have moved to the South Coast, a move that was always planned but hastened by a realisation that, due to the current situation, working from home permanently was an option.
I am sure that District 1 societies will miss them greatly. Their reports were detailed and conscientiously put together. Their great knowledge of all things theatrical will be a loss for the Region and the Committee and we wish them all the best for the future.
District 14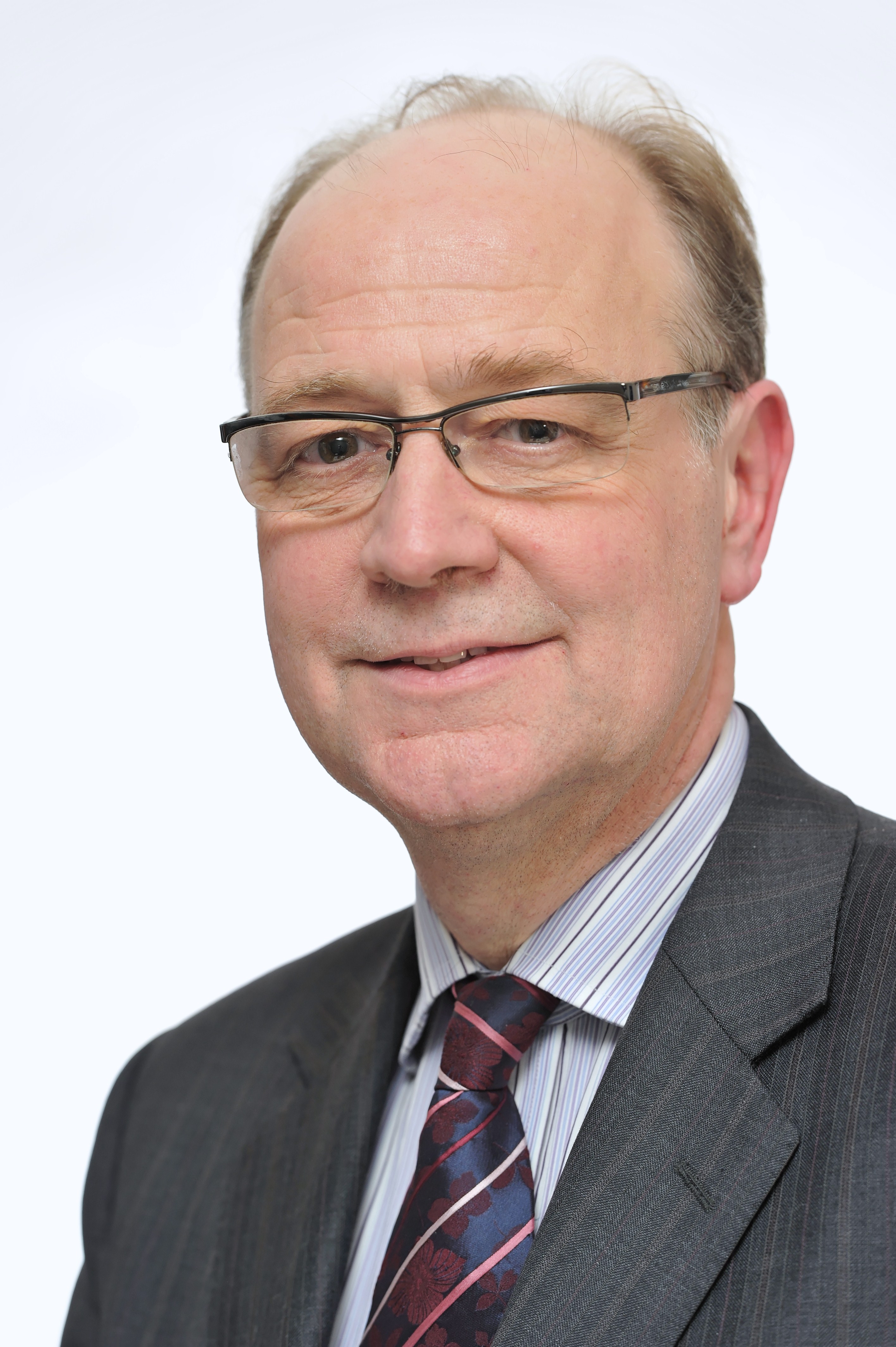 I am delighted to welcome Nick Humby as Regional Rep for District 14.
Nick is a retired qualified Accountant (working in TV, Sport and Theatre) with a lifelong passion for Theatre since working on his first amateur productions in the 1970s. He has had an active involvement in all aspects of producing and staging a play with societies in Romsey, Southampton, Byfleet and Reading. His personal highlights are designing the sets and staging productions of Oliver, My Fair Lady and the Importance of Being Earnest (which was written up in a 4 page article in the Guardian weekend supplement) as well as many pantomimes (one of which he wrote). He has worked on over 40 amateur productions and seen over 1000 professional productions. In recent years he has reviewed professional shows for Pocket Sized Theatre and West End Wilma and been a judge for GB Pantomime Awards. He served as a Non-Executive Director on the Board of The Ambassadors Theatre Group from 2000 to 2009 and the Arts Council audit committee from 2011-2015. His father was a NODA rep for Surrey for many years.
Send us your news.
This is your newsletter. Put your news in it.
Are you putting on a new or rarely performed show? Have you celebrated an anniversary? Have you overcome great technical challenges? Tell London about it.
andrew.rogers@noda.org.uk
________________________________________________________________________
The NODA London Committee
Below you can find the details of all of the NODA London Committee and District Representatives.
London Committee
London District Representatives