East Midlands
Welcome to the East Midlands Region of the NODA website.
The East Midlands region of NODA covers seven counties: Buckinghamshire, Derbyshire, Leicestershire, Lincolnshire, Northamptonshire, Nottinghamshire, and Rutland. It includes traditionally industrial cities like Leicester, Nottingham, and Derby, the new town of Milton Keynes, and the large and largely rural county of Lincolnshire.
We have some old-established societies, such as Northampton Musical Theatre, founded in 1898, Stamford Amateur Operatic Society, which started in 1905, and the Spalding Amateur Dramatic and Operatic Society, founded in 1870, the region has one of the very oldest amateur societies in the United Kingdom. But we also have newer groups like Bonkers from Kettering and the magnificently named Eccentric Penguin Productions from Derby. This also reflects a more recent trend in the organisation of drama groups, either led by an individual or working as a small collective - like Marde Hen from Belper, who specialise in new writing. Some groups like Heckington Players have an in-house writer Kei Bailey, what a luxury that is!
There is a diversity of venues - the magnificent Theatre Royal in Nottingham and the boldly designed Curve in Leicester but also small theatres such as Retford's Little Theatre, Sleaford Little Theatre, and the Lion Theatre, Horncastle, built by its members in a pub car park - as well as the Royal and Derngate in Northampton which combines a 20th-century theatre with a Victorian one. But as everywhere else, venues are becoming more expensive, and some are now out of the reach of amateur theatre companies - a challenge for the future in common with all regions.
Regional Councillor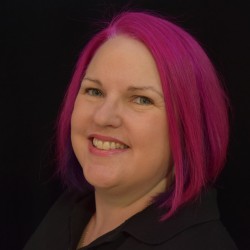 Jules Jones
jules.jones@noda.org.uk