NODA South-East Regional AGM and Awards 2015
The 2015 NODA South-East Regional Conference
(including AGM and Presentation of Awards)
Sunday 5th July at Alton College
Held in the presence of NODA President, Mr John Barnes and a set of trophies.


Programme and Poster Competition Winners
(For Shows performed in the calendar year 2014)
Click here for photographs of the winning entries and the winners.
| | | |
| --- | --- | --- |
| Trophy | Society | Production |
| Poster Winner - Richard Trower Trophy | Gillingham Dramatic Society | Jack & the Beanstalk |
| Poster Runner-Up | Romsey AODS | The Spider and the Bird |
| Basic Programme Winner - Eileen Dobson Trophy | The Savoy Singers | The Gondoliers |
| Basic Programme Runner-Up | Cobham Players | Sleeping Beauty |
| Standard Programme Winner - Roy Portsmouth Trophy | CODY Farnborough | Sweet Charity |
| Standard Programme Runner-Up | Overton Dramatic Society | The Three Musketeers |
| Deluxe Programme Winner - Clarence Jolliffe Trophy | Milton Musical Society | Blitz! |
| Deluxe Programme Runner-Up | Basingstoke A.O.S | Thoroughly Modern Millie |


Regional Awards for Excellence
(For Shows performed in the calendar year 2014)
Click here for photographs of those who collected their awards at the ceremony (and a few others).
District / Award
Society
Production
1 - Musical
Brighton Theatre Group
Grease
1 - Drama
The Southwick Players
Far From the Madding Crowd
2 - Musical
Lewes Operatic Society
Les Miserables (Schools Edition)
2 - Drama
The Haven Players
Life & Beth
2- Pantomime
Willingdon Church Players
Dick Whittington & His Cat
3 - Musical
Opera South East
Tenterden (TODS)
Carmen
Shout
3- Drama
Little Common & Bexhill Players
Stonegate (SADS)
Visiting Hour

Talking Heads
5 - Musical
Kentish Opera
Act One Theatre
Bartered Bride
Peter Pan - the Musical
6 - Musical
Canterbury Op Soc
Sweeney Todd
6 - Pantomime
Margate Operatic Society
Rapunzel
7 - Musical
Tunbridge Wells Operatic & Dramatic Society
Tuesday Nite Productions
The Merry Widow

The Princeford Pals
8 - Musical
Betchworth ODS
The Beggars Opera
8 - Drama
Oxted Players
My Boy Jack
9 - Musical
Worthing Mus Comedy Society
Horsham Amateur Opera & Drama Society
Oliver Hello

Dolly
9 - Drama
Regis Players
The Entertainer / Waiting for Godot
9 - Pantomime
Durrington Theatrical Society
Scrooge the Panto
10 - Musical
Portsmouth Players
Sister Act
10 - Drama
Fareham Musical Societ
More Trouble at Fawlty Towers
11 - Musical
Basingstoke Amateur Theatrical Society (BATS)
The Wizard of Oz
11 - Drama
Grayshott Stagers
The 39 Steps
12 - Musical
Hatton Operatic Society
Into the Woods
12 - Drama
Manor Players Amateur Dramatic Society
84 Charing Cross Road
13 - Musical
Milton Musical Society
Blitz!
13 - Drama
Poulner Players
My Boy Jack
14 - Musical
Overton Dramatic Society
Godspell
14 - Drama
Silchester Players
Twelfth Night
15 - Musical
CAOS Musical Productions
Annie
15 - Drama
Graffham Rustics
Ladykillers
16 - Musical
The Island Savoyards
White Christmas
16 - Drama
Cowes Am Op & Dram Soc (CAODS)
Ladies' Day
17 - Musical
Winchester Musical & Operatic Society
Oh! What A Lovely War
17 - Drama
Winchester Dram Society
Sleuth
18 - Musical
Cody Farnborough Amateur Operatic Society
Guildford Opera Company
The Producers

La Boheme
18 - Drama
Guildburys Theatre Company
Jekyll and Hyde
18 - Pantomime
Godalming Theatre Group
Cinderella
19 - Musical
Leatherhead Operatic Society
The Nomads
La Cage aux Follies

Jesus Christ Superstar
19 - Drama
Dorking Dram & Operatic Society
Ewhurst Players

Orphans

The Happiest Days of Your Life


Regional Trophies
(For Shows performed in the calendar year 2014)
Click here for photographs of those who collected their awards at the ceremony (and a few others).
Trophy
Society
Production
Haslemere Trophy for visual & technical excellence
Winners:
Graffham Rustics
Runners up:
Worthing Musical
Comedy Society
The 39 Steps

Jesus Christ Superstar
Ben Wright Shield – Youth East
Winners:
RaTs (Rainham Amateur Theatre Society)
Runners-up:
Durrington TS Youth
&
RSOPA Theatre Group

A Christmas Carol


Joseph & the Amazing Technicolor Dreamcoat
Our House
Margaret Coltman Shield – Youth West
Winners:
South Wight YT
Runners-up:
BATS Next Generation &
BAOS Limelight

West Side Story

CATS
Grease
Councillor's Drama Statue
Winners:
Dorking Drama & Opera
Society
Runners-up:
Horsham Amateur
Operatic & Dram Society

Hound of the
Baskervilles

The Rivals

Councillor's Musical Statue
Winners:
Margate Operatic
Society
Runners-up:
Horsham Amatuer
Operatic & Dramatic
Society

42nd Street


Sweeney Todd

Councillor's Pantomime Statue
Winners:
Starburst
Runners-up:
Durrington Theatrical
Society &
Margate Operatic
Society

Snow Queen

Scrooge the Panto

Rapunzel

Trower Trophy for best G & S in the Region
Winners:
Godalming Operatic
Society
Runners-up:
The Island Savoyards

Princess Ida


Gondoliers


The occasion also allowed us to offer thanks to two friends stepping down after many years service as regional representatives: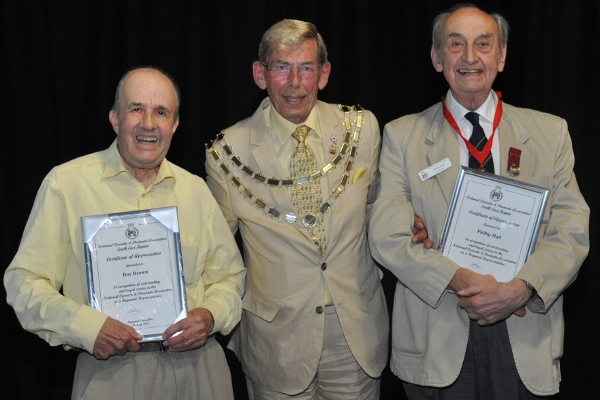 Roy Brown and Phillip Hall collect certificates of appreciation from NODA President John Barnes. (A large version of this photograph may be downloaded here.)

There is also a Team Photos page of some of the groups who collected awards.