Oh Romeo! by Ephraim Kishon
| | |
| --- | --- |
| Date | 21st March 2019 |
| Society | Guildburys Theatre Company |
| Venue | The Electric Theatre, Guildford |
| Type of Production | Comedy |
| Director | Steffen Zschaler |
Report
Author: Pauline Surrey
Romeo and Juliet didn't die, they got married. And of course true love never runs smoothly, marital discord and a stroppy teenage daughter bring them – and us – right down to earth. This comedy written in the early 1970s by the Israeli writer Ephraim Kishon takes an imaginative look at how their lives might have proceeded, and imagines the interfering ghost of Will Shakespeare coming back to haunt them.
One can always rely on Guildburys to produce a fine programme. This one, A4 size, contained an interesting note from the director; a piece on the playwright; rehearsal and costumed photos; and details of forthcoming productions – not just one, but four! There was excellent photography and graphic design from Phill Griffith.
We entered a lowly residence: a bed, a couple of chairs, kitchen cupboard, these two have come down in the world, no balconies here. A well-designed set, including a gauze door that the ghost of Shakespeare would enter through, and an open window that various folk departed through, and a trap door much in evidence. Props included a wonky electric kettle, a washing up bowl, a suggestive apron, a skull and a much loved purple hot water bottle (You had to have been there!)
Costumes were simple and effective: humble Tudor garb for all, save a smarter black job with ruffle for Will Shakespeare, and an amazing punk outfit for Lucrezia. There were two amusing wigs for Juliet, a nightime one with curlers, a glamorous long blond one for daytime.
Rather refreshingly, we had a Troubadour! Tautvydas Kuliesius accompanied us throughout on the side of the stage with his guitar. Original music composed by Jay Orbaum also provided some good songs for the cast. Tautvydas also woke us all up very effectively with his cockerel impersonation!
KIshon had an interesting idea, to 'revive' our loving couple, and to let them get married, and allow the interfering ghost of Will Shakespeare to keep bursting into and disrupting their humdrum lives. I feel though that this 1970s play was somewhat dated, and I am not sure that the humour travelled particularly well. The marital discord especially struck me as rather uninteresting, not biting enough, a little trite. That said, it was a courageous decision to revive this play, and introduce this popular – yet almost unknown in England – author to a Guildford audience.
Those reservations apart, what saved this production was without a doubt its strong cast. Our squabbling couple (the downtrodden Romeo and the snappy and disappointed Juliet) were well-played by Jonathan Constant and Danielle Bucket, and their frustration with their stroppy 14 year old daughter Lucrezia made the parents in the audience chuckle wryly. Tuuli Albekoglu as Lucrezia was all awkward teenager, emotions in abundance, totally embarrassed by her parents, rebellious, rude, precocious in the sexual awakening department, pained facial expressions, frustrated gestures, the works! Super!
Tina Wareham as Juliet's nurse was a great, cosy 'nursey' character. Though I couldn't really understand the reasoning behind Kishon's making Romeo get all cuddly with her. However, that's the play, not the actors. Nurse made a wonderfully amusing quick exit through the window as Juliet returned home.
Friar Lawrence, Juliet's priest, was played to perfection by Graham Russell-Price, with great character, gusto, and superb Irish accent. I think Graham is Guildburys special 'accent man', he masters them all!
Without a doubt though, the piece was lifted each time Will Shakespeare appeared. His dialogue was clever, his motives mixed, he fascinated from start to finish. Ian McShee was perfect in this role – his eyes twinkled, he pierced us with his look, his gestures and head movements and body language were a delight. He held the stage throughout, the play came alive. A five star performance from Ian!
All in all, a challenging choice of play, well done Steffen Zchaler for giving us the chance to see work by this writer so successful in Israel, the US and Europe. We did laugh, we were amused, but maybe as much due to the cast rather than the play in itself.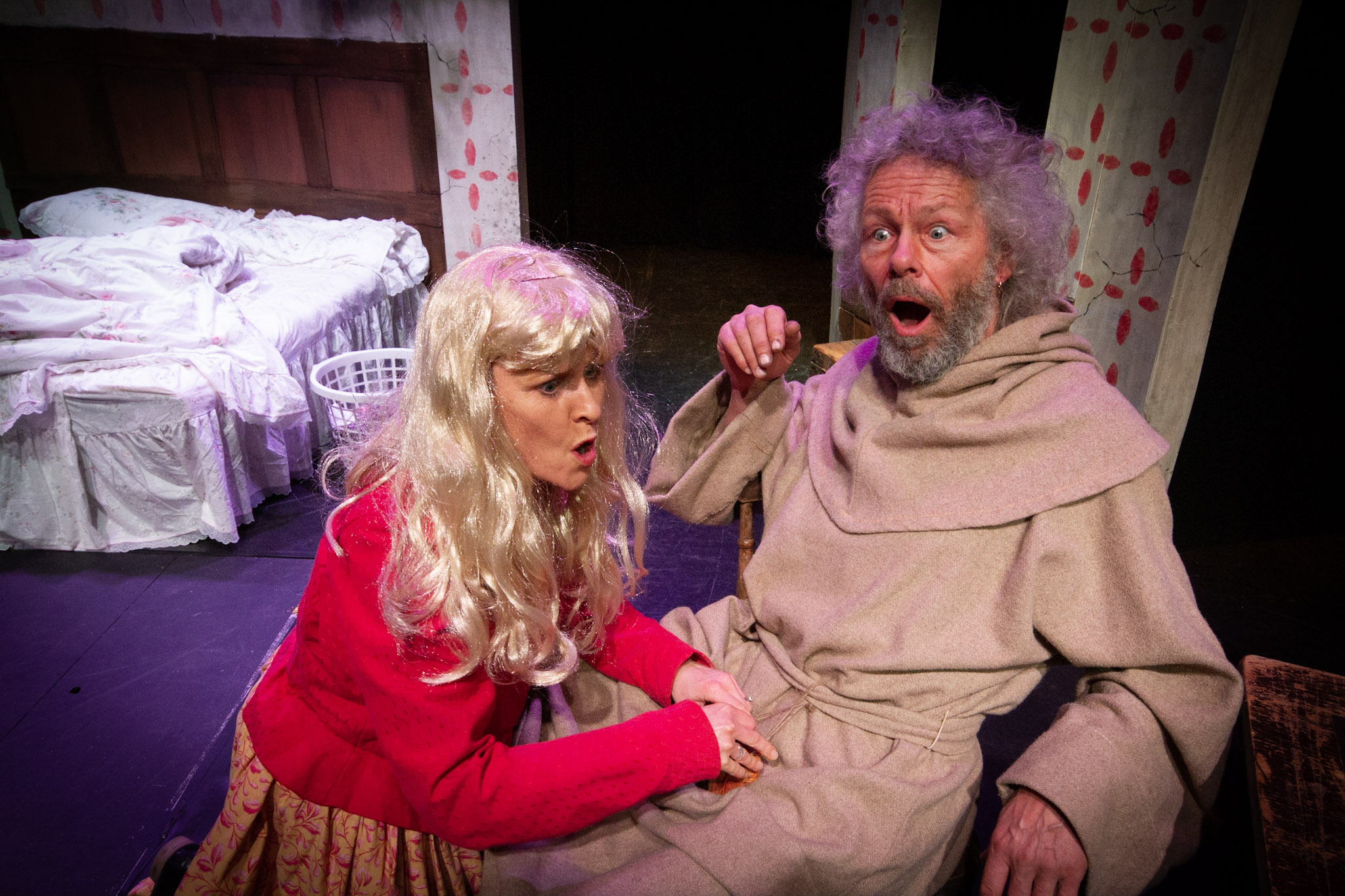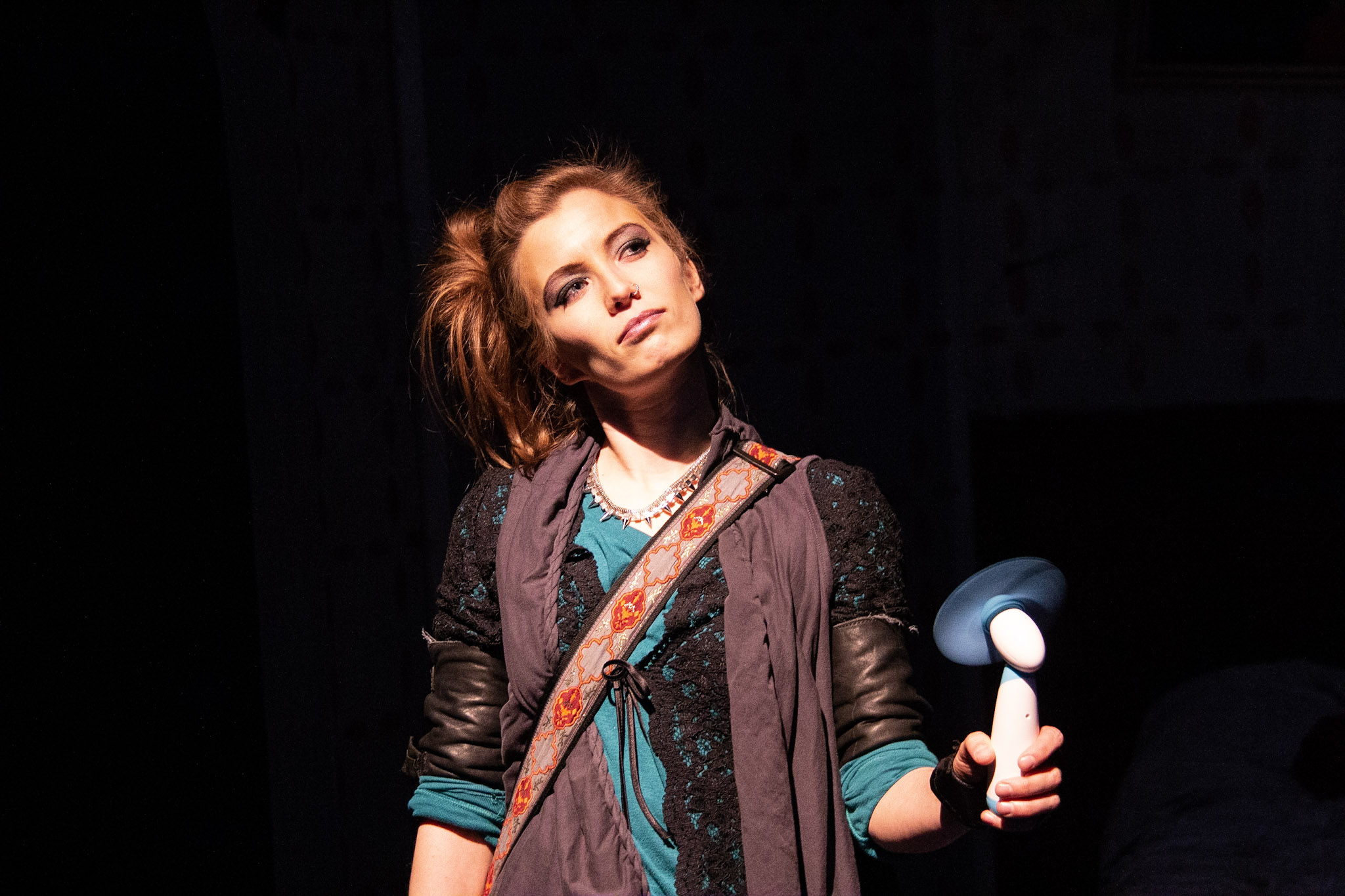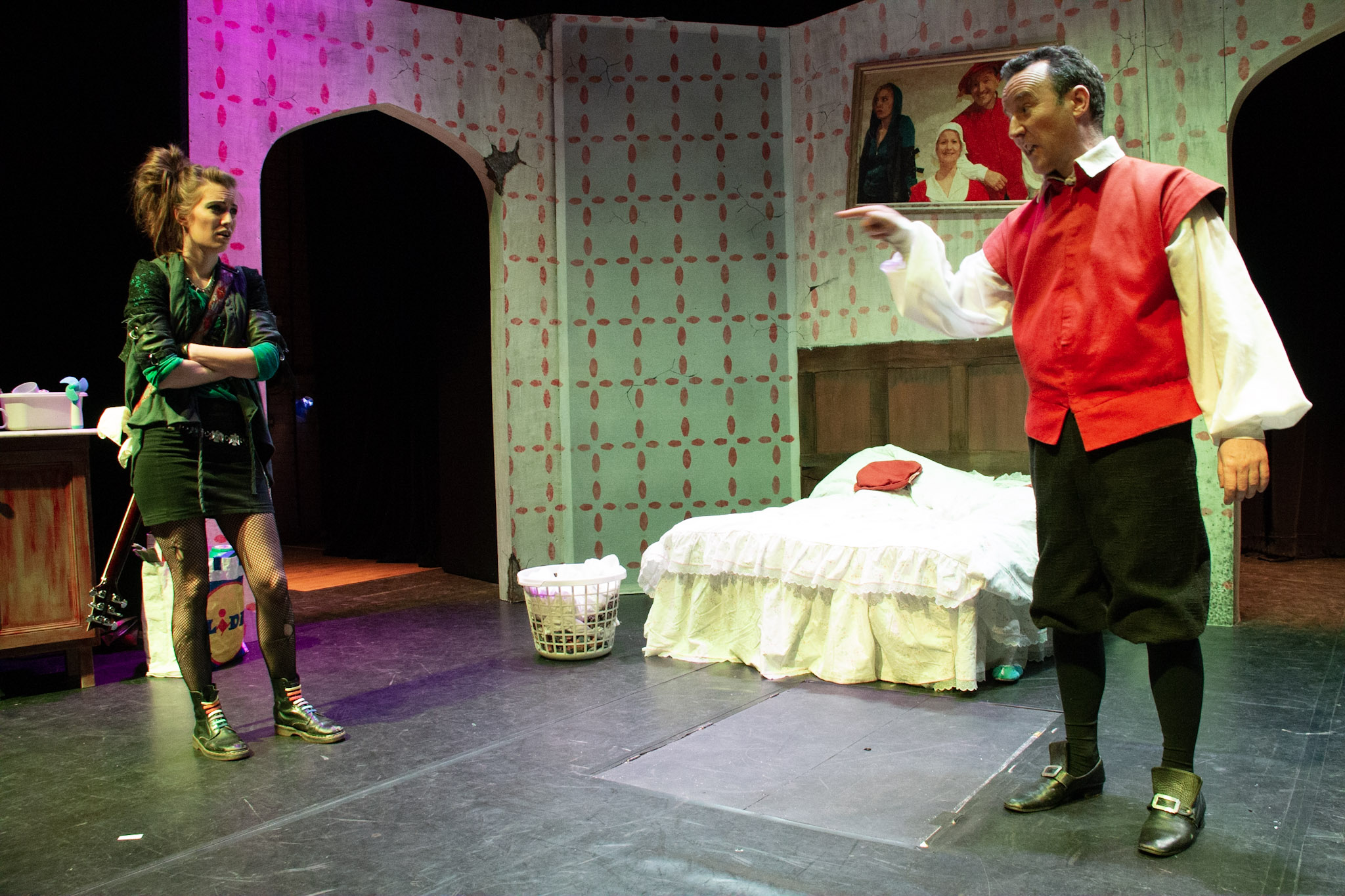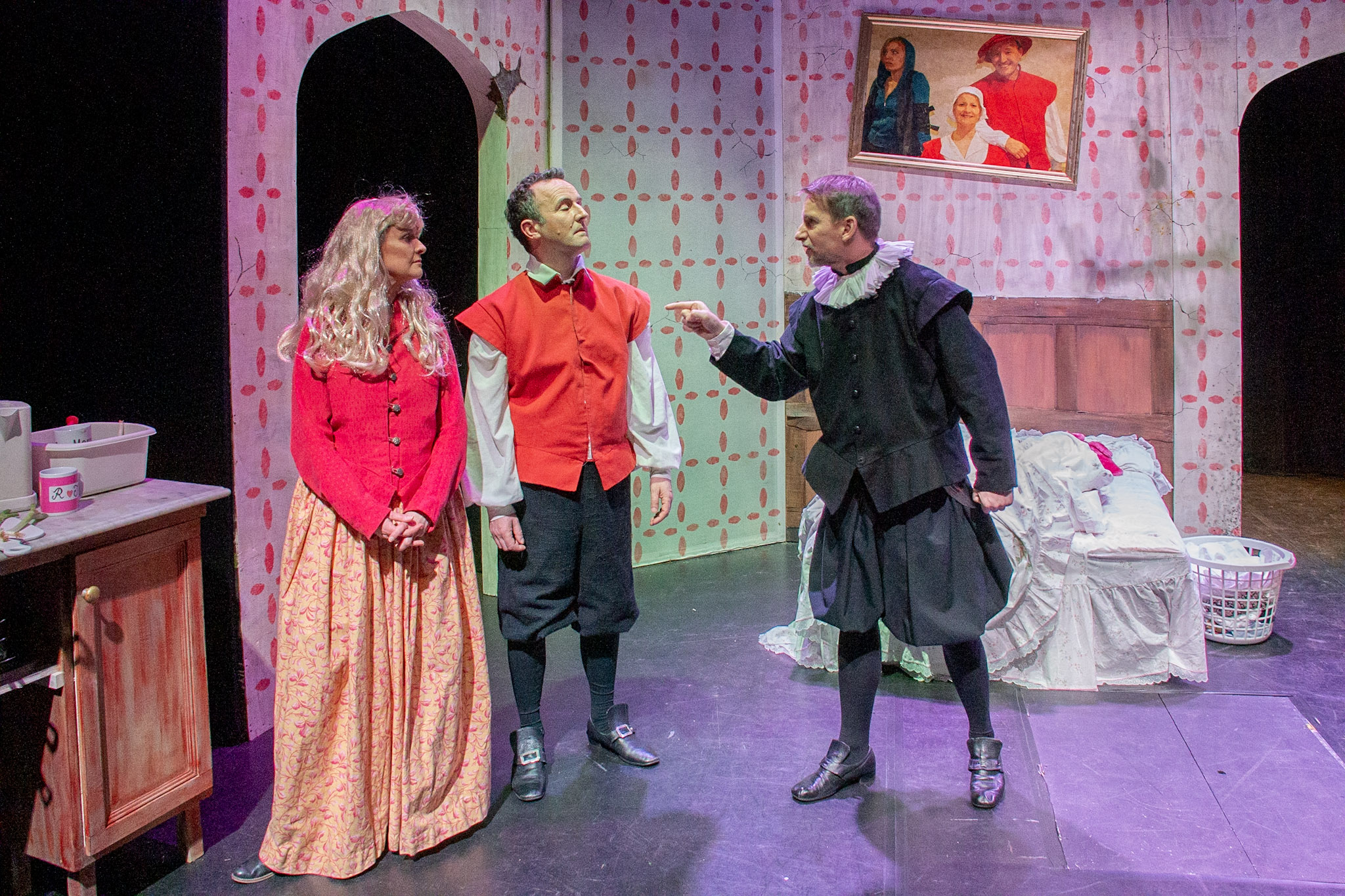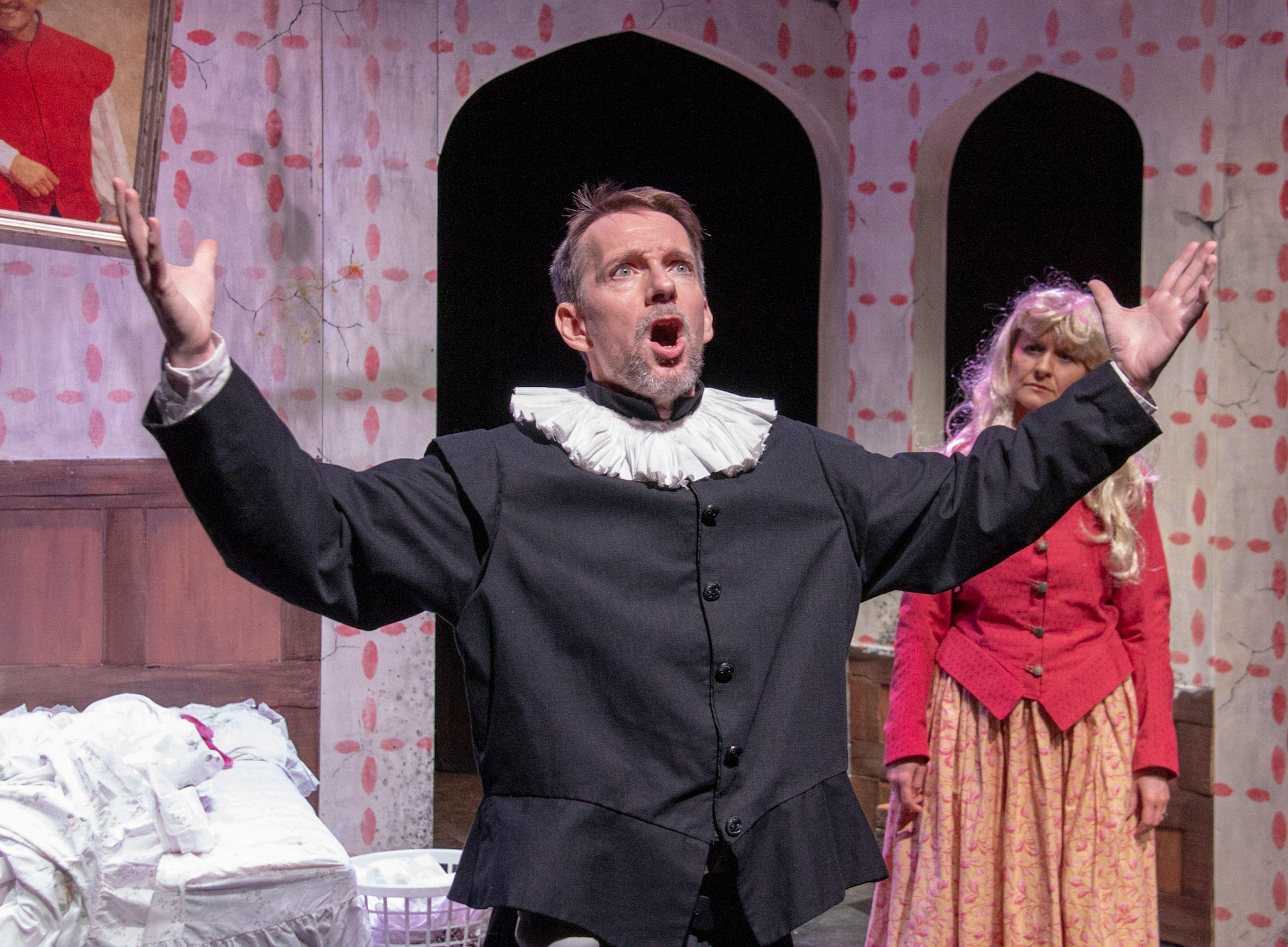 Production photography by Kevin Malam.