Little Shop Of Horrors
| | |
| --- | --- |
| Date | 23rd April 2022 |
| Society | Urmston Musical Theatre |
| Venue | MOVE Urmston Leisure Centre |
| Type of Production | Musical |
| Director | Kathleen Valentine |
| Musical Director | Ed Nurse |
| Choreographer | Lorraine Callan |
| Written By | Howard Ashman and Alan Menken |
Report
Author: Liz Hume-Dawson
Urmston Musical Theatre- Little Shop Of Horrors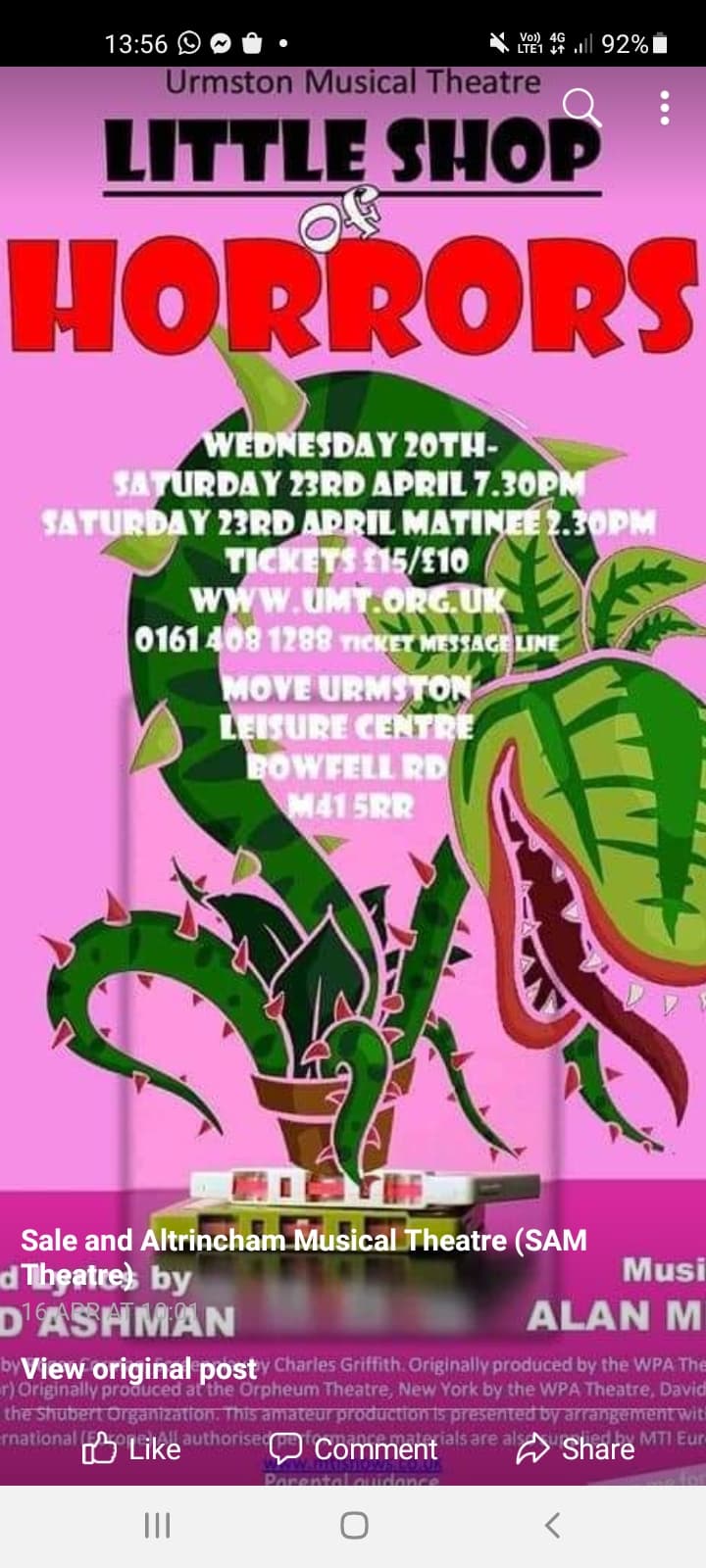 "Urmston Musical Theatre are not going away!" the words of Treasurer Alan Pickwick who gave a speech before the show opened. Having had a break of nearly 4 years due to building refurbishment and Covid this show Little Shop of Horrors was intended for 2020 when it was cancelled only weeks away from performance. So, new building, new era and over 500 hours of manpower sorting out new seating and technical equipment, they are back. The pure joy from the committee is evident and how proud they are.
Kathleen Valentine directs this production with the original cancelled cast from 2020 with a few small cast changes. The set has some large trucks consisting of the outside wall on Skid Row and Mushniks Florist. These were changed quickly and efficiently. I liked that the Ensemble helped stock the Florist too. Stage left and right tyres and bins and various rubbish enhanced the set and were also used for seating and to keep various props in. I think the lighting and sound were exceptionally strong. Lighting by Jason Cooper-Bagnall, Tom Durrani and Mathew Lane. Sound by Theo Young, Lucy Collins and Niamh Holmes. Some great effects were created - especially when the plant ate people the use of the red lights distracted the audience from seeing the actors going into the plant. Choreography was strong from Lorraine Callan and the whole stage was utilised. Ed Nurse as Musical Director did an admirable job and lead the Orchestra and Cast faultlessly through the score – bravo!
I loved the fact the ensemble has strong characters down to a pregnant woman in one scene then later she had a baby in a papoose. Suddenly, Seymour with company was great. Kathleen's vision of the three girls worked with them being omnipresent. This is just my opinion, but I could not work out the costume being set in the 80s as the nod to Phil Spector is all about the 60s and his girl groups. I just don't see Seymour in shell suit. I also was confused about the one puppeteer in green at the start in the florist, (I thought ooh! should they not be in black?) but this made total sense as the show went on and the finale looked great picking out the colours of the plant.
Yvonne Bissett as Mrs Luce, Ash Mallen as SnipSnip and Jill Cheshire as Bernstein all put in a credible, energetic cameo performance.
Sue Mallett as Ronnette, Ella McIntyre as Chiffon and Charlotte Callan as Crystal were the Greek style chorus commenting on the action and interaction with the other characters, they see everything. Each having their own personality but working as one. Strong voices. Charlotte in dentist scene was very funny.
Daniel Mellor as Mr Mushnik and James Goodwin as Seymour worked well together and I loved Mushnik And Sons. The singing was very strong. I did think when James when pushing the plant away he could have been a bit more forceful.
Steph Niland as Audrey had a beautiful voice and was able to emote in her songs, she put in a considered performance as Audrey – lovely!
Jon Gardner as the Dentist I have to say was one of the best performances as the Dentist I have seen. He just had an air about him without shouting that he could be mean and you believed Audrey was scared of him. Great Dentist song and also singing in a mask is no mean feat either – Fab.
The Puppeteers for Audrey II were Lynsey Cassidy, Eleanor Cardoza, Rachel Mellor and Michelle Speakmen. Jon Gardner did help out too. The green jumpsuits worked so well as if they were part of the plant. It was obviously well rehearsed. While all girls were brilliant I could not take my eyes off Eleanor - her puppet actually mimicked her face: this was acting by osmosis – superb! So, the plant needs a voice and boy what a find in Adam Garnett. He just blew me away. He reminded me of Choriza May. He looked the part and sounded the part. Loved when the Dentist had been eaten he still did the clicks the Dentist did. The Plant with sass and attitude - Shantay!
Thank you so much from my guest and I for an enjoyable evening. Congratulations to Committee, Cast and Crew - don't feed the plants!
Liz Hume-Dawson
D5 Rep