Grease
| | |
| --- | --- |
| Date | 21st April 2022 |
| Society | South Manchester AOS |
| Venue | ZArts |
| Type of Production | Musical |
| Director | Kevin Proctor |
| Musical Director | Tom Pieczora |
| Choreographer | Kevin Proctor |
| Written By | Jim Jacobs and Warren Casey |
Report
Author: Liz Hume-Dawson
South Manchester AOS – Grease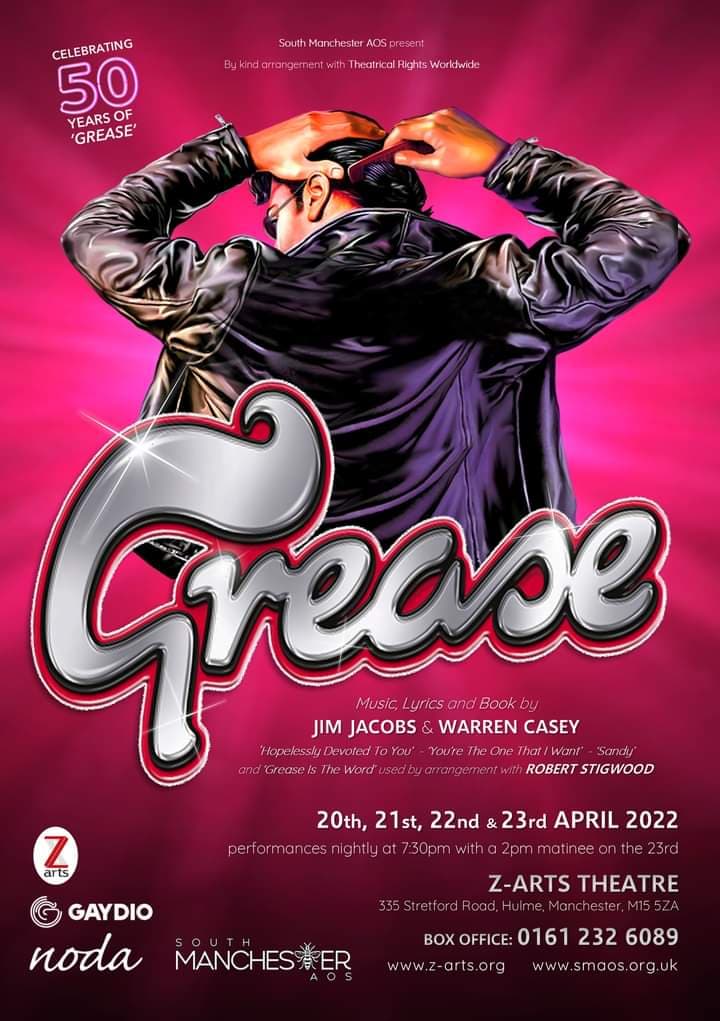 South Manchester AOS present "Grease" as their musical. This is the first time this society has put on this production and director Kevin Proctor states in his programme notes that he has been fixated on the show since his teens. This is evident with a bumper packed programme of information through the years of the production opening in 1971 and SMAOS being one of few societies granted permission in 2022 to perform it, in its 50th Anniversary year.
Kevin knew exactly what he wanted from this show and I must say it was a strong cast with stunning singers from principals to smaller roles. In the opening scene the harmonies were beautiful, and some work must have gone into that. Musical Director Tom Pieczora obviously worked well with Kevin to bring a strong synergy to the production. The Cast were used as stage crew aswell to move scenery and made no apology for this, it was done with enthusiasm and the movement was like the precision working of a Rubiks cube. The set sparingly used: just one note from where I was sat - I would have liked Marty's Pyjama Party scene further upstage as I could not see everything - but maybe there was not the depth to accommodate this? Kevin also took on the choreography which was in keeping with the piece and a little touch of updating which worked well and gave it a fresh feel - loved 'Shakin' At The High School Hop. Asking for a friend - are there no ends to this man's talent? as Kevin also took on Costume with the Cast's help, which was all in keeping and of the era - loved the matching shirt and socks for the boys and also wigs with Tom Farnworth.
Lighting and sound overall were great and helped create the ambience needed for the piece. There were a couple of sound issues with Jenny and Teen Angel which was a shame. They were not phased about it, but I did feel for them. Lx Design, Chris Osborn and Sound, John Ormerod.
Rebekah Davies took on the role of Jenny (which is normally Jonny Casino) - great casting and Rebekah always has such energy on stage and strong voice. Matt McGoldrick was Vince and Teen Angel - a voice to die for as Teen Angel - well done!
Annie Davies was Patty and Kallum Edwards, Eugene - great characterisation and energy.
Beth Abram as Rizzo I did feel was a bit nervous at first but definitely came into her own with "There Are Worst Things I Could Do" and it's the first time hearing it sung I felt she was not just addressing Kenickie about the crying, but also Sandy.
Fay Allison was Frenchy and Olivia Callaghan, Marty both gave strong performances. Gemma Sales as Jan really embodied the character and was very watchable on stage - great chemistry with Roger - well done!
Kat Rawling as Sandy looked the part and her Australian accent was spot on and maintained throughout. I thought all the accents overall were in fact good. I didn't realise for a lead role how little Sandy is actually on stage. But when Kat was on stage she made the most of it. "Hopelessly Devoted To You" was a strong performance with great emotion - lovely.
Jake Bloem as Doody, Ben Vaughan as Roger, Jake Ridgeway as Sonny, Kieron Hatton as Kenickie and Connor Ryan as Danny were all strong and worked really well together the singing was strong the movement on point and the characterization likeable and engaging. They looked like mates and this came across - nice one!
Helene Popp as Cha Cha and Adele Firth as Miss Lynch complete the line up. I have to say one of the funniest things was Miss Lynch climbing onto the rostra - whoever's idea that was was a stroke of genius - so funny!. Take a small part and make an impact - job done!
The Ensemble was strong too and as I said at the beginning the singing was excellent from the whole Cast. The audience were buzzing - well done cast crew and committee for another great show.
Thank you for the invite and hospitality from my guest and I
Liz Hume-Dawson
D 5 Rep