The Pirates of Penzance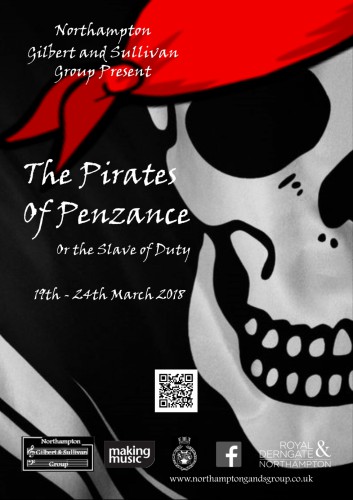 Dates
19th March 2018 - 24th March 2018
Matinees
24th March 2018

Society
Venue
Description
This perennial favourite brings together sentimental Pirates, bumbling Policemen and a plethora of Daughters in a story of love, duty, ineptitude, the very model of a modern Major General and, of course, birthday cake.
The Pirates of Penzance, in all its silliness, is directed by Leon Berger., and tells the tale of Frederic, who has been apprenticed to a band of "gentlemanly" pirates until his 21st birthday by his Nursemaid, who, being very hard of hearing, was supposed to have apprenticed him to a ship's pilot, not a pirate.
Upon his release from the pirates he meets, and falls in love with Mabel, Major-General Stanley's daughter and with General Stanley's blessing, Frederic leads a band of inept policemen 'forward on the foe', in the hunt for his former shipmates.
Will the pirates be stopped, will the policemen triumph, will General Stanley ever get to sleep and will it all end happily ever after?
There is only one way to find out; join us as we head to Cornwall and welcome you to The Pirates of Penzance at the Royal Auditorium.
The Pirates of Penzance will run from the 19th – 24th March 2018 with a matinee performance on Saturday.
Book Tickets
Box Office
You can call the box office for this show on: 01604 624811
More Information
For more information about this show and how you can book tickets please click here.
Please note, clicking the link will open an external website. NODA is not responsible for the content of external websites.