The Phantom of the Opera - Youth Group Production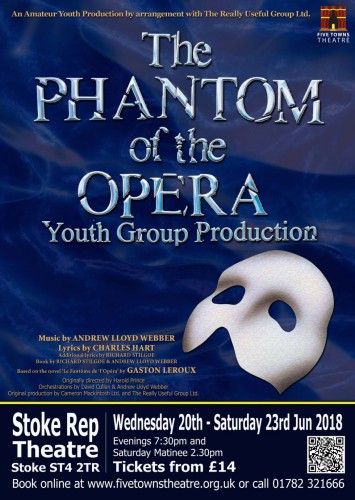 Dates
20th June 2018 - 23rd June 2018
Matinees
23rd June 2018

Society
Venue
Description
The haunting story of The Phantom of the Opera is adapted from Gaston Leroux's novel of the same name and is set in the heart of the Paris Opera House.
As young ballet dancer Christine Daae becomes the object of The Phantom's secret affections, he manipulates her career at the expense and horror of the Opera House staff and stars.
A truly romantic tragedy, this beautiful story is set against one of the most memorable scores that includes hit songs such as "The Music of the Night", "All I Ask of You", "Think of Me", and of course, "The Phantom of the Opera".
Book Tickets
Box Office
You can call the box office for this show on: 01782321666
More Information
For more information about this show and how you can book tickets please click here.
Please note, clicking the link will open an external website. NODA is not responsible for the content of external websites.