The Ladykillers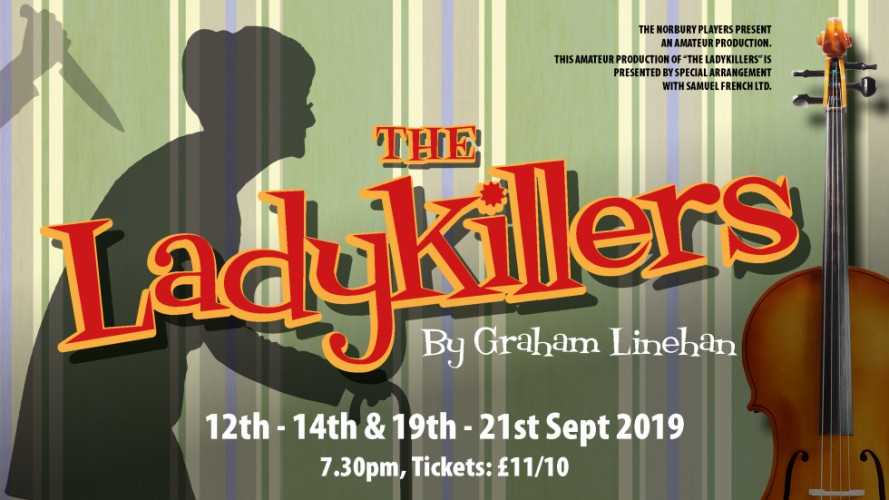 Dates
12th September 2019 - 21st September 2019
Society
Droitwich Theatre & Arts Club Ltd (Norbury Theatre)
Venue
Description
The Norbury Players present an amateur production of The Ladykillers by Graham Linehan.
From the Montion Picture Screenplay by William Rose by Special Arrangement with Studio Canal and By Speaial Arrangement with Fiery Angel Ltd, London.
Thursday 12- Saturday 14 and
Thursday 19 - Saturday 21 September 2019
The Ladykillers is a classic black comedy; a sweet little old lady, alone in her house, is pitted aganst a gang of criminal misfits who will stop at nothing. Posing as amateur musicians, Professor Marcus and his gang rent rooms in the lopsided house of sweet but strict Mrs Wilberforce. The villains plot to involve her, unwittingly, in Marcus' brilliantly conceived heist job. The police are left stumped but Mrs Wilberforce becomes wise to their ruse and Marcus conclues that there is only one way to keep the old lady quiet. With only her parrot, General Gordon, to help her, Mrs Wilberforce is alone with five desperate men. But who will be forced to face the music?
7:30pm. Tickets £11/10
Box office 01905 770154
www.norburytheatre.co.uk
This amature production of 'The Ladykillers' is presented by speacial arrangement with Samuel French Limited.
Book Tickets
Box Office
You can call the box office for this show on: 01905770154