Spamalot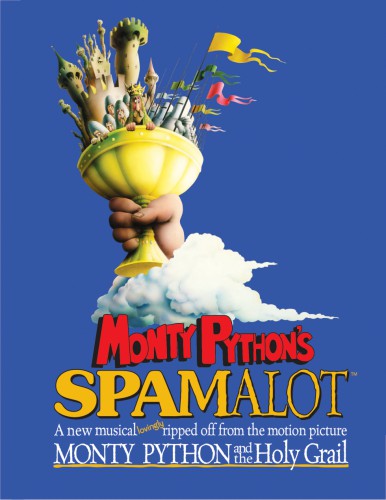 Dates
10th July 2019 - 20th July 2019
Society
Shaftesbury Arts Centre & Drama Group
Venue
Description
After a short history lecture and having been given Excalibur by The Lady of the Lake, King Arthur sets out with his trusty steed Patsy to gather his Knights of the Round Table. Starting with Sir Robin the Brave (joins for the singing and dancing) and Sir Lancelot (a brutal killer who finds his softer side). Dennis, a mud gatherer, is knighted to become the dashing Sir Galahad. Sir Bedevere, an inept scholar, rounds off the group who bond around a campfire before going to Camelot for some serious singing and dancing, oh and spam, spam, spam, spam!
Luckily, God (voiced by Eric Idle) intervenes with a good idea and sets them on a quest for The Holy Grail. In their search they get a good taunting from the French Taunter and are scattered in a Very Expensive Forest. Here they are set another task by the Knights of Ni, Sir Robin demonstrates his bravery, the Black Knight guarding a bridge shows his stupidity and Sir Lancelot rides to the rescue of the singing Prince Herbert from Swamp Castle. Meanwhile, The Lady of the Lake is wondering what happened to her part in the show! Having discovered he is not all alone, King Arthur and his Knights come to the end of their quest when they meet Tim the Enchanter and the Killer Rabbit. Then, of course, this being a musical there is a wedding!
Spamalot is lovingly ripped off from Monty Python's The Holy Grail by Eric Idle, with music by John Du Prez and Eric Idle. Set in Medieval England and Here, 932 and Now.
Enjoy classic songs such as The Song That Goes Like This, I Am Not Dead Yet, His Name is Lancelot, Knights of the Round Table, Run Away!, Brave Sir Robin, You Won't Succeed in Showbiz, Whatever Happened to My Part?, I'm All Alone and Always Look on the Bright Side of Life.
Director, Steve Pocock (hot on the heals of directing Journeys End nine years ago) has gathered some of the best local talent together to join his quest to put this silly show on and is looking forward to having fun working with Musical Director Tim Trenchard, Choreographer Barbara Arnold and the cast during rehearsals and the show itself.
"Let's not go to Camelot – it is a silly place!"
Dates: Wednesday-Saturday, 10th - 13th & 17th - 20th July
Book Tickets
Box Office
You can call the box office for this show on: 01747 854321
More Information
For more information about this show and how you can book tickets please click here.
Please note, clicking the link will open an external website. NODA is not responsible for the content of external websites.