SPAMALOT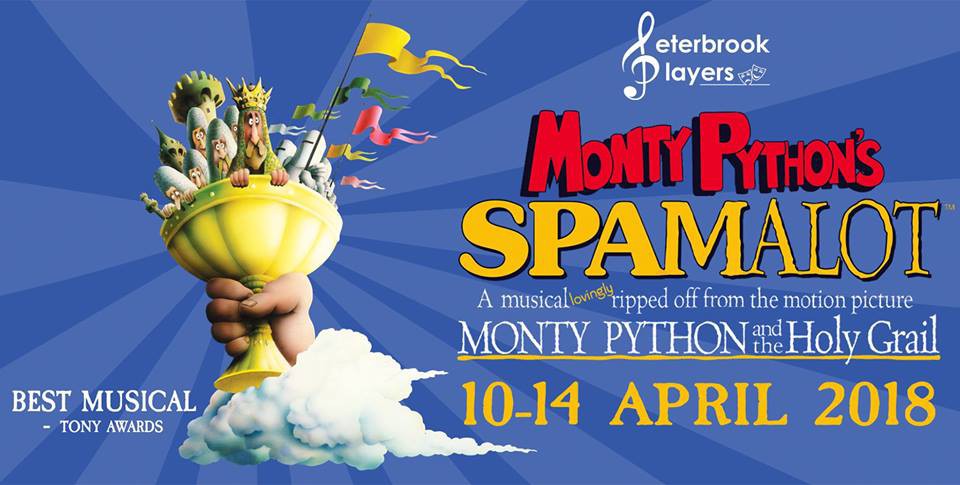 Dates
10th April 2018 - 14th April 2018
Matinees
14th April 2018

Society
Venue
Description
The award-winning Peterbrook Players proudly present Monty Python's Spamalot, a new musical lovingly ripped off from the film Monty Python and the Holy Grail and taken from the original screenplay by Graham Chapman, John Cleese, Terry Gilliam, Eric Idle, Terry Jones and Michael Palin.
Spamalot tells the legendary tale of King Arthur's quest to find the Holy Grail. It features shenanigans including a bevy of beautiful show girls, flatulent Frenchmen and killer rabbits.
Outside there is a plague with a 50% chance of pestilence and famine. Throughout the show, Arthur, travelling with his servant Patsy, recruits several knights to accompany him on his quest, including Sir Bedevere, Sir Robin, Sir Lancelot and Sir Galahad.
On their journey they meet such characters as the Lady of the Lake, Prince Herbert, Tim the Enchanter, Not Dead Fred, the Black Knight and the Knights who say Ni. The show features fantastic tunes including He is Not Dead Yet, Knights of the Round Table, Find Your Grail and Always Look On The Bright Side Of Life.
Peterbrook Players are a talented local society with a great following so early booking is recommended as Singin' in The Rain (2017 show) sold out with a month to spare!
Book Tickets
Box Office
You can call the box office for this show on: 0121 704 6962
More Information
For more information about this show and how you can book tickets please click here.
Please note, clicking the link will open an external website. NODA is not responsible for the content of external websites.