Sister Act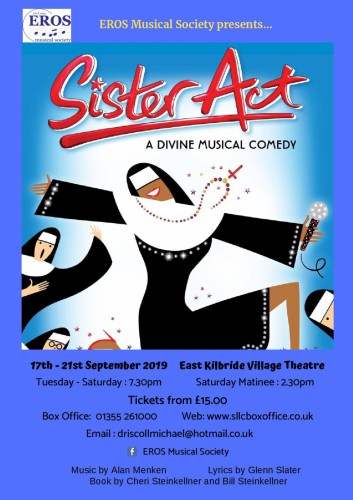 Dates
17th September 2019 - 21st September 2019
Matinees
21st September 2019

Society
Venue
Description
Sister Act is based on the 1992 hit film of the same name, starring Whoopi Goldberg. The plot surrounds Deloris Van Cartier, a fast talking, aspiring singer in a club, who witnesses a mob murder. In order to protect her before she testifies against the killer, she is placed by a witness protection programme into a convent. With a few twists and turns to the plot, fun ensues when her presence has much more influence at the convent than anyone could have predicted.
TICKETS
Tuesday, Wednesday evenings and Saturday matinee tickets are £15 pounds, and Thursday, Friday and Saturday evenings are £16.50
Tickets are available from Eros Booking Manager, Mike Driscoll on 07449 919923 email: driscollmichael@hotmail.co.uk
See www.slllcboxoffice.co.ukor the Theatre Box office on 01355 261000
See www.erosmusicalsocietyfor further information about the group or visit Facebook Eros Musical Society
Book Tickets
Box Office
You can call the box office for this show on: 01355 261000 or 07449 919923
More Information
For more information about this show and how you can book tickets please click here.
Please note, clicking the link will open an external website. NODA is not responsible for the content of external websites.