Robin Hood and the Babes in the Hinchley Woods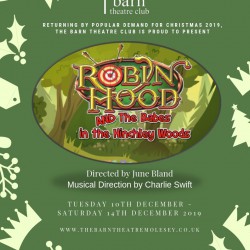 Dates
10th December 2019 - 14th December 2019
Society
Venue
Description
Don't miss the ultimate pantomime adventure Robin Hood as it comes to the Barn Theatre, West Molesey. Our favourite director, June Bland, brings her panto magic to Sherwood Forest for what promises to be one of the highlights of the season.
Join the most heroic outlaw of them all as the arrow-shooting hero Robin Hood strives to win the hand of the beautiful Maid Marion while he and his trusty band of Merry Men outwit the evil Sheriff of Nottingham in a show packed full of fun, action, adventure and plenty of hilarity with its local references!
Robin Hood features all of the ingredients of a perfect pantomime; a fabulous cast and a great band led once again by our Musical Director, Charlie Swift. You will enjoy laugh out loud comedy, bundles of audience participation, silly costumes and props and plenty of boos and hisses for all the family to enjoy.
Book your tickets now for the sheriff-busting, tights-wearing, Molesey pantomime extravaganza!
Book Tickets
More Information
For more information about this show and how you can book tickets please click here.
Please note, clicking the link will open an external website. NODA is not responsible for the content of external websites.