Rent (School Edition)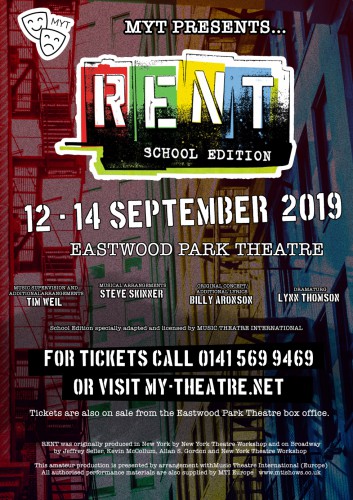 Dates
12th September 2019 - 14th September 2019
Matinees
14th September 2019

Society
Venue
Description
La Vie Boheme! Jonathan Larson's iconic Pulitzer Prize-winning musical that shaped a generation of audiences and taught us all to measure our life in love.

Based loosely on Puccini's La Boheme, Rent School Edition follows a year in the life of a group of impoverished young artists and musicians struggling to survive and create in New York's Lower East Side, under the shadow of HIV/AIDS. The physical and emotional complications of the disease pervade the lives of Roger, Mimi, Tom and Angel. Maureen deals with her chronic infidelity through performance art; her partner, Joanne, wonders if their relationship is worth the trouble. Benny has sold out his Bohemian ideals in exchange for a hefty income and is on the outs with his former friends. Mark, an aspiring filmmaker, feels like an outsider to life in general.
Book Tickets
Box Office
You can call the box office for this show on: 01415699469
More Information
For more information about this show and how you can book tickets please click here.
Please note, clicking the link will open an external website. NODA is not responsible for the content of external websites.