Make Way for Lucia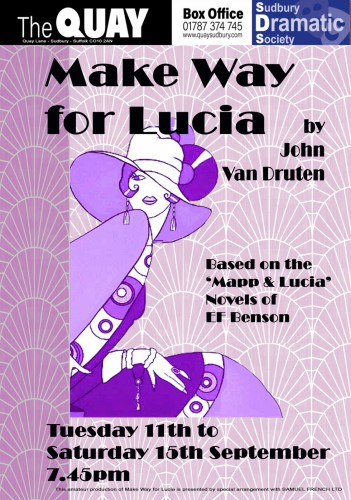 Dates
11th September 2018 - 15th September 2018
Society
Venue
Description
The play is set in Tilling during the early 1930s where the pace is slow and there's not an awful lot to do for the genteel with private income other than gossip, paint the occasional landscape, daily shop for groceries, gossip, entertain and play bridge. They are led by Miss Mapp who has a strong hold on one and all until the arrival of Lucia. Miss Mapp has met her before, briefly, in Riseholme where… Lucia held sway and all followed her lead.
The Tilling residents swap houses with each other for the summer season by downgrading thereby saving on rental. Lucia,the outsider, rents Miss Mapp's residence called "Mallards" and so the drama begins…
The play is a story of two women trying to gain the upper hand.
It is funny in a gentle way and each and every character however long on stage can make an impression on the viewing audience
Book Tickets
Box Office
You can call the box office for this show on: 01787 374745
More Information
For more information about this show and how you can book tickets please click here.
Please note, clicking the link will open an external website. NODA is not responsible for the content of external websites.