Littlemead Players Present - Rita's Revenge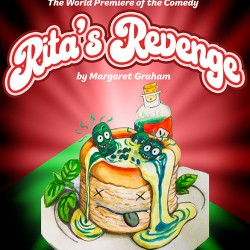 Dates
2nd October 2019 - 5th October 2019
Matinees
5th October 2019

Society
Venue
Description
In Margaret Graham's new comedy Littlemead Players Present - Rita's Revenge we return to 1968 and observe chaotic rehearsals of this 'Modern social drama' directed by the scary Mrs James. We see Chris Greenfield struggling with her stage debut as the recently jilted 'Mousy Rita Rankin' and transforming into 'Racy Rita', bent on increasingly daring acts of revenge. We soon realise that the drama on stage is nothing compared to that which is going on behind the scenes (as is often the case). Although written as a spin-off to Margaret's NODA SE award-winning Greenfield Guesthouse plays, especially Flowery Shirts & Strange Relations, this out-and-out comedy stands squarely in its own right too.
Book Tickets
Box Office
You can call the box office for this show on: 03336664466
More Information
For more information about this show and how you can book tickets please click here.
Please note, clicking the link will open an external website. NODA is not responsible for the content of external websites.