Kiss Me, Kate!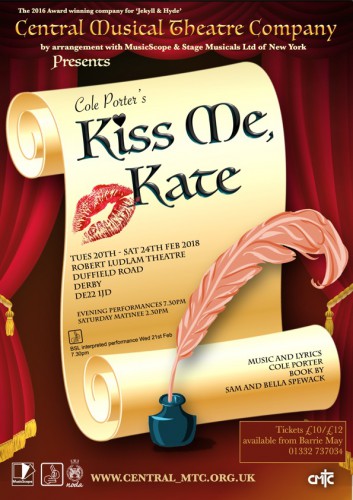 Dates
20th February 2018 - 24th February 2018
Matinees
24th February 2018

Society
Central Musical Theatre Company
Venue
Description
Divorced Broadway stars Fred Graham and Lilli Vanessi agree to star in a musical adaptation of William Shakespeare's 'Taming of the Shrew' alongside rising young actotrs Lois Lane and Bill Colhoun. Backstage complications pile up due to a romantic misunderstanding between Fred and soon to be married Lilli,while Bill's gambling debts cause a pair of lunkheaded mobsters to become part of the show.
Music and Lyrics by Cole Porter. Book by Sam and Bella Spewack.
Book Tickets
Box Office
You can call the box office for this show on: 01332 737034