Jeeves and Wooster in Perfect Nonsense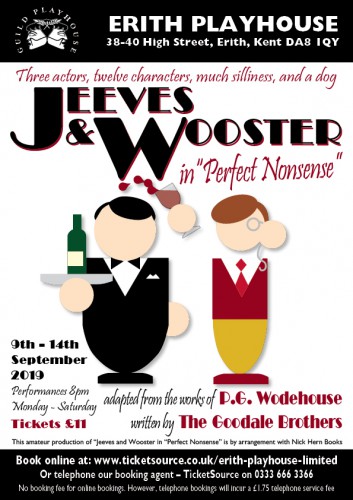 Dates
9th September 2019 - 14th September 2019
Society
Venue
Description
Jeeves and Wooster in Perfect Nonsense by David and Robert Goodale.
An amateur production by arrangement with Nick Hern books.
Join the effervescent, aristocratic fool Bertie Wooster as he attempts to produce a one-man show, and his dutiful valet, Jeeves, as he tries to ensure it's not a *complete* disaster. When a country house weekend takes a turn for the worse, Bertie Wooster is unwittingly called on to play matchmaker, but also to steal a silver cow creamer from Totleigh Towers. Naturally, the ever-dependable Jeeves and long- suffering Seppings are there to prevent Bertie from making a fool of himself in front of a cast of Wodehouse's finest characters
Book Tickets
Box Office
You can call the box office for this show on: 0333 666 3366 or online at www.ticketsource.co.uk/erith-playhouse-limited
More Information
For more information about this show and how you can book tickets please click here.
Please note, clicking the link will open an external website. NODA is not responsible for the content of external websites.