Jack And The Beanstalk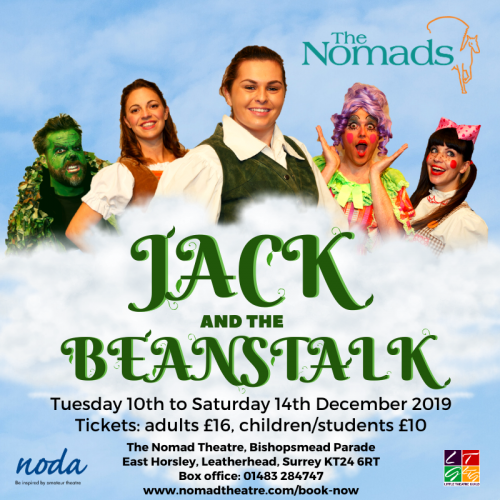 Dates
10th December 2019 - 14th December 2019
Matinees
14th December 2019

Society
Venue
Description
Jack And The Beanstalk
Directed by Andrew Hamel-Cooke, Musical Director James Marr
Tuesday 10th to Saturday 14th December at 7:30, matinee on Saturday at 2:30
Tickets: adults £16, children/students £10
In the village of Ample Bottom, strange things are occurring… there's a magic cow, magic beans and the villagers keep disappearing!
Jack, Sally, Widow Pott and Daisy the cow adventure up the beanstalk (yes, it'll grow on stage before your very eyes!) to defeat the evil Giant Blubberguts and rescue Jill from Grotweasel's clutches. But will Jack win his girl's heart and the riches he so badly needs? Will good prevail over evil?
The Nomads present a traditional pantomime suitable for families, we recommend children attending are age 5+. As well as a fabulous adult cast including professionally trained actors, singers and dancers, we also have several youngsters on stage – some are from our youth group, Nomes Youth Theatre. Our 'hidden gem' theatre (winner of Essential Surrey's "Best Amateur Theatre" 2019 - link and "Best Drama" by NODA South-East for 'A Christmas Carol" in December 2018 - link) has some free on-site parking (including Disabled spaces which can be reserved when booking) and more free parking is close-by – we also have a fully stocked bar serving a wide range of drinks, ice creams and snacks.
Booking in advance is advised, particularly for the matinee!
Fee, Fi, Fo Fum… join us for some festive fun!
Suitable for children aged 5+
Book Tickets
Box Office
You can call the box office for this show on: 01483284747
More Information
For more information about this show and how you can book tickets please click here.
Please note, clicking the link will open an external website. NODA is not responsible for the content of external websites.