Fiddler on the Roof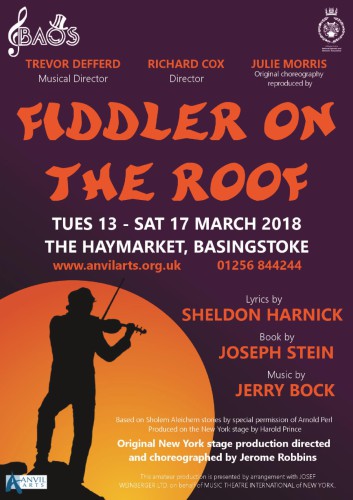 Dates
13th March 2018 - 17th March 2018
Matinees
17th March 2018

Society
Basingstoke Amateur Operatic Society
Venue
Type of Production
Musical
Director
Richard Cox
Musical Director
Trevor Defferd
Choreographer
Julie Morris
Description
Fiddler on the Roof is a much loved story, set in 1905 in the small, tradition-steeped Jewish village of Anatevka, Russia. During the course of the show, the time-honoured traditions of Anatevka are both embraced and challenged by dairyman Tevye and his colourful community, as they witness his daughters, Tzeitel, Hodel, and Chava, grow up and fall in love in a time of change in Russia.
It is the love and humour woven through the story that has filled audiences with hope, faith, charity and warmth for generations, and keeps this story alive today.
Featuring timeless songs such as the beautiful Sunrise, Sunset, the boisterous If I Were a Rich Man, and Matchmaker, Matchmaker, BAOS's energetic, thought-provoking production will have you both crying and laughing.
Tickets can be purchased through Anvil Arts by visiting www.anvilarts.org.uk/whats-on/fiddler-on-the-roof or calling the box office on 01256 844244.
Book Tickets
Box Office
You can call the box office for this show on: 01256 844244
More Information
For more information about this show and how you can book tickets please click here.
Please note, clicking the link will open an external website. NODA is not responsible for the content of external websites.