Billy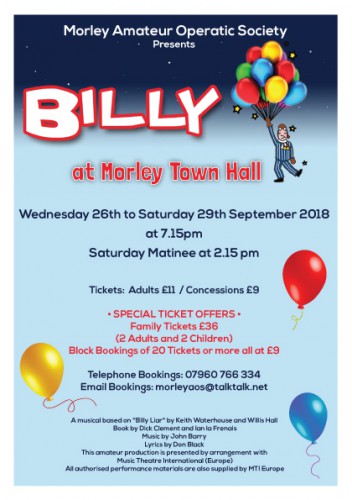 Dates
26th September 2018 - 29th September 2018
Matinees
29th September 2018

Society
Morley Amateur Operatic Society
Venue
Description
It's funny
It's great music
And it's Yorkshire
Yorkshireman Billy is in a right pickle... he's juggling three women and has a tense life at home but finds himself daydreaming to escape reality.
Billy Fisher lives with Mum, Dad and Gran in Stradhoughton and is an undertaker's clerk - but in his mind he is President of Ambrosia, a film star, a scriptwriter - and anything else glamorous that happens to occur to him! However, nobody else believes him, certainly neither Barbara nor Rita, to both of whom he has promised marriage, though there is only one engagement ring! He frantically tries to lie his way out, so he can run away with Liz, the only girl who understands him, but we know he'll never quite make it.
Based on the hilarious play 'Billy Lair' by Waterhouse and Hll. 'Billy' features many outstanding songs such as "Ambrosia" and "Some Of Us Belong To The Stars".
Book Tickets
Box Office
You can call the box office for this show on: 07960766334
More Information
For more information about this show and how you can book tickets please click here.
Please note, clicking the link will open an external website. NODA is not responsible for the content of external websites.