The 39 Steps
| | |
| --- | --- |
| Date | 5th December 2019 |
| Society | Viva Theatre Company |
| Venue | Victoria Hall Fordham |
| Type of Production | Play |
| Director | Alison O'Connor and Keith Gallois |
Report
Author: Julie Petrucci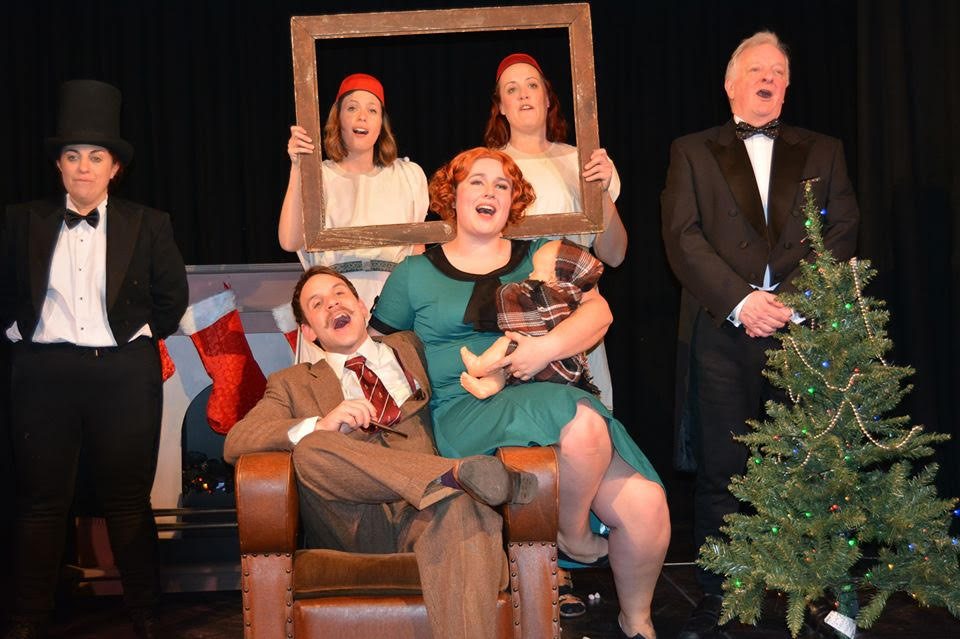 John Buchan's 1915 novel The 39 Steps is full of exciting scenes and great dramas with all the intrigue and danger that is the hallmark of a spy thriller. Alfred Hitchcock brought it to the screen in 1935 and there has been two remakes since (in 1959 and 1978). This enjoyable production of Patrick Barlow's adaption was true to the original story but full of laugh out loud comedy, cleverly brought to the Victoria Hall, Fordham's stage by some impressive individual performances from a very talented cast, underpinned with extremely clever stage craft.
Ben Clark as Richard Hannay managed to carry all the charisma and charm needed for the part. He certainly pulled out all the stops portraying his character as the dashing debonair and courageous hero that had the ladies on stage swooning at every suitable moment.
In the role of 'Annabella Schmidt' the German secret agent Jessica Wildman was totally believable as she was when switching characters to those of 'Margaret' the sweet Scottish crofter's wife and 'Pamela Edwards' the hoity heroine. All played with respective clear accents of quality and tone.
Two other fine actors (Samantha Gallop and David Tickner) played a plethora of parts throughout with well delivered dialogue Timing from them both was pacey, particularly in the Flying Scotsman scene when the two played a number of roles switching from bowler hatted passengers to police officers, train guards and a newspaper seller with differing hats and whistles– just some of the 100 or so characters in this production.
Kerry Hibbert and Jenny Tayler-Surridge flitted on either in scenes or between scenes playing everything from Music Hall double acts, The Scottish Pipe Band, sheep and cows. The result would not have been so special without the support of talented technical and backstage teams providing an innovative number of props, furniture and clever sets plus a myriad of excellent costumes. The lighting and the seemingly hundreds of superbly cued sound effects - not forgetting the very appropriate thriller theme music (Dick Barton Special Agent and Paul Temple etc) played at every appropriate moment.
Directors Alison O'Connor and Keith Gallois' production was a very clever and imaginative version of this light hearted comedy impressively performed with plenty of "tongue in the cheek" moments and plenty of laughter.
Congratulations to everyone involved in this exceptionally enjoyable production.