Shrek
| | |
| --- | --- |
| Date | 4th March 2020 |
| Society | Viva Theatre Company |
| Venue | The Maltings, Ely |
| Type of Production | Musical |
| Director | Daniel Schumann |
| Musical Director | Richard Hayward |
| Choreographer | Jess Clifford |
| Producer | Daniel Schumann |
Report
Author: Julie Petrucci
Based on the well-loved film, lightly adapted for the stage, the story of Shrek has become familiar to children and parents alike. As many will know, the story revolves around our hero Shrek, who finds himself on a life-changing journey, in the company of a wisecracking Donkey and a (very) feisty princess!
The staging, lighting, props, spectacular costuming, hair and make-up of this show was exceptional. A big shout out to the whole of the backstage team for their support for this elaborate and technically challenging production. Musical Director Richard Hayward and Choreographer Jess Clifford had certainly hit the spot with the song and dance aspects of the production. They had obviously worked the cast incredibly hard in rehearsal and they must have been well pleased with the end product. Without exception everyone gave one hundred per cent of what was expected of them.
In the title role of Shrek Dylan Cardwell was a tour de force. His was an outstanding performance which he maintained throughout the whole show. Not an easy task as he didn't get much of a break. He was a joy to watch. Aaron Lord gave a wonderful performance as the loveable Donkey. His characterisation was spot on. The onstage chemistry with "Shrek" was perfect. Livs Stevens reigned supreme as Princess Fiona. She was captivating to watch and a joy to listen to. "I Know It's Today" with Teen and Young Fiona (Emma Gilbey and Bethany Geach) was one of my favourite points in the show. I loved Lord Farquaad superbly played by Michael Heslop. He was hilarious and loved by children and adults equally. His costume was literally 'brilliant' and the audience eagerly anticipated his every entrance. The Dragon was, I am sure, equally eagerly anticipated by the young members of the audience and was well managed by her puppeteers. Loved the fluttery eye-lashes. The Dragon was played by Eloise George. She had a wonderful costume and delivered a powerful vocal performance.Most of the 37 cast played dual roles. There were too many characters to mention them all by name but this clever script allows each person their own chance to shine. They all worked well together with each performer characterising their fairy tale role perfectly.
The orchestra, under the leadership of MD Richard Hayward was equally as polished as the on-stage performers, although I felt it over-loud at times. I was probably rather close as I sat within a foot of the "Pit" so maybe those seated further back might not have deemed it so.
This hugely challenging show was superbly directed by Daniel Schumann who, together with MD Richard Hayward and Choreographer Jess Clifford certainly knows how to get the best performance from every single member of his cast. Congratulations to all involved in this "Big Bright Beautiful World" of a production.
Zara Minns as Princess Fiona and Dylan Cardwell as Shrek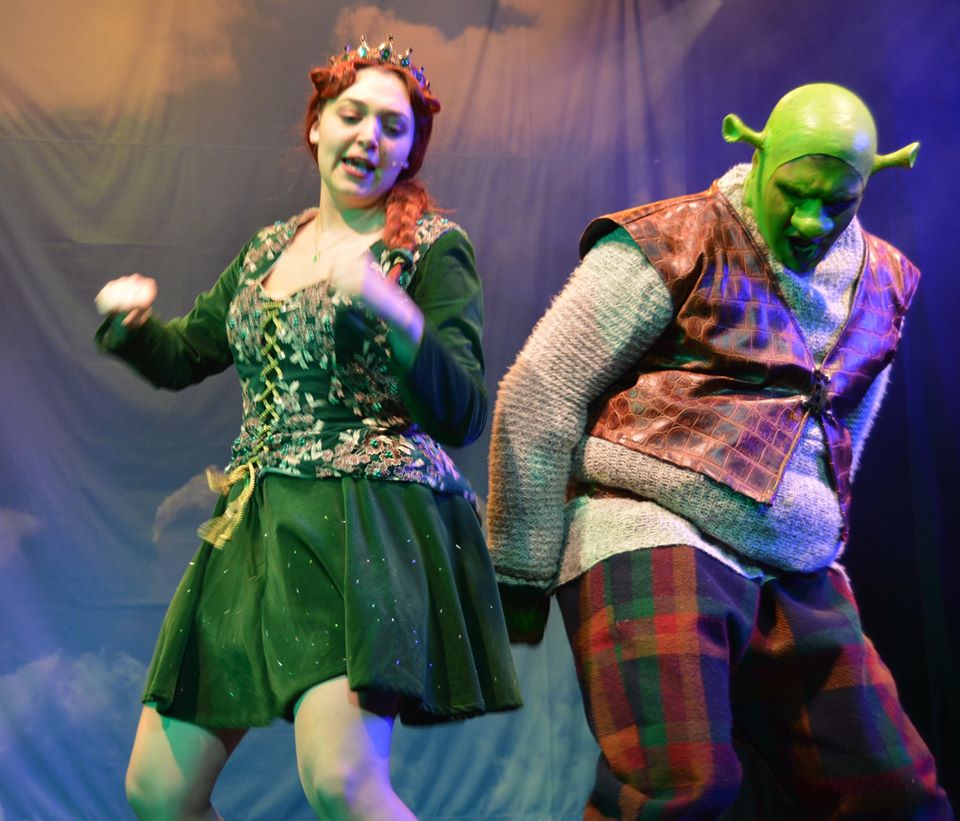 The Cast of Shrek