Last Tango In Freckleton plus Comedy Sketches & Songs from the Musicals
| | |
| --- | --- |
| Date | 6th May 2022 |
| Society | Harlequins Theatre Group |
| Venue | Memorial Hall |
| Type of Production | Play and Cabaret |
| Director | Chris Shelstone |
Report
Author: Liz Hume-Dawson
Harlequins Theatre Group - Last Tango in Freckleton + Comedy Sketches & Songs from the Musicals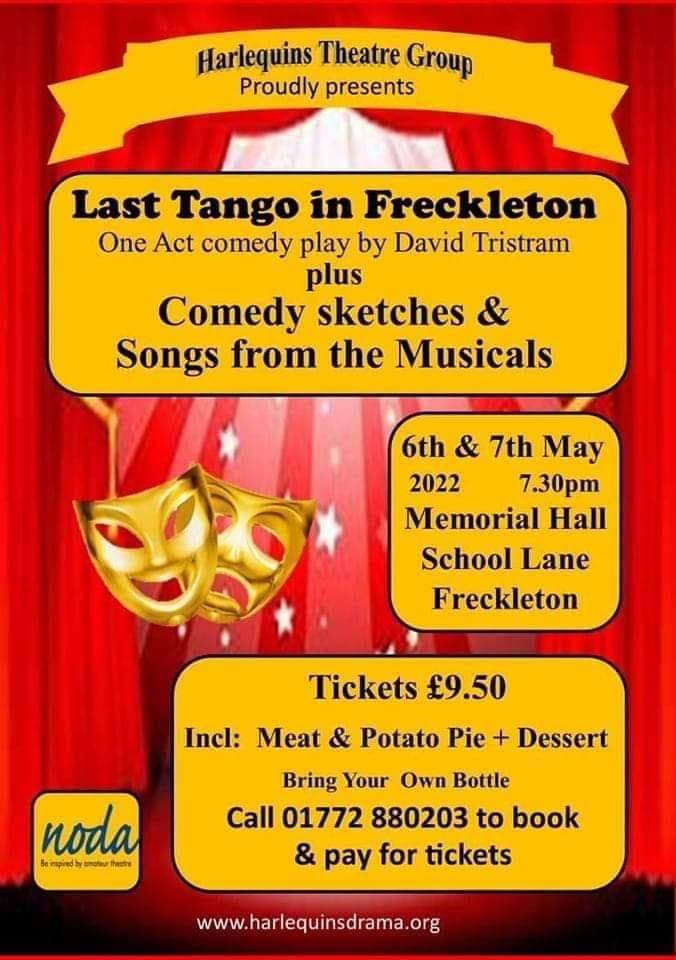 Harlequins Theatre Group perform an evening of a one act comedy Last Tango In Freckleton by David Tristram and a variety show section with Comedy Sketches & Songs from the Musicals and in a cabaret style seating.
The Director is Chris Shelstone who actually ends up being in the play as someone pulled out. Last Tango in Freckleton opens up quite static as set at a drama group's committee meeting. Set was minimal due to the various scenes and then the 2nd half being the cabaret. Props and scene changes were by Viv Butterworth and Scott (sorry no last name) There were some sound issues on the night but overall it worked. Sound and lighting by Paul Tudor and Garry Norris. The cast worked hard all night - if not on stage they were serving the two course supper (which was delicious by the way!).
Only four characters on stage and sat at a table - this easily could have been a hard watch. But no Chris Shelstone who directs and plays Bernard certainly got the comedy out of it. Some great one-liners delivered by Chris while eating a banana which actually made me laugh out very loud. (you probably heard me?)! His reluctance as the drama stage manager at having to do lines was very funny. Some very real moments when he overspent on the £28.00 budget and the joy at getting £200 budget on the next show and promising hydraulics - oh the frivolity!
Joyce played by Glennis Balkam was playing the treasurer of the society and having to deliver the bad news of their financial state. All Joyce wants is to put on a musical - the problem being there is only 3 of them so Seven Brides for Seven Brother is a 'no.' Glennis did have an air of Sue Pollard about her with her facial expressions and the often confused look worked a treat.
Margaret played by Wendy Shelstone was the sassy one turning up from a night out - game for anything and wanting to be chairman/woman of the dying society. Love the line when persuading Bernard to act in the play "You don't have to act Bernard, just do what the rest of us do" She saved the day by flashing her wares in the play that people were walking out of and is so proud to get 17 letters and 3 proposals of marriage on doing so - job done! Wendy played this character with a glint in her eye and looked to thoroughly relish the part - well done!
Gordon was played by Robert Wilkinson who is thoroughly tested by his committee members and fellow players. He played the character very convincingly, giving the impression it's his way or the highway - very full of himself. He writes a sexy new play to bring the audience members in and it's obviously not very good and is saved by Margaret's flash. Some great comic timing and all four worked well together on stage – fabulous!
After the interval Chris and Wendy Shelstone, Robert Wilkinson are joined by Adrienne Bond, Stuart Jepson, Tamia Tudor, Will Renshaw, Alex Renshaw and Rob Lambert. With a mixture of favourite songs from the musicals and sketches from the likes of the Two Ronnies and scriptwriters such as Robert Scott and Jim Hollingworth. With a varied age range all coming together on stage, I will say the act The Pianists with two cast 'members' dressed as cowboys may stay with me and my guest for a long time (therapy may be needed)!
Thank you for a fun evening in Freckleton from my guest and I.
Liz Hume-Dawson
District 5 Rep