Cheshire Cats
| | |
| --- | --- |
| Date | 5th March 2016 |
| Society | Cast and Crew Theatre Workshop |
| Venue | War Memorial Hall Canvey Island |
| Type of Production | Play |
| Director | Sarah Lepley |
Report
Author: Tessa Davies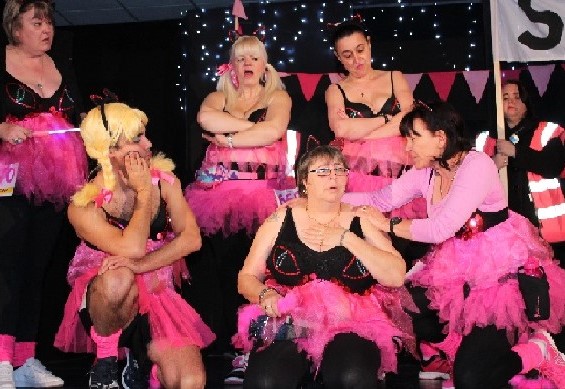 I have not seen this play before although I had been able to glean some information on the topic beforehand. The play features a team of ladies who have signed up to do the Cancer Moonwalk in London. The story is very cleverly written by Gail Young following her personal experience of taking part in the event and, subsequently being diagnosed with cancer,
It was full of brilliantly funny dialogue and the 5 ladies (and one man) delivered their lines with terrific characterisation. Trudy Ann Britnell played Hilary, the self-appointed Team Leader, who drives the ladies to exceed their expectations even when they don't want to be driven. A classic performance of drive and ambition, over-riding compassion and thought. Beautifully portrayed with just enough remorse at the right moments. Maxine Neil played Siobhan, Hilary's friend, always supportive, even when she didn't really agree with Hilary, but finally, putting her foot down to make Hilary behave with more empathy. Lou Brewster played Yvonne for every spot of comedy in the dialogue and her facial expressions just added to the enjoyment. A thoroughly enjoyable performance which particularly resonated with me! Deb Adams played newcomer to the team Maggie, a nicely characterised performance of which more later. Sally Catling was terrific as divorcee Vicky, finding a new man and bringing him along to take the place of a missing team member. Matthew Willis was that boyfriend, a very carefully observed performance which was a joy to watch.
This group of principals were very well supported by other members of the company in smaller, but no less important roles. I don't have the space to mention them all individually but the characters were all well thought out and well performed. As with all Cast & Crew's productions, this was a real team effort and the camaraderie of the group is always a pleasure to observe.
Director Sarah Lepley has made this debut production a complete success, not only from the audience numbers but also for extracting both the comedy and the sadness in the script. Each Principal character had a monologue at some point in the play, which gave a better insight into their characters but the absolute star monologue was the aforementioned Deb Adams as Maggie. Her closing speech was from the heart and had me and, I suspect, much of the rest of the audience close to tears.
The setting was completely black with just a bare minimum of props. I know that this venue is severely restricted for space back stage, however the only, very small, comment I would make is that the first scene might have been more obviously outside, if a park bench had been used instead of chairs. I, initially, thought it was in a village hall until a comment late in the scene told me otherwise. Then I spotted it in the programme! However, that apart, the black stage worked well and made the focus on the characters which is how it should be.
The play has a similar resonance to Calendar Girls and I hope that other societies choose to do it, not only because it is a terrific platform for strong female performers but also because the rights for the play raise funds for Cancer awareness and research. My congratulations to Cast & Crew for bringing this one to my attention and well done for an absolutely brilliant production.