Curtain Up November 2019
IN THIS ISSUE
Belmont win National Poster Competition Greetings from the new President
Masque Players 75th and charity initiative Poster and Programme competition reminder
New climate change play Updates on London Theatre Festival
From the Councillor
Welcome to the November issue of Curtain Up! This is a newsletter for all members of NODA London so, if you are the recipient of this email:
PLEASE FORWARD THIS NEWSLETTER ON TO ALL THE MEMBERS OF YOUR SOCIETY
If you would like to receive this newsletter directly, please email me to add your details to our list.
Firstly, a further reminder that we are still looking for a Regional Rep for District 6 (North East London and part of Essex) and a Communications manager. The former role involves being the first contact for that District's societies with any questions or issues and, importantly, visiting productions and writing reports. Here is a great chance to give something back to the amateur theatre world. The latter volunteer role would look after social media and this newsletter as well as preparing articles for the national magazine, NODA Today. If you would be interested in either role please contact me.
_____________________________
At the National AGM and Gala, I was delighted to accept, on their behalf, the Thompson Leng Trophy for best poster, for Belmont Theatre Company. Their stunning poster for Journey's End won our London competition in June and went forward to the National judging. More in this issue, with a reminder about next year's competition.
Planning is well underway for the NODA London Theatre Festival 2020. Updates in this issue.
We welcome two new societies to the London Region:
Avocet Theatre Company and Jolly Good Company
Please continue to invite Karen and me to your productions and we will endeavour to make as many as we can. Also, don't forget any society can invite the new National President, Christine Hunter-Hughes; her details are in this issue.
The next issue of Curtain Up! will be released in mid-January. Please send me articles for inclusion by the end of December. We are happy to publish show details on our What's On listing – issued in the middle of each month – or to post flyers on the Facebook page, but if you have something different to tell the Region, please send me an article; are you celebrating an anniversary, doing a newly released show or presenting a different staging? Tell London all about it.
Andrew Rogers
andrew.rogers@noda.org.uk
________________________________________________________________________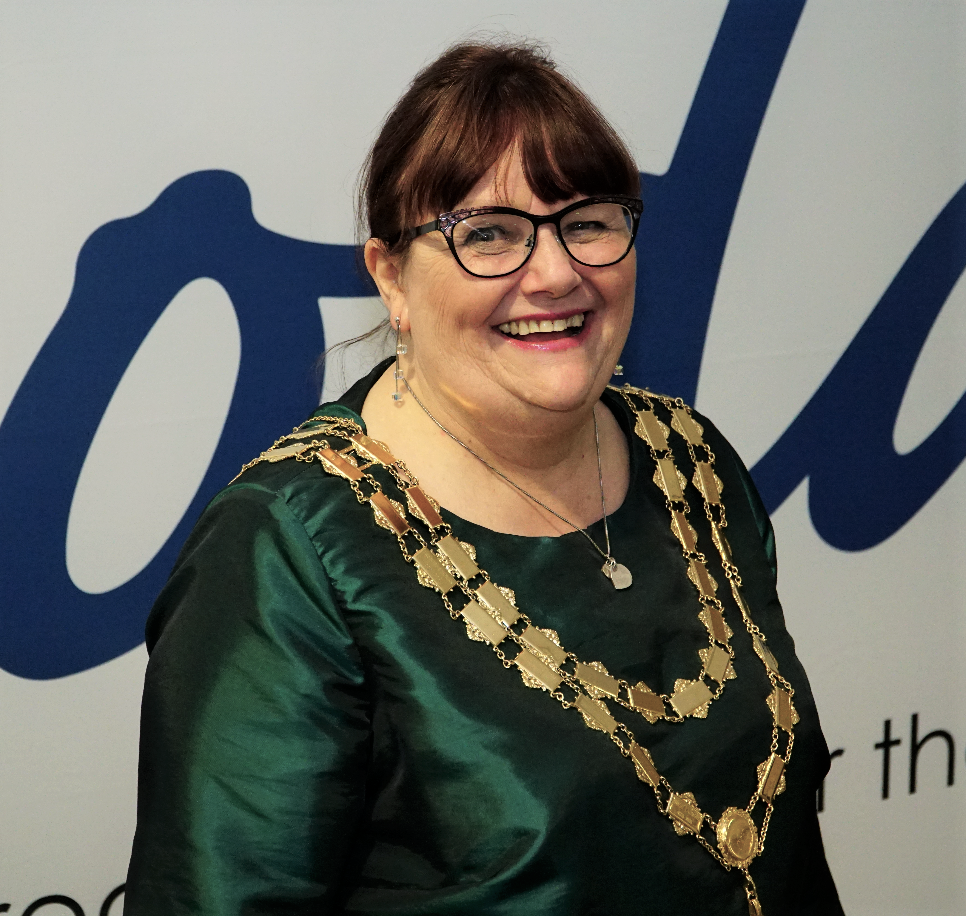 Hello to all in the London Region. Andrew, your Councillor, invited me to pen a few words to include in your London Newsletter so here goes.
I am thrilled, excited and more than a little nervous to have been elected as National President of NODA – our association of hugely passionate and committed people who are all 'Inspired by Amateur Theatre'.
We have been invited to many productions already and continue to be so very impressed by not only the standard of the productions – many of which would not disgrace a West End Stage – but even more by the tremendous team effort and hard work from every member of the team to actually get the show on the boards. Its just incredible. Add to this the fact that emotions are high and tempers can and do often become more than a little frayed! However, the bonds formed over the months of rehearsals appear to have the amazing powers of friendship, camaraderie, tolerance and sheer good fun that our very special hobby affords us and gives each one a very real sense of belonging – a real NODA Family!
Speaking of shows – just a small reminder please – any NODA society can invite the President to visit any of their shows, and, if we are able to, we will be absolutely delighted to attend! So, I very much look forward to meeting being invited to some of your London Region productions and hopefully getting to meet more members of our extended NODA family.
Christine.hunterhughes@noda.org.uk
________________________________________________________________________
Belmont Theatre Company wins National Poster Competition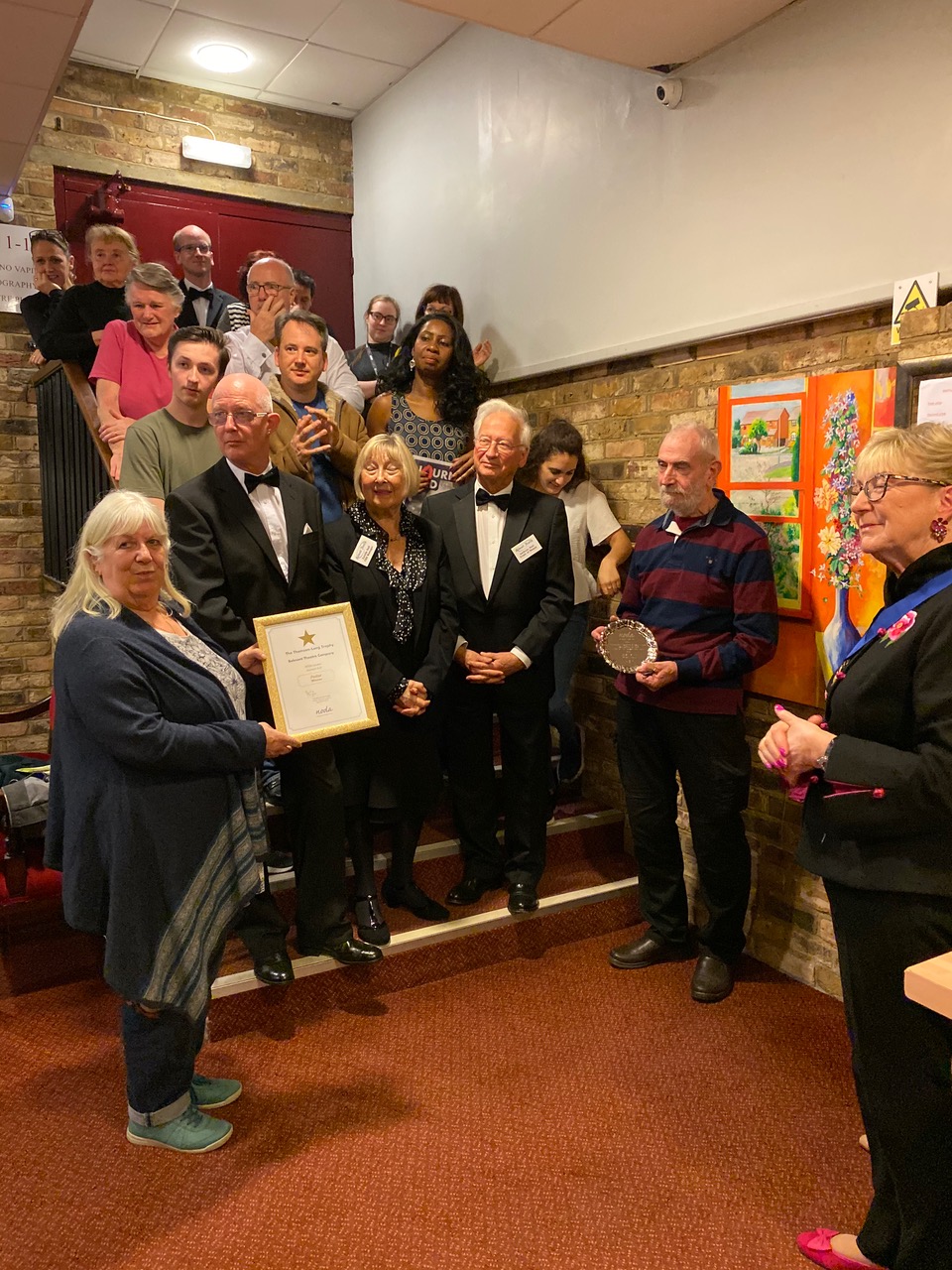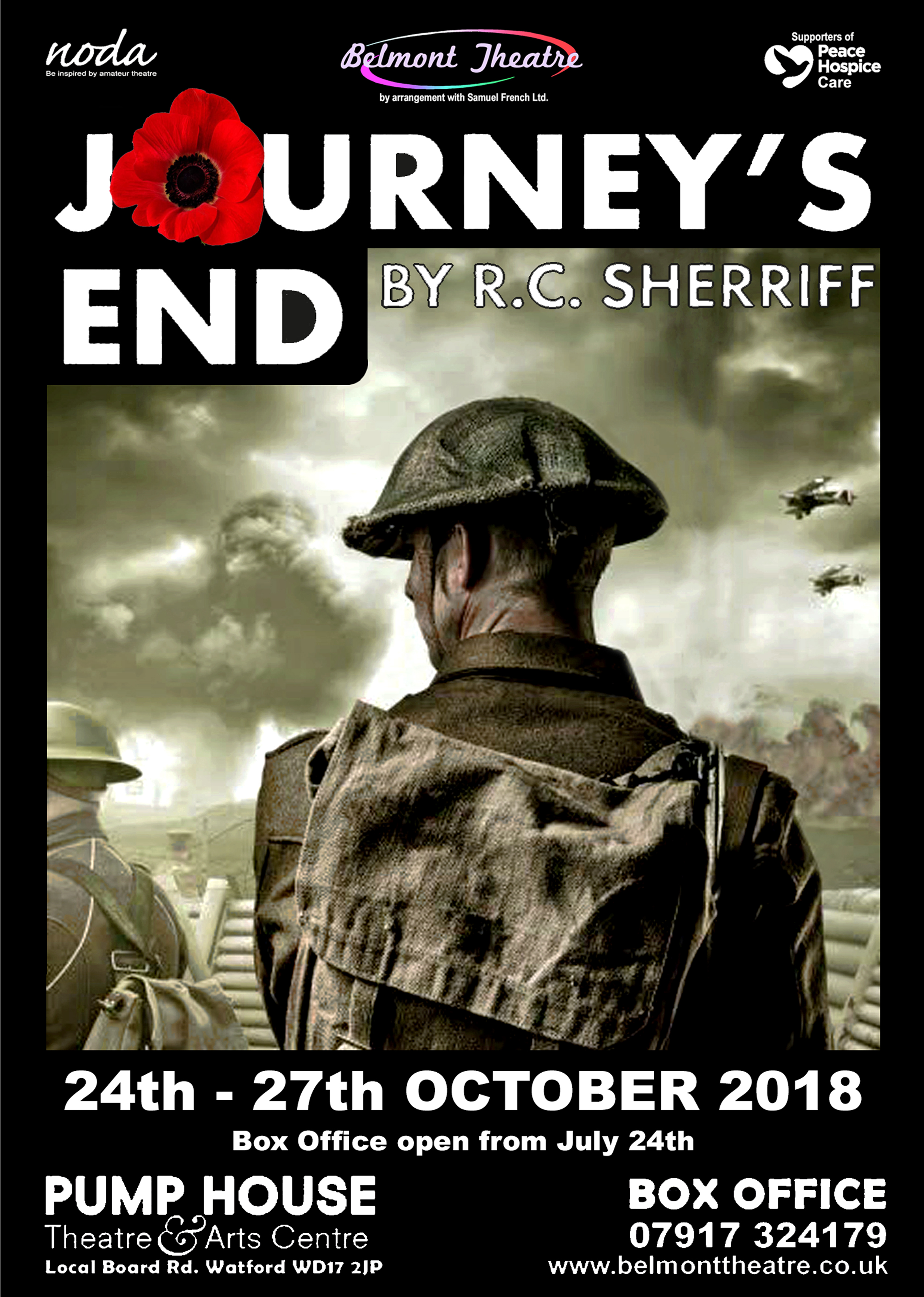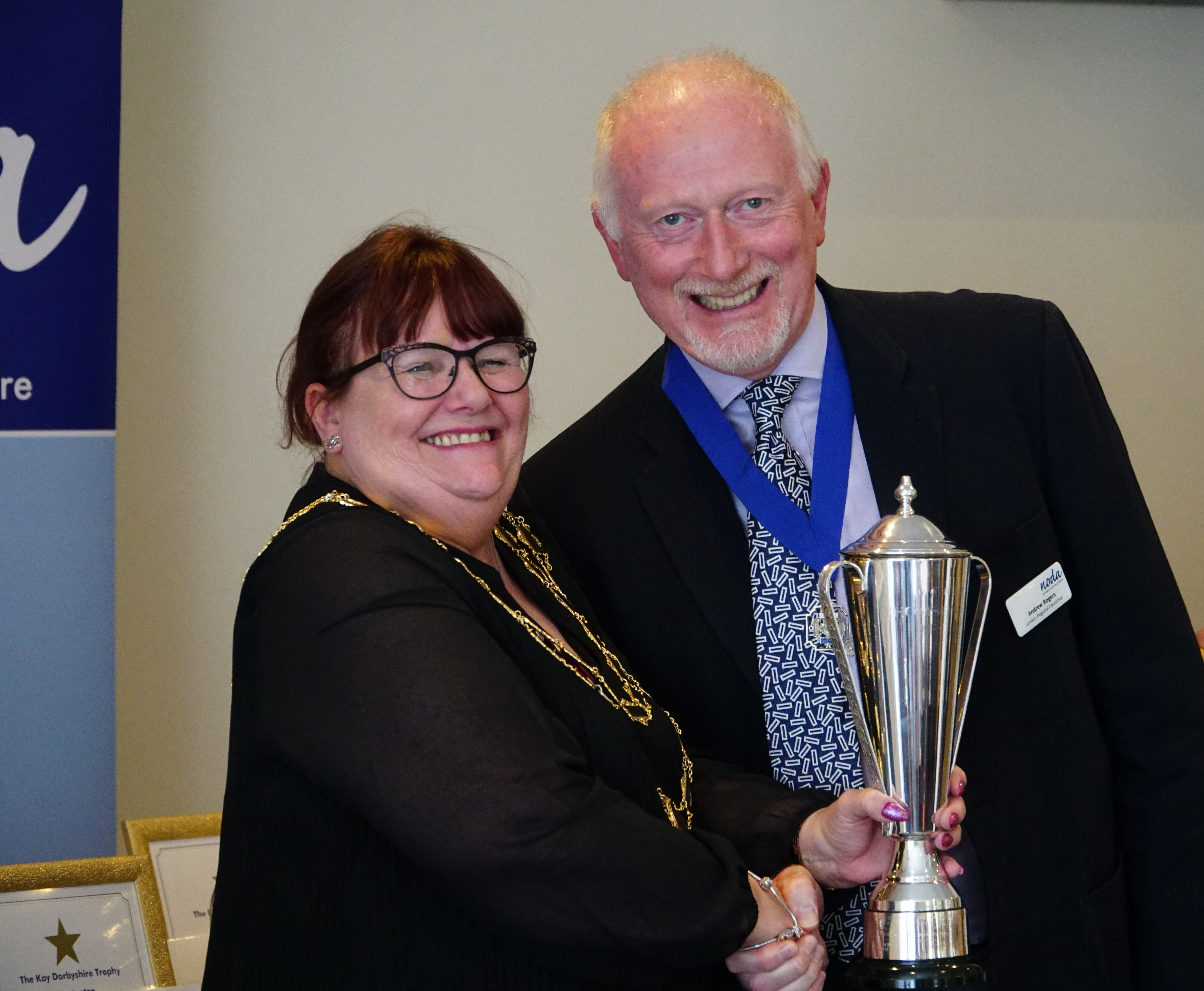 I am delighted to announce that Belmont have won the NODA National Poster Competition. Their stunning poster for Journey's End, was judged the winner in London, with their award presented at the NODA London Theatre Festival in June. All the regional winners are then judged for the National competition with the awards presented at the National AGM in September. Belmont came out on top against the other 10 Regions and I was delighted to accept the Thomson Leng Trophy on their behalf in Southport.
Rather like Wimbledon, the original trophies are kept in the NODA vaults, but a certificate and trophy were presented to Belmont at their September production by Immediate Past President Jacquie Stedman – in my absence.
Jacquie writes: NODA London has always promoted the National Programme and Poster competition so it was with great pleasure that on October 23rd I presented Belmont Theatre with the winning trophy for their superb poster for Journey's End. The excitement at the Pump House Theatre for the presentation was very real.....they had competed with other groups in the London Region and then against the winners from ten other regions nationally.... quite an achievement!!
Mike and Maggie Morrow are responsible for the professional standard of the design and artwork of the Belmont posters which always reflect the content of the play concerned. Posters are an important aspect of any group's marketing so getting it right and making it eye-catching is key.
The photograph shows the cast and crew of Belmont's most recent production - Love in Idleness - with Mike and Maggie Morrow and me in my new role as Immediate Past President.
For details of this year's Poster and Programme competition please see this issue.
Andrew Rogers
________________________________________________________________________

Long Service Awards
Celebrate your time in amateur theatre with one of NODA's Long Service Awards or honour your Societies' long serving and hardworking members by presenting them with an award.
Don't forget, to qualify the length of service does not have to be with the same society or even – in earlier years – with a NODA society.
All we need is a form completed, validated by the current society, giving details of the length of service.
For those for whom medals may seem a little old-fashioned there are now badges, indicating the length of service.
Please contact London's Long Service Awards Secretary, Jackie Lack, at: jackie.lack@noda.org.uk or go to: https://www.noda.org.uk/awards
______________________________________________________________________
Masque Players of West Wycombe's 75th anniversary and a charity initiative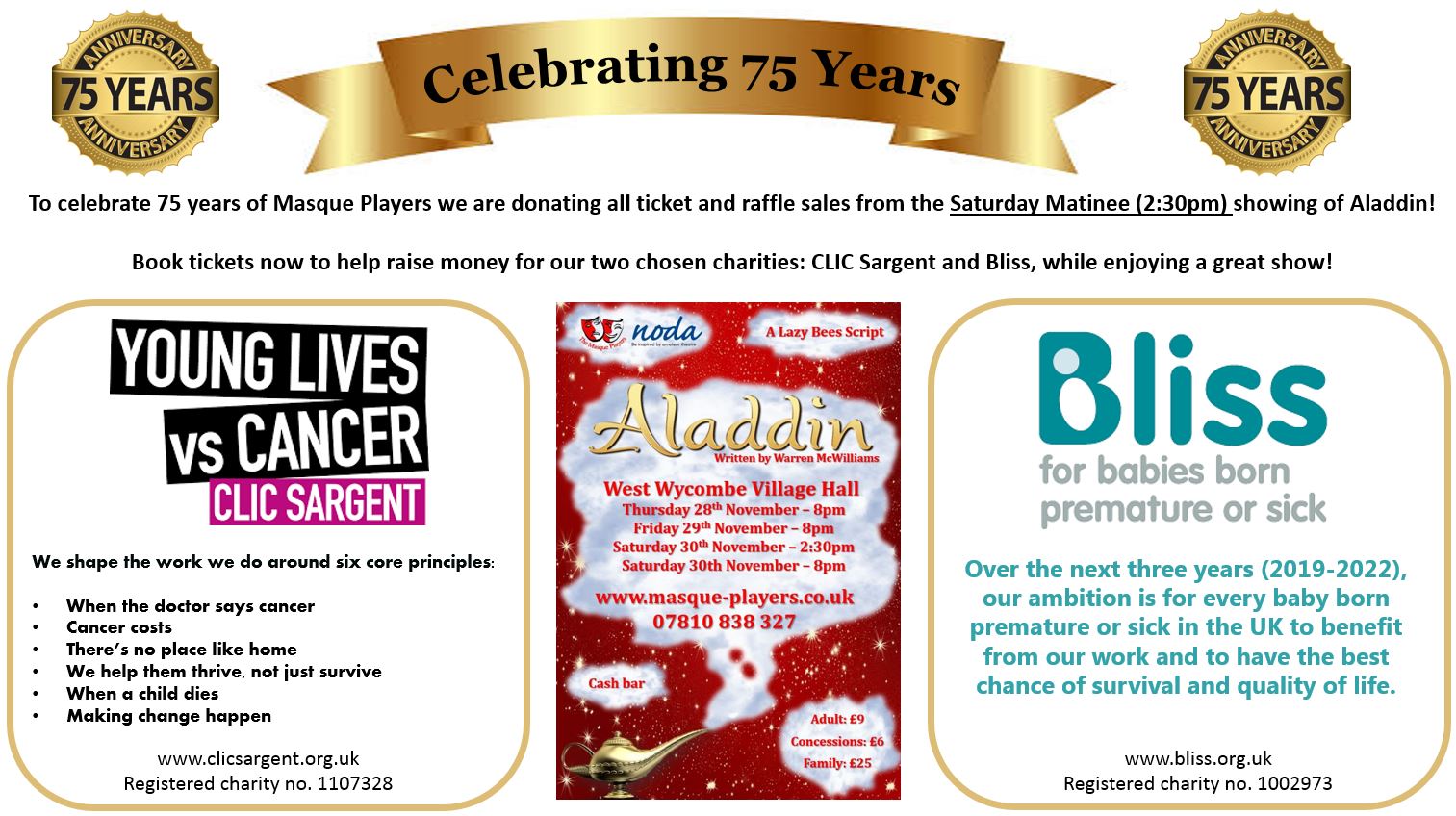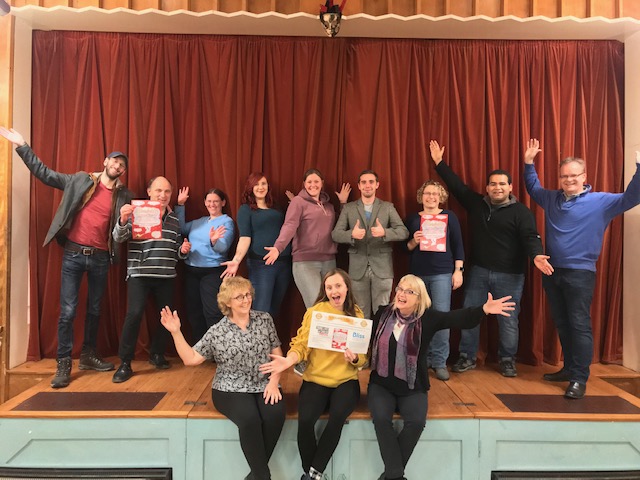 Masque Players has now been around for 75 years, oh yes we have! Based upon some rough maths that means as a local amateur dramatics group we must have put on well over 200 productions over the years.
In order to celebrate this amazing milestone, we have decided that we would like to give something back to our community. Accordingly, for our upcoming panto production of Aladdin by Warren McWilliams we have decided that for our Matinee performance on Saturday 30th November at 2.30pm, all monies received from the Matinee ticket sales and from the raffle will be donated to charity.
That was the easy part, but then we had to decide to which charity we would donate. Having polled the cast and crew, in the end there were two clear favourites. And so, this year we will be splitting the total income from the Matinee performance between 'CLIC Sargent – Young Lives vs Cancer' and 'Bliss'.
We hope that as many of you as possible will be able to attend our Matinee production of Aladdin and help us raise money for these two excellent charities. Furthermore, I would like to thank all of you on behalf of Masque Players for your continued support over the years, without you the audience we would not have a show.
We look forward to seeing you at our Panto as well as at our other productions during our 75th Year Anniversary.
Martin McDermott, Chair
________________________________________________________________________
THIS PLAY WILL SOLVE CLIMATE CHANGE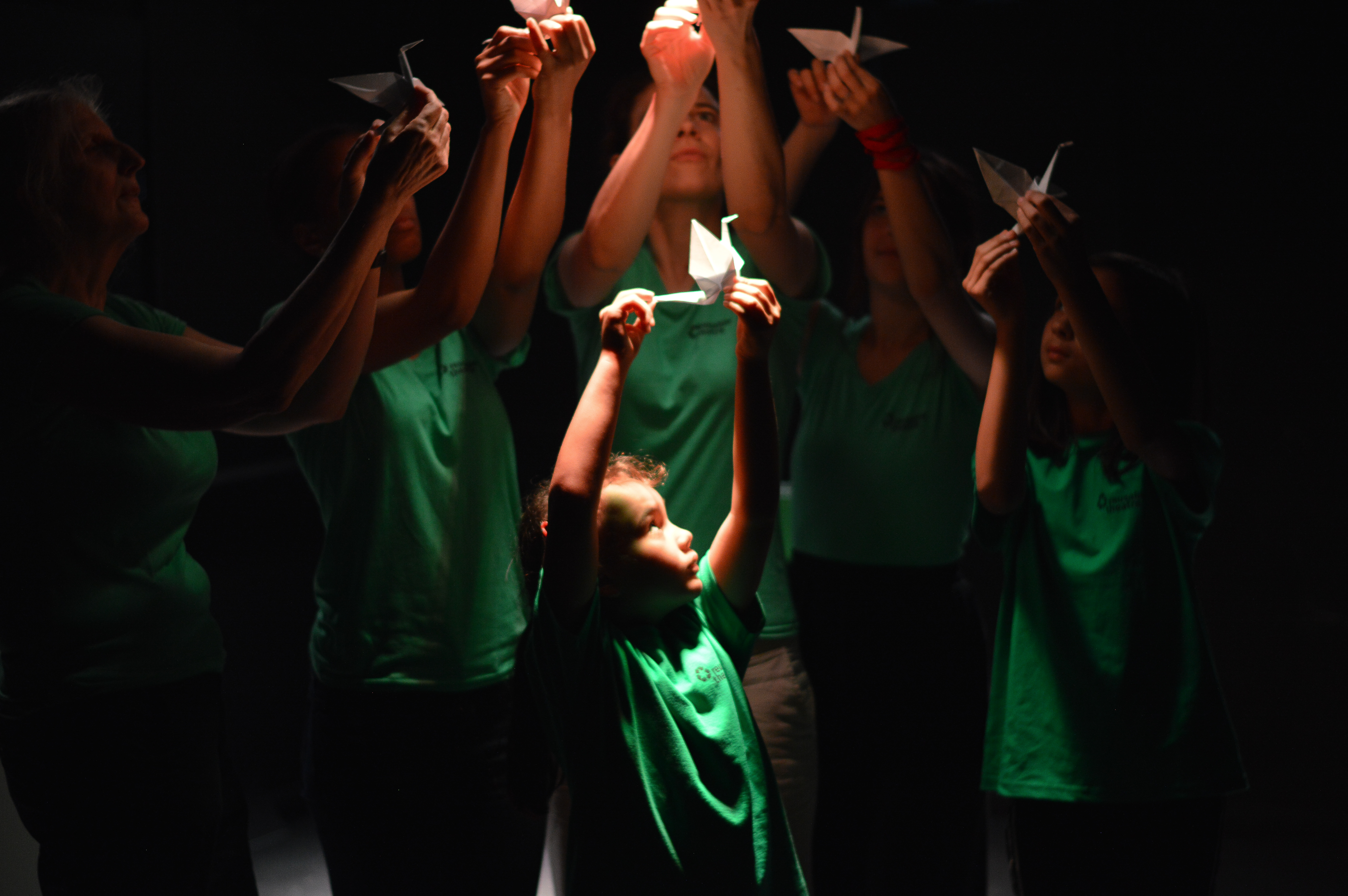 Rosanna Preston, a member of Woodhouse Players, working with another company, Reusable Theatre, has helped to devise, write and produce a one hour play, "This play will solve climate change". Rosanna writes:
We are keen to see it widely performed because we feel its message is important. It's also a lovely play for four women of different ages and two children, although that can be worked around if there are no children in the company.

We are happy for any groups to use the script for free, we just need to collect information on audience numbers and response. The play can either be performed with full light and sound on stage or in a more basic space with just sound effects. I would suggest it might work well as a rehearsed reading. We would be happy to offer directorial support but I'm sure your members would want to do their own versions.

Having helped to devise the play and performed the role of Charlotte I can say that working on this play has been a very powerful and rewarding experience and it can be hard to find plays for women of different ages.
The play is being presented at City Lit, 1-10 Keeley St, Holborn, London WC2B 4BA on 15th and 16th December. Tickets at: https://www.eventbrite.co.uk/e/this-play-will-solve-climate-change-tickets-79722386805
For more details about the play (and a copy of the script) please contact Rosanna: djp106@hotmail.com
Send us your news.
This is your newsletter. Put your news in it.
Deadline for articles for the next issue December 31st.
Are you putting on a new or rarely performed show? Have you celebrated an anniversary? Have you overcome great technical challenges? Tell London about it.
andrew.rogers@noda.org.uk
________________________________________________________________________
NODA London Theatre Festival 2020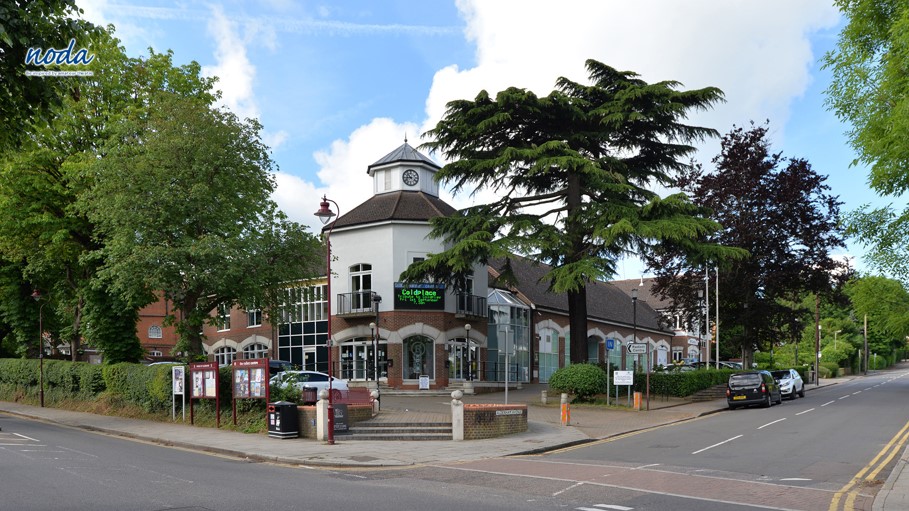 We are now well into the planning for next year's Festival. The event will be held on 13th and 14th June at the Radlett Centre, Radlett, Hertfordshire.
The outline of the weekend is as follows:
Saturday 13th June
Youth Day. Page to the stage in a day.
For young people from 8 to 16. Develop your performance skills, make new friends and have fun in the safe environment of the Radlett Centre - under the watchful eye of trained and experienced tutors.
Sunday 14th June
AGM, awards, pop-up presentations on key issues (such as licensing for children) and entertainment from the stage – all for one entry fee.
Please make a note in your diary now.
Further details to follow in future issues and on Facebook and direct by email.
We look forward to seeing you all there.
________________________________________________________________________
NODA London Poster and Programme Competition 2020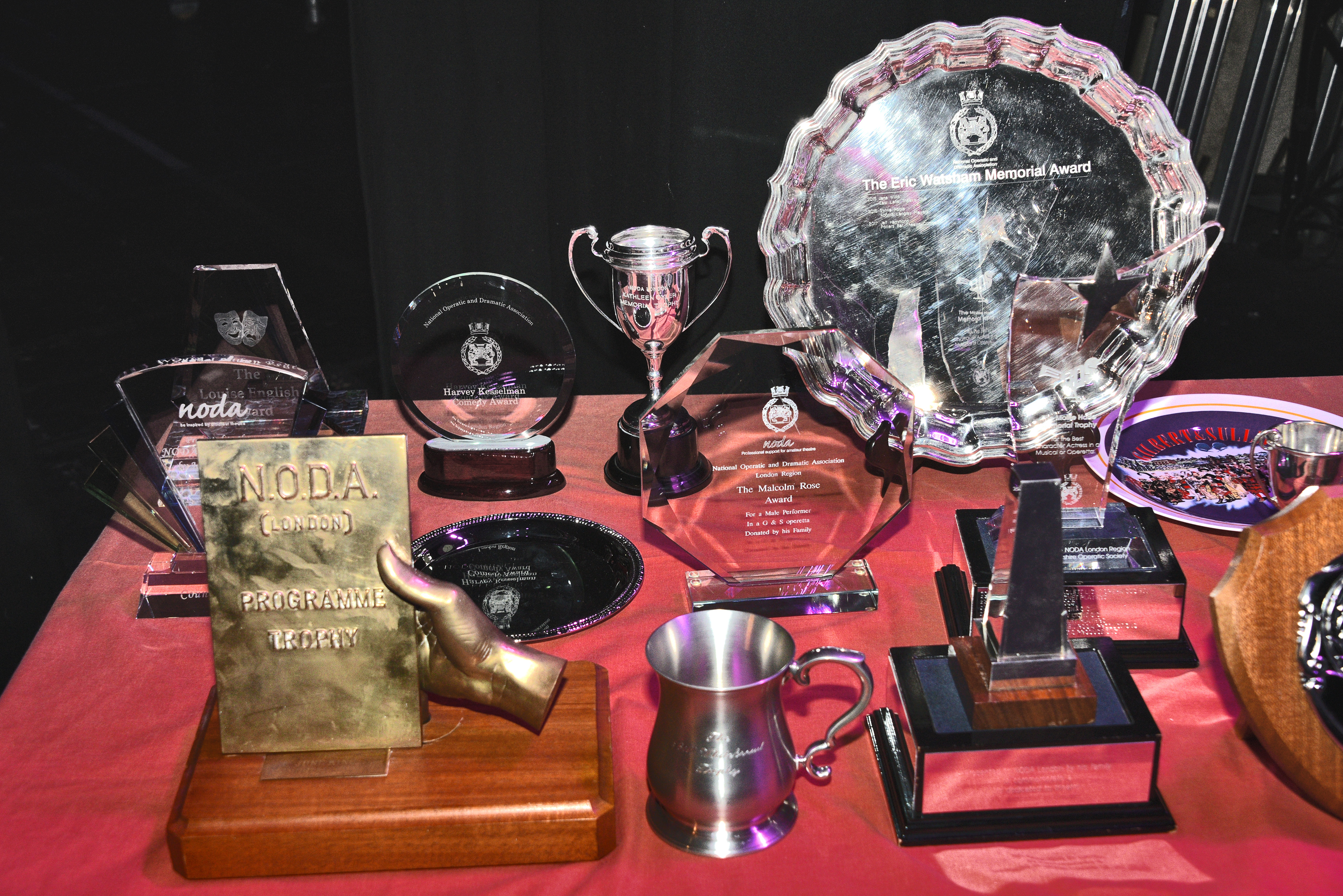 You will have seen the article about Belmont's success in the National Poster competition. Now is your chance to go for that same accolade. It starts by entering the London Poster and Programme competition.
This is a self-nominating competition. Eligible productions are from 1st January to 31st December 2019. For the rules and the downloadable entry forms please go to: https://www.noda.org.uk/regions/london/noda-london-poster-programme-competition-2020
You will see that there are three categories of programme dependent on the number of pages and the poster category.
Please read the rules and regulations carefully and follow the application process. We look forward to receiving your entries and good luck to you all.
________________________________________________________________________
What's On In NODA London
We list upcoming shows from NODA London Societies on the NODA London Facebook page.
In addition, you can download a list of all the shows coming up by clicking the link below. The list includes all the shows that we are aware of...no matter how far in the future that may be!
If you have a show coming up and you don't see it listed, then simply contact Andrew.

The NODA London Committee
Below you can find the details of all of the NODA London Committee and District Representatives.
London Committee
London District Representatives