Kerry Frampton
Kerry Frampton is Artistic Director of Splendid Productions.

Kerry trained at Bretton Hall, University of Leeds. She set up Splendid Productions in 2003, and it has since become one of the leading providers of drama-based education programmes and schooltouring theatre companies in the UK.

For Splendid she has directed, adapted and regularly performed in our annual creative adaptations of classic texts since 2004, including Macbeth, The Odyssey, Woyzeck, Antigone, The Trial, Dr Faustus, The Good Woman of Szechuan and The Resistible Rise of Arturo Ui.

The company has performed in schools and colleges in the UK, Europe and Asia, and has performed at the Edinburgh Festival Fringe, the National Theatre's 'Watch This Space' Festival, and at numerous theatres including Pleasance London and The Lowry in Salford.

Kerry is the company's senior workshop practitioner and has over fifteen years' experience of devising and delivering high-quality, practical, theory-based drama workshops. Always in high demand at home, Kerry has also delivered workshops in Hong Kong, Dubai, Shanghai and Kuala Lumpur.

In addition to her work with Splendid Productions she has worked as an actor, director, workshop facilitator, writer, movement director and musician.
From 2018 Kerry has taken the role of visiting lecturer at LIPA – Epic Realism in Practice course - BA Applied Theatre and Artistic Practice and BA Acting
Session: Berkoff and Total Theatre (Drama)
"Naturalism is what you do when you don't know anything else, you automatically revert to the copying of everything around you." Steven Berkoff
Are you curious about the plays and practice of Steven Berkoff?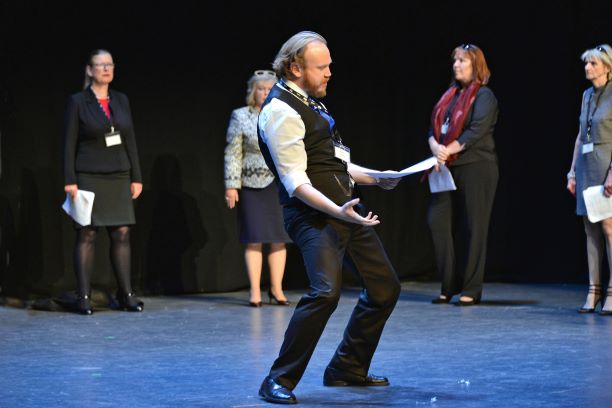 Are you an actor that wants to explore an alternative approach to your craft?
Does the stylized work of Berkoff as a maker of theatre interest you?
Then this is indisputably the course for you…
This practical acting course is an in-depth exploration of Berkoff's unique approach to theatre. Concentrating on a number of key texts by Berkoff, students will spend the week immersing themselves in both the writing and practice of this influential but often unsung theatre genre
During the week you will:
practically explore and be inspired by the plays of Steven Berkoff.
discover how to create theatre that is physically dynamic and verbally heightened.
engage with techniques including ensemble, mime, multi-rolling, vocal and physical exaggeration, actor as prop, actor as environment, actor as everything.
explore Berkoff's concept of Total Theatre.
delve into the relationship Berkoff's work has with fantasy and what is happening in the world around us.
This course is for actors and directors, no previous experience of Berkoff is required simply a willingness to get up and give things a go
Tutor – Kerry Frampton