Pamela Rudge
Pamela Rudge trained at the Royal College of Music and now combines a busy singing life with working at Bristol Old Vic Theatre School, where she became the full time Singing Tutor in 2003 and then Head of Music & Singing in 2008. Her students there enjoy great singing success, not least in the Stephen Sondheim Student Performer of the Year Competition, with 12 Finalists in 9 years of entering the competition, including 2 winners and 3 runners-up.
Pamela is a versatile mezzo soprano, singing opera, light opera, oratorio, concert and recital work, with a wide repertoire from early music to contemporary composers. She has performed in concert halls, theatres and cathedrals throughout the UK and in France, Germany, Holland, Zimbabwe and Mali. Most recently she sang in the premiere of Eric Wetherell's opera "A Foreign Field", creating the role of Marie Coulette, a formidable pipe-smoking granny, for which she achieved much critical acclaim. She has worked as a soloist on Radios 3 & 4, and for HTV.
She has conducted many musical theatre shows, most notably "London Road" at Bristol Old Vic Studio.
Pamela adjudicates music festivals, and also runs vocal workshops and singing courses for theatre companies and singing groups.
Session: Scale the Heights (Singing)
"If I cannot fly, let me sing" Stephen Sondheim
Do you want to take your singing to the next level?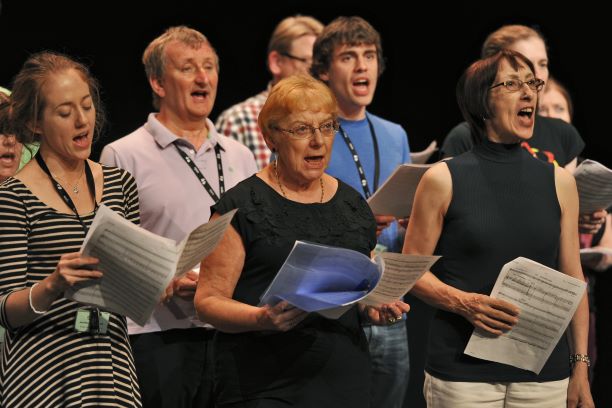 Are you confident enough to sing in front of an audience, but feel like you could improve your technique?
Are you looking for a chance to explore new styles or upgrade your singing skill set to expand your range of skills?
If so, we have a course entirely in tune with your ambitions…
This course will take the art of singing to the next level. Whether you have done previous singing courses, or not, this course will provide an opportunity to discover new techniques and present you with plenty of new challenges.
During the week you will learn more about:
how to expand your range and explore your voice.
discovering detail in delving underneath lyrics.
breath support and breath management.
dynamics, harmony and colour in the voice.
best practice preparation of a song.
helping nerves become your ally.
This course is aimed at singers with some experience who want to challenge themselves further, push their limits and expand repertoire
Tutor - Pamela Rudge