Mark Shayle
Mark is a graduate of the Central School of Speech and Drama. Between 1985 and 1995 he was a Stage Manager and Production Manager in many theatrical environments, from repertory, small-scale touring, the West End and too many fringe shows to list.
In 1995 he joined Apollo Leisure as a Production Manager. Leaving Apollo in 1997 he began trading as a freelance Production Manager under the banner "Ideal Production Services", working in both the corporate and theatrical sectors.
Between 2001 and 2005 he was the Course Director of the Stage Management and Technical Theatre course at LAMDA, one of the most renowned training programmes of its kind.
In 2005 he returned to freelancing as a Stage, Production and General Manager, combining this with occasional lecturing, training, seminar work. Additionally he works as a Productivity Coach for businesses and individuals specialising in helping people gain control of their email inbox. See www.theproductivedesk.co.uk for more info.
Since his last outing at NODA, Mark has production managed a number of shows including Brazouka, directed by Arlene Phillips, and Mr Popper's Penguins for Kenny Wax; as a Company Stage Manager he been on tour in the 25th Anniversary production of Return to the Forbidden Planet, as well as the UK tour of Private Lives Staring Tom Chambers. He also spent three months in Russia as Senior Stage Manager on the Sochi Winter Olympics……so a number of good stories to tell.
His biography always gets cut down, but if you're really interested do go to www.shayley.co.uk further details.
Session: Introduction to Stage Management for Theatre (Production)
"Perhaps, therefore, ideal stage managers not only need to be calm and meticulous professionals who know their craft, but masochists who feel pride in rising above impossible odds." Sir Peter Hall
Would you like to have the confidence to begin to undertake the role of Stage Manager or Show Caller, at your society?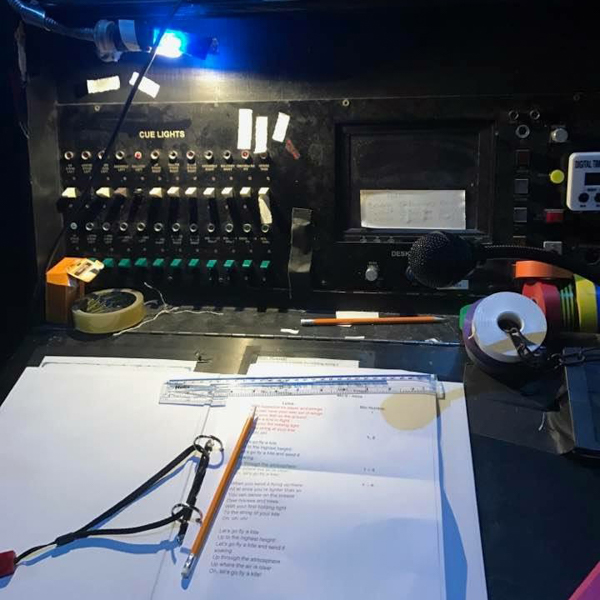 Do you want to develop the skills to improve the quality of performances from behind the scenes?
Can you see yourself playing this central, vital role in your next production?
Have you got a desire to be the central cog in the very complicated machine we call theatre?
Back by popular demand!
The very popular NODA Stage Management Course returns to Summer School. It is geared towards people with little or no stage management experience in the amateur arena, teaching and explaining professional practice and techniques. The course is also suitable for directors, committee members and producers who want to gain knowledge of the "nuts and bolts" of putting on a show to enhance future productions.
In a series of seminars, the course will cover many topics relating to putting on a show.
During the week you will:
gain practical insight into all aspects of stage management.
learn about the "The Production Process", focusing on Production Management.
prepare to take the first step into this fascinating and rewarding backstage role.
solve some of the mysteries of technical jargon and improve communication with director and production team.
discover practical skills like Marking Out a Rehearsal Room.
prepare professional standard paperwork, in building your own Prompt Script.
feel the excitement, fear and elation of "show calling", in the now infamous "Cueing Exercise"!
Once again the course is delivered by Mark Shayle, an experienced Stage & Production Manager, former Head of Stage Management training at The London Academy of Music & Dramatic Art, and regular trainer at Rose Bruford College. Mark draws upon his decades of stage management experience to deliver a fast, funny and engaging week of seminars, group discussion and practical exercises.
Tutor – Mark Shayle