Cat Robey
Cat is Carne Deputy Director of Jermyn Street Theatre.
Directing includes: The Shy Manifesto (Live Theatre Newcastle & national tour); The Good Landlord (VAULT Festival & King's Head); Beauty and the Beast: A Musical Parody (King's Head & national tour); The God Delusion (Chorlton Arts Festival); After Party (Pleasance); Catching Up (N16); Enveloped in Velvet(Arts Theatre); Buzz: A New Musical (Pleasance, Edinburgh & national tour); Tom and Bunny Save the World (Assembly, Edinburgh & national tour); Yerma (Fourth Monkey); Hatch (Park); Freedom, Books, Flowers, and the Moon (Waterloo East); Ondine (White Bear), nominated Best Director by the Off West End Awards.
Associate/assistant directing includes: Krapp's Last Tape / Eh Joe / The Old Tune; For Services Rendered (both at Jermyn Street), Othello (Shakespeare's Globe); The Emperor (Theatre for a New Audience in New York & Young Vic); Chamaco, Inkheart, The Oresteia, Wallflower (all at HOME); Summer. Autumn. Winter. Spring. (Old Grenada Studios) and Dogs Barking (RADA).
Cat is Associate Director of the award winning Ransack Theatre, and Metamorph Theatre. She is a graduate of the Birkbeck MFA in Theatre Directing and was Resident Trainee Director at HOME 2015-16. Cat teaches at, and is on the interview panel for, the Birkbeck MFA in Theatre Directing.
Session: Greek Theatre (Drama)
"The word theatre comes from the Greeks. It means the seeing place. It is the place people come to see the truth about life and the social situation." Stella Adler
Are you intrigued by the origins of theatre?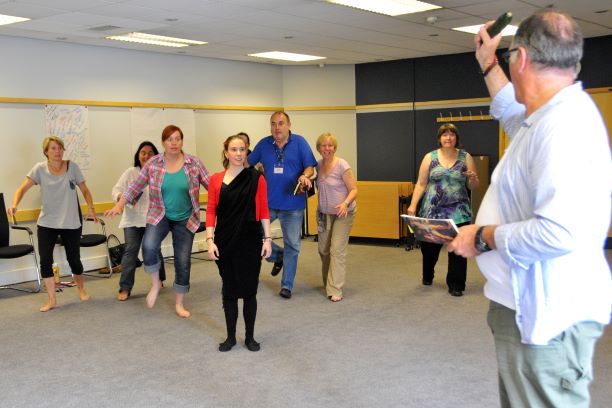 Does the world of Greek drama and tragedy interest you?
Would you like to know more about the work of Euripides, Aristophanes and their contemporaries?
Would you like to practically explore the features of Greek Theatre?
Then this is fundamentally the course for you…
This practical course is an in-depth exploration of a vitally important element of the foundations of theatre. Concentrating on key texts of this Greek Theatre, students will spend the week immersing themselves in both the history and the legacy of the ancient Greeks.
During the week you will:
explore key features of Greek Theatre including – chorus, tragedy, comedy, dramatic structure, mask and song.
discover how to create character and staging within the style of Greek Theatre.
practically explore and be inspired by Greek plays.
This course is for actors and directors no previous experience of Greek Theatre is required simply a willingness to get up and give things a go.
Tutor – Cat Robey