About Summer School
What is NODA Summer School?
It's a one week shared learning environment for adults who want to learn and improve their acting, singing, drama or technical skills with regard to amateur theatre.
What level of pre-course skill or experience do I need?
In most cases, no experience at all. Some courses do require some pre course preparation, but most simply need you to come prepared to work hard with a group of people in a friendly and relaxed atmosphere.
Is it all work and no play?
Not at all. The social side is as important as the sessions themselves. The courses are designed to be educational but also fun. Then after classes, there are social events arranged on 4 nights with additional alternative taster sessions on the 2 other nights. However, you will find there are many student arranged 'not timetabled' after school events. These can often be the most fun of all but be prepared for these to happen late at night.
Is there financial help available?
Yes there is. You can apply separately for financial assistance once your booking has been accepted. The bursary application has to be submitted no later than mid January.
Summer School Director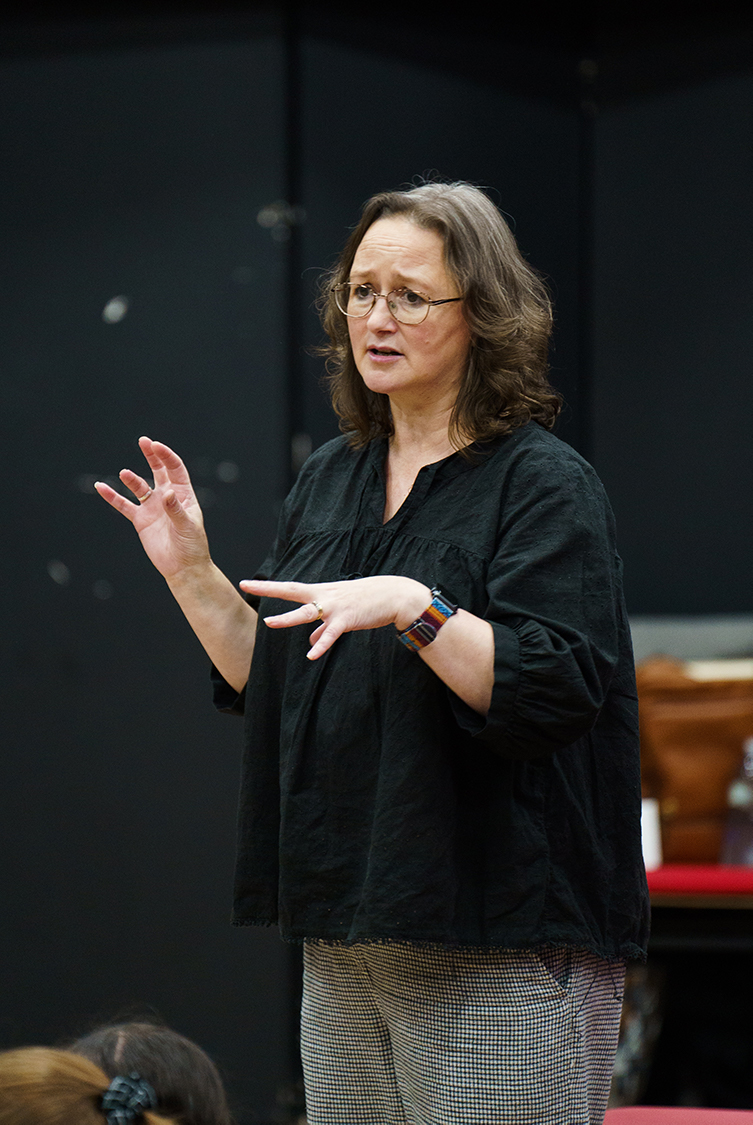 Sarah Osborne is an experienced and inspirational drama practitioner, director and writer who has been working within theatre, training and education (both mainstream and outside of school) for over 21 years. In addition to her freelance work she is artistic director of Yew Tree Arts Ltd and Yew Tree Youth Theatre.
Her work in the arts focuses on creating quality theatre and encompasses a vast range of productions of established plays in addition to the devising, writing and direction of innovative new works many of which are ensemble based. At the heart of all of her productions is the search for truth, integrity and creative vision. In her work within education and training she uses drama to develop creativity, confidence and communication all essential elements in successful learning. Her education work is driven by the same ambition of excellence and opportunities for all as her work in theatre.
NODA Theatre Summer School has a valuable place in Sarah's heart - as a tutor for 10 years she recognises it's unique and vital place in the world of amateur theatre and is honoured to now have a central role in it's direction.
Summer School Team
The team that runs NODA Theatre Summer School is made up of volunteers who are elected by the NODA Council with support from staff at Head Office.
Jacquie Stedman - Chairman of NODA Theatre Summer School and Past President
Sarah Osborne - School Director
Ian G Cox - Chairman of Trustees
Michael Hastilow - Treasurer of NODA Theatre Summer School
Kay Rowan - Councillor for the South East
Les Smith - Councillor for the North East
Phil Barnett (co-opted)
Alexandra Bilsland (co-opted)
Sarah Hall (co-opted)
History of NODA Theatre Summer School
The school has been in its present format since August 1998 when it was held at the University of Warwick. Prior to that time there had actually been three schools, all on a different site: The Technical School was in Winchester, The Drama School was in Bristol and the Operatic School was in Ripon. Each of these schools provided education to the highest standard for its students. Following the unification of the Summer Schools, to become the NODA Theatre Summer School, it moved away from Warwick to Loughborough University where it remained for many years until moving back to the Conference Centre at Scarman House on the Warwick University Campus in 2011. In 2017 the Summer School moved to Yarnfield Park in Stafford. The 2020 and 2021 Summer Schools were held on-line.
What students say...
"I really hope I can come to Summer School again in the future as it was a truly fantastic experience. I learnt so much and made some lovely friends. I wish I'd attended years ago!"
Contact Us
If you have any questions, please send them to summerschool@noda.org.uk